The "Haunted Place" of India- Bhangarh, Rajasthan
Posted on December 22, 2015 by ghoomophirosisters
About the Place: Bhangarh Fort is situated on a hillside in the deserted town of Bhangarh, Rajasthan. Bhangarh is a ruined town between Jaipur and Alwar in Rajasthan and is located at the edge of Sariska Tiger Reserve. Bhangarh fort is a major tourist attraction and is said to be one of the most haunted sites in the world. Many legends are associated with the haunted folk.
It was established in 1613 by King Madho Singh. It might be renowned for its haunted and spooky presence but it can be visited as the place is beautiful and tranquil. There are several spooky stories attached with it. Entry for bhangarh is prohibited between sunrise and sunset.
Legend belives that the city of Bhangarh was cursed by the Guru Balu Nath, who sanctioned the establishment of the town with one condition, saying, "The moment the shadows of your palaces touch me, the city shall be no more!" When a descendant raised the palace to a height that cast a shadow on Balu Nath's forbidden retreat, he cursed the town as prophesied.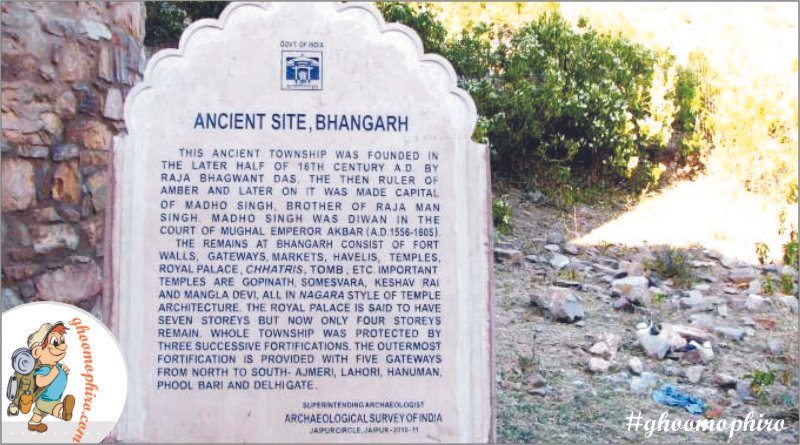 Good Time to Travel:Place can be travelled any time and good getaway for Delhi folks.is one of the largest national parks in northern India, covering an area of 392 km². It is situated in the Sawai Madhopur district of southeastern Rajasthan.
How to reach from Delhi:
Delhi-Gurgaon-Bhiwadi-Alwar-Sariska-Thanagazhi-Pratapgarh-Ajabgarh-Bhangarh.
It's a nearly 300-km drive.
Must things to carry :
1. Always carry a spare tyre as there are stretches where for kilometres there are no petrol pumps or habitations.
2. Always carry some dry food as good dhabas and eateries are rare.
3. Carry a torch with you as the fort does not have electricity and even in day time, a torch will help you to see parts of the fort better.