A day at Thakran Farms- Getting Close to Nature
Posted on January 30, 2016 by ghoomophirosisters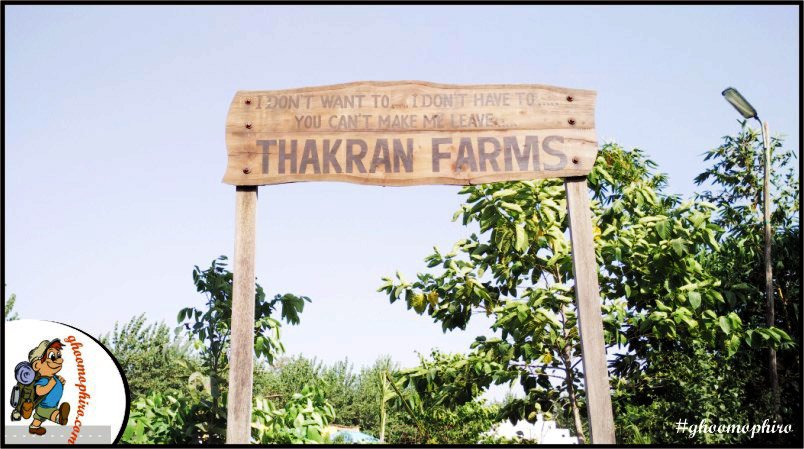 Built on over 19 acres of lush green land, situated at a distance of 2 hrs drive from the buzzing city of Gurgaon, Thakran farms is a supposedly good way to get close to nature and spending day with family.
Well decorated cottages, all made of mud.
We were welcomed by the owners Mr. Nakul, who acts as perfect host during your entire stay. The place simply distracts you from the noisy, polluted capital city of NCR and provides lush green surroundings. What I liked about the place is the beautiful mud huts. Interiors were pretty and rustic. Tube-well bath, mud bath, tractor ride, camel ride are the highlights of activities. Archery, Dart Shooting, Volley Ball, Badminton, Croquet, Soccer, Cricket, Sling Shot, Air Gun, Croquet, Wooden Bowling, Ball-Glass shooting are some of the outdoor sports that one can play and enjoy.  However, after an hour you are done with all and wonder what to do next. The lunch served to us was also in line with the theme of the farm. It included simple Dal, chulha roti and salad and it reminded of my childhood days. However, the quality of food was not up to the mark. Even snacks were not great. Simple pakodas offerings and chutneys were stale. Lunch could have been much better. I strongly feel the place is overly priced and need to evolve more especially in terms of quality and bringing life to the place. There is still a scope of inclusion of more activities and someone who can take you through them.   If you are tired and wish to spend the weekend here, you can opt for their beautiful AC mud huts, which will remind you of ancient village days and can force you to be nostalgic.
Activities at the farm, wherein one can unwind themselves.
Exploring how Rotis are cooked in Indian villages