An experience in itself- Treehouse Resort
Posted on February 1, 2016 by ghoomophirosisters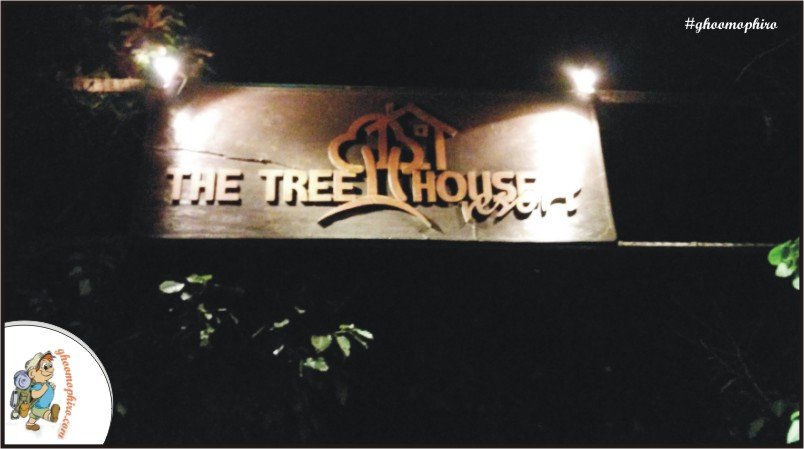 Treehouse resort is on the way to Delhi-Jaipur Highway and is just 3-4 hrs drive from Delhi. Nestled in beautiful surroundings of Syari valley, stream flowing, it is surely a delight for city dwellers of Delhi –Gurgaon, who keep looking for idyllic getaways from NCR. The resort provides end to end facilities from stay to meals to games to its guests; so that they can have they can wholesome unique experience at the resort.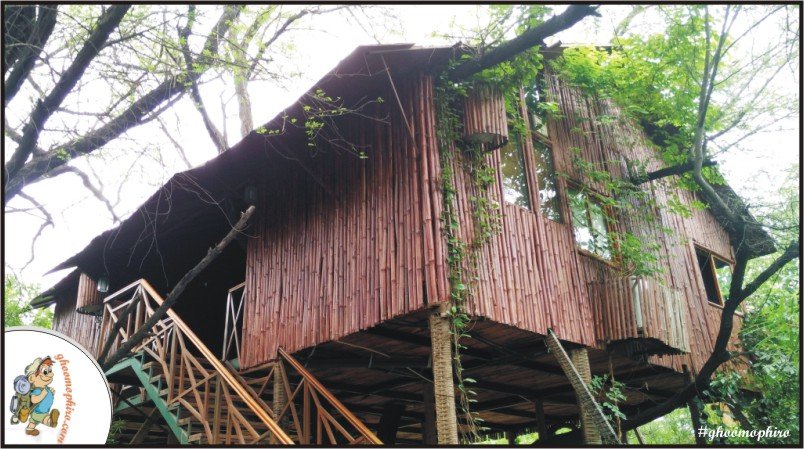 Rooms available at Tree House Resort are Luxury cottage, Deluxe, and Private Suite. The cottages are made of wood and balanced upon tree trunks. This is the highlight of the resort. All Basic room amenities hair dryer, iron, minibar, newspaper, private bathroom, refrigerator, bathtub, bathrobe, bedside lamp, ceiling fan, complimentary mineral water bottle, DVD player, flat-screen TV, full length mirror, hangers,in-room heating, in-room menu, in-room safe, laundry bag, luggage space, rollaway bed, table lamp, tea/coffee maker, temp control, turn down service, windows open, Wi-Fi access on charge, wooden flooring and writing desk are available. Bathrooms are big and luxurious and so are the cottages.  Outdoor games like archery, camel ride, cycling, pool table, swimming pool are also available. One can also opt for jungle safari during morning & evening.  The Gym is well maintained and has all modern equipment. Resort looks beautiful especially during evenings, as little lamps are lightened without electricity.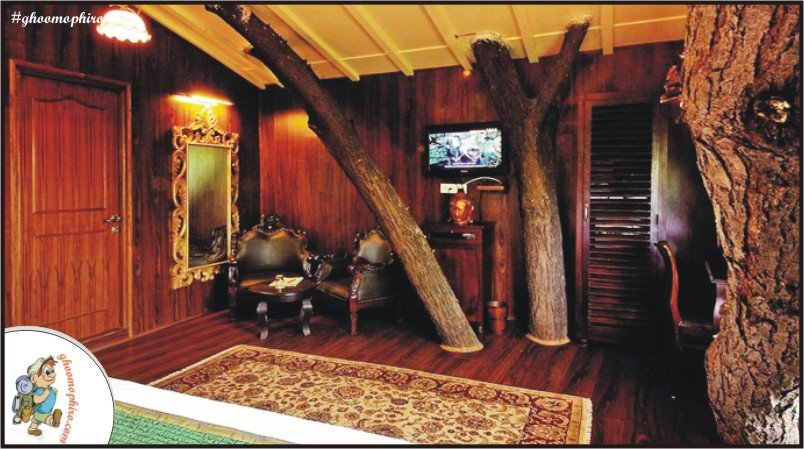 The Hotel has a tree-house restaurant, Machaan which serves a combination of Indian and international cuisine and The Peacock bar which usually opens in the evening to its glory and flaunts its interiors which have legendery stories attached to them.
So, visitors to The Tree Houses, come, sit back, enjoy and get addicted to the beautiful and pristine  property called "Tree House Resort", which will give them the feeling to be in the nests of luxury