Discovering the Picturesque Pichavaram – Second largest mangrove forest in world .
Posted on February 1, 2016 by ghoomophirosisters
We all are aware of the largest mangrove jungle is Sunderbans delta, but very few are aware that second largest also lies in India, which is based out in lesser known areas of Tamil Nadu and is known as Pichavaram. It is spread over 3000 acres and has around 4500 big small canals, which are sun-flecked tunnels of roots and branches and some are dense to the extent that they hardly leave any space for even sunlight to pass through.
These plants together have made the place so exquisite with their viviparous roots and aerial roots. These roots are so very strong and they are in fact used to steer the boat at times instead of using the paddles.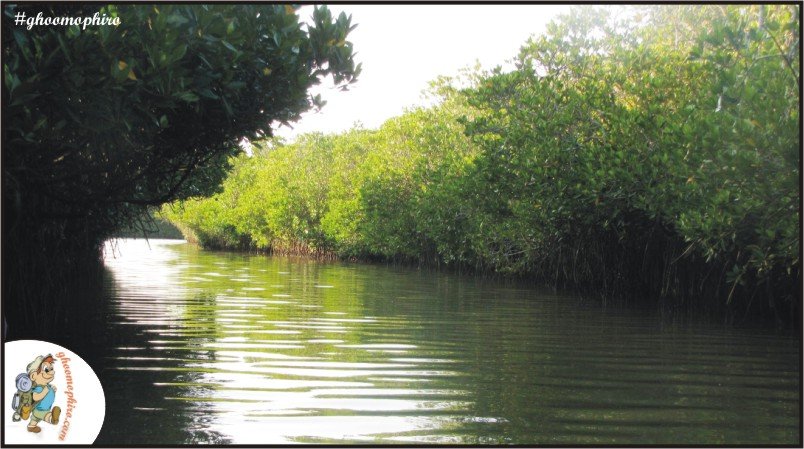 How to reach there:  Pichavaram is just 30 minutes' drive from Chidambaram, Tamil Nadu and around 250Kms from Chennai via East Coast Road.  The drive through ECR is beautiful, as it gives you a glimpse of the coastal culture wherein you can find paddy fields, females selling fishes, traditional houses.
You can take both paddle boats and motor boats, which are operated by the Tamil Nadu tourism department. They run on all days from 9 AM to 6 PM. watching the sunset is always scenic in these forests. What makes more fascinating is the stories, legends that boatmen will continue while they are rowing the boats. These stories range from movie shoots to religious legends attached to the place.
Quick Tips
Take sufficient cash, as there are no ATMs in the place.
Plastic is banned
Use paddle boats rather than motor boats, as they can reach to more interiors
If you would want to check the breadth and height of these beautiful forests, tipping the boatmen is not a bad idea. Afterall, they are the masters of the place.