Lifestraw portable water bottle- A handy water filter for bag-packer
Posted on June 28, 2016 by ghoomophirosisters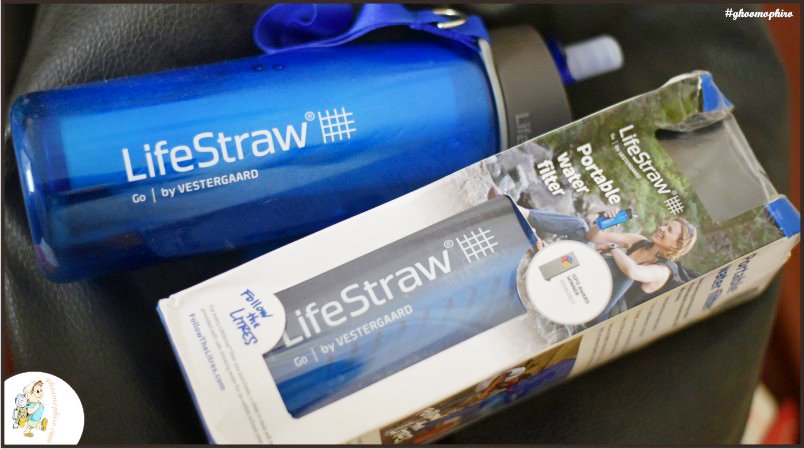 As we were packing our bags for our treks to Tungnath, like always, we were worried about emergency water, and then I was introduced to Lifestraw portable water bottles, which are on-the-go portable filters. We were surprised to experience their efficiency as the filter was able to remove water-borne bacteria by 99.9% from the waters of lakes, rivers or streams, that passed during our travel, thereby making the water safe to drink and since then it has become one of the must-have especially during our hiking and trekking trips. To test the quality of water filtered by Lifestraw, we used water from the pond, mud water, river water and ice, which later melted. Though water tasted little different due to various sources, but yes, it was clean enough.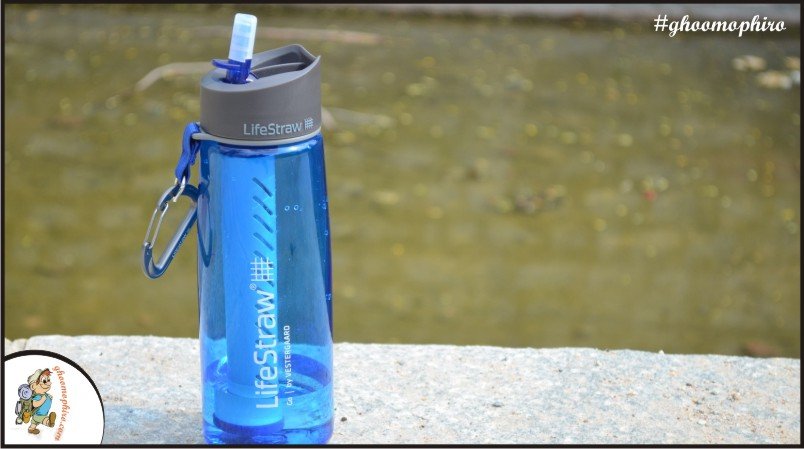 About the Product
The LifeStraw Go Bottle is simply an ordinary LifeStraw purifier integrated into a screw-top water bottle.The LifeStraw is fitted to the lid and can easily be removed and even used as a standalone filtering straw without using the water bottle at all.
Brand: Lifestraw
Colour: Blue
Includes: One bottle with filter
Material: Tritan, food grade plastic
Filter cleans up to 1000L of water, down to 0.2 microns
Features carabiner for convenience
No chemicals used
Quantity: 650ml
Price-1295 INR
The bottle doesn't store filtered water. Instead, it filters the water as we drink water, which passes through the filter. Apparently, it requires the force of suction to clean the water.It uses the simplest filtration technology, where-in water is passed through several layers of extremely fine membranes. This filtration helps it to remove the virus, parasites by 99.9%. However, it is unable to filter sea water due to high dissolved salt content. It is made of BPA-free plastic known as Tritan which is being known for its ruggedness and hence bottle offers long term durability, especially in harsh climates. Due to its filtration process, the bottle does require replacement of filter, but it has the capacity to filter 1000L of water. In fact, a bottle does whatever is being promised at this reasonable price.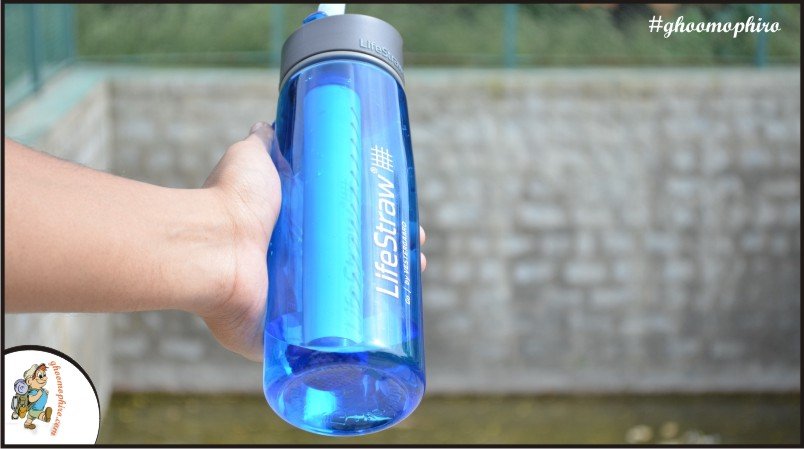 Life-straw Portable Water Bottle is well recommended as you are ready to bag-pack for wilderness, hiking, trekking or on road trips. This is a quality survivor tool, especially at the places where finding drinking water is a challenge. Kudos to the team, who came up with this innovation and brought the breakthrough in water filtration, which if tapped properly can help millions to drink quality water.
Add the 1Life-straw water bottle to your traveler's kit today and contribute towards conservation of nature by avoiding littering around of plastic water bottles.