Why Nubra Valley should be included in Leh Itinerary.
Posted on July 14, 2016 by ghoomophirosisters
Situated at a distance of about 150 km from Leh, the Nubra Valley separates Ladakh from the Karakoram Ranges and to its north, lies the world's highest and coldest battlefield- Siachen Glacier. This alluring valley is formed by the confluence of the Shyok and the Nubra rivers.
Like the rest of the Tibetan Plateau, Nubra too with an average altitude of 10,000 ft above sea level, is a high altitude cold desert. Despite little rainfall, the valley has the repute of being one of the greenest regions of Ladakh and it is also called its 'Food bowl'. The fact that the region comprises mountains, rocks, desert, rivers, crop fields and fruit gardens, all within a range of a few kilometers, is awe-inspiring.
Owing to its isolated location, Nubra Valley dissipates an aura of inherent rawness. It is an untouched and unconventional place of visit. To reach the valley, one has to go through Khardung La, which is claimed to be the highest motorable road in the world. Landslides are quite common in the area. In order to visit the Nubra Valley, foreigners are required to get a Protected area permit while Indians do not need an Inner Line Permit now.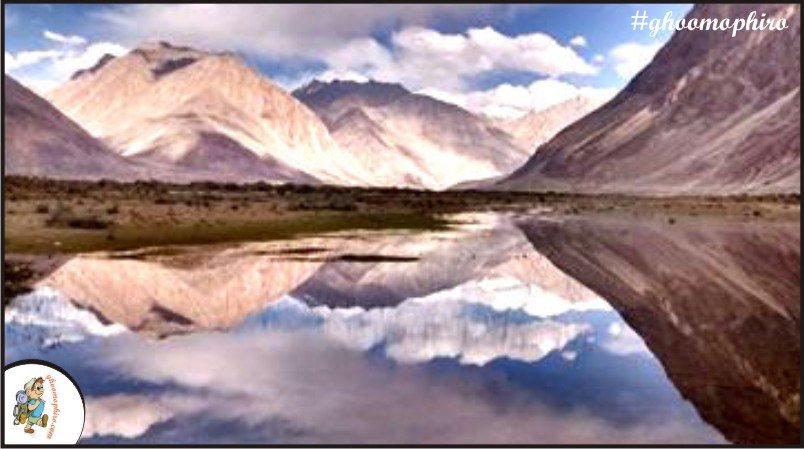 Diskit town is the administrative headquarters of the Nubra Valley. It is famous for its 32 metre tall Maitreya Buddha statue maintained by the 14th century Diskit Gompa, the largest and oldest monastery in the region.Located at a distance of about 10km west of Diskit is Hunder village. It is famous for its sand dunes and Bactrian camels. It is the only place in India where one can find double-humped Bactrian camels, which were traditionally used to travel by the Silk Route into China and Central Asia. Therefore, the tourists who visit this place must take advantage of the opportunity of Camel safari. In Hunder, one can find forests of sea-buckthorn, a medicinal and nutritive plant popularly known as 'Leh Berry'.
Sumur, which is located on the far side of the valley is also popular amongst bagpackers. It is a beautiful and the largest village in the region, boasting of fascinating Buddhist relics. Samstemling Gompa- a huge monastery accommodating a school for monks- is located 1 km uphill from Sumur. The picturesque and holy Yarab Tso lake, often referred to as the 'hidden lake', is also located close to Sumur.
Panamik Village is yet another place worth visiting that is situated about 28 km north of Sumur. It is known for two things – centuries old Ensa Gompa and hot water springs that are believed to cure a number of illnesses because of certain healing properties.
Turtuk is another village where travelers can enjoy their time and seek peace. It is the last village that is accessible to civilians, after which the Pakistan-administered Gilgit-Baltistan begins.The natives of Nubra Valley are amiable and hospitable people. The valley offers serenity and a peaceful life unlike the daily stresses of modern day living. Its simplicity and beauty are truly magnetic. In a nutshell, Nubra Valley is a perfect getaway in today's hectic world.