An Insight to Ghughua Fossil Park
Posted on September 14, 2016 by ghoomophirosisters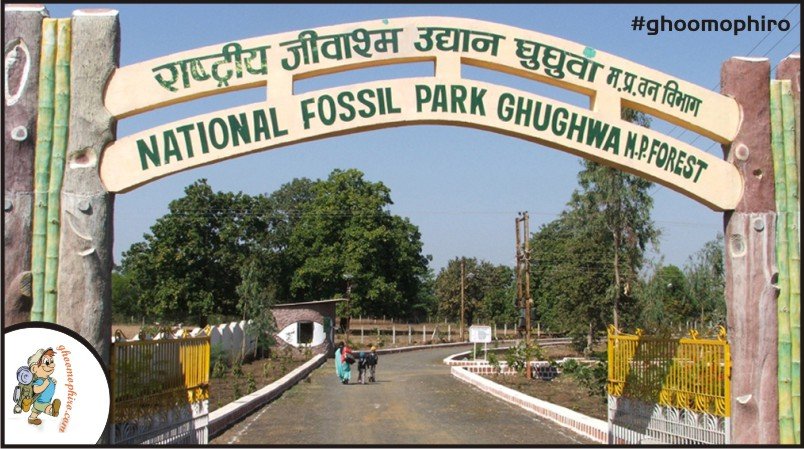 Ghughua Fossil Park, a National Park, is situated near Shahpura in Madhya Pradesh. The site was founded in the 1970s by Dr. Dharmendra Prasad, the then honorary secretary of the district's archaeology unit and was announced a National Park in 1983 after the Indian Government identified the greatness of this natural wonder.  It is spread in an area of about 2,74,100 sq. metres across the villages of Umaria, Chargaon, Barb Spur, Deorakhurd, Ghuguwa and Deori Kohani. Ghughua Fossil National Park is the second largest Fossil Park in the world and the largest in Asia.
Here, plant fossils which are a part of 31 genera of 18 families have been recognized.   A number of plant, seed, fruit, leaf and shell fossils can be spotted in this park, some of which are 65 million years old. Palm fossils are the most prominent amongst them. Other fossilised plants include ancient forms of jackfruit, date palm, aonla, jamun, neem, banana and rudraksh. Although most of the plant and animal fossils do not have living relatives now, some of  them here have relatives existing which continue to live in Sikkim, the Western Ghats,  north- east India, Australia, Madagascar and Africa. Fossils of Eucalyptus trees have been found here which are native to Australia.
There is an interpretation centre in the park which has comprehensive information on the fossils which are found here. Also, you should visit the self-guided fossil trail to see them in their natural setting although the dinosaur egg is the main attraction.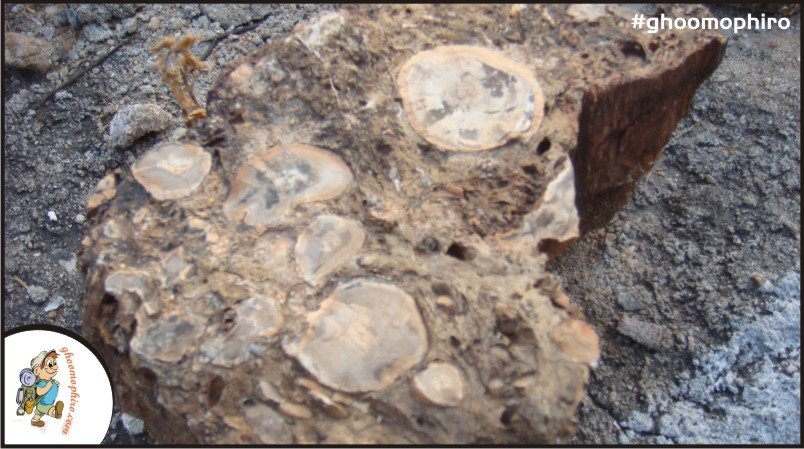 Hundreds of tourists mainly scientists, paleo-botany students and archaeologists visit this place every year. According to scientists and archaeologists, Ghughua in ancient times had an equatorial and humid climate with a uniform temperature range throughout the year with an annual rainfall of above 2,000 mm.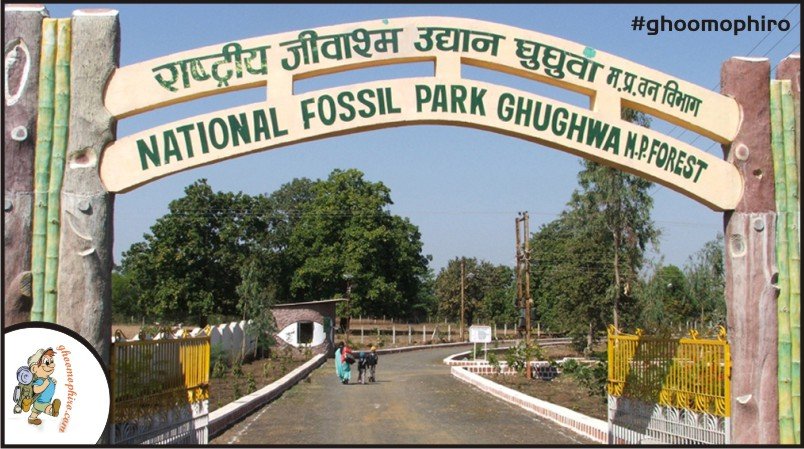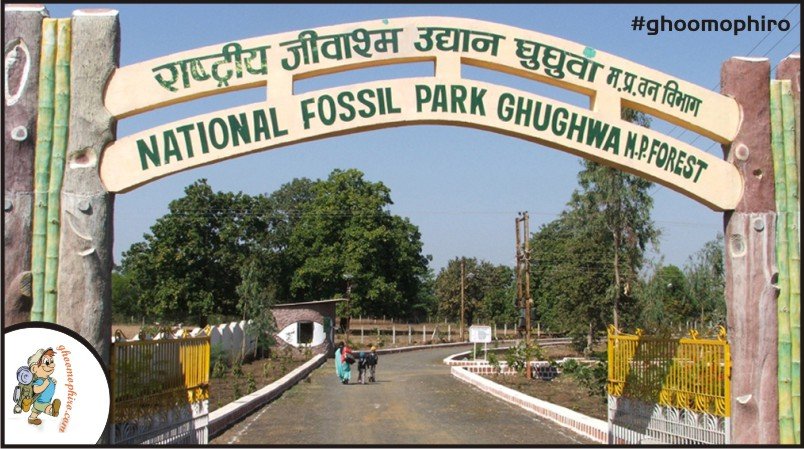 How to reach:
ROAD: Ghughua Fossil Park is located on National Highway 11, 76 km from Jabalpur. The nearest Bus stand is at Niwar and the closest town from it is Shahpura (13km). It is located on a slight diversion between the route connecting Bandhavgarh and Kanha National Parks.
AIR: The nearest airport is at a distance of 115 km in Jabalpur which has good connectivity with the cities of Delhi, Mumbai, Indore and Bhopal.
RAIL:  Umaria (65 km) and Jabalpur (115km) are the nearest railway stations to the National Park.  It is well connected by rail to the major tourist destinations and cities like Delhi, Howrah, Mumbai, Bengaluru, Ahmedabad, Pune, Varanasi, Indore, Agra, Jaipur, Gwalior, etc.
Most suitable time to visit:
The months between October and February are the best ones to visit the Ghughua Fossil Park.
Accommodation:
Tourists usually do not stay here as they conclude the visit to this park within 45 minutes. Still, the forest department has made arrangement for a stay which is a paid service and a limited number of rooms are there. Alternatively, you can visit this park while staying at hotels in Jabalpur, Shahpura, Mandla, Umaria  Bandhavgarh, etc.
Timings:
The National Park is open throughout the year from 8 in the morning to 5 in the evening.