An enchanting road trip to Leh!!
Posted on December 4, 2016 by ghoomophirosisters
Last year, in Sep 2016, we #ghoomophirosisters went on a road trip to Leh, and it was one hell of the experience for us.The Leh-Ladakh road trip was on our #bucketlist for long and finally we made it.  Finally, I'm chronicling my road trip adventure for CEAT Tyres in association with BlogAdda in this blog post. This Blog-Post not only describes the detailed itinerary that one should follow while planning for Leh-Ladakh but also talks about the quick checklist while driving on the uneven, rough terrain of Ladakh region.Since we had fewer days in hand, we flew to Leh, and rented the bike from there.
Itinerary
Day 1 : We landed at Leh around 7Am, and went to our hotel at LaBudha. Loved the hospitality of hotel staff. They ensure we acclimatize to the altitude well and offered honey ginger tea. Several tips like taking Diamox tab, monitoring oxygen levels etc. Took rest in the hotel itself and kept drinking lots of water. The food was good at the hotel. Keep monitoring your Oxygen levels. In the evening, we went to the bike-shops and rented the bike. before renting the bike, we ensured that bike is up and running and is flawless. Obviously, there were CEAT Tyres to be our partners in crime in our dream road trip.
Day 2 – Next morning, all geared up, we headed towards Nubra valley via Khardungla. Khardungla is the highest motorable pass road of the world. Plz make sure, not to stay there for long due to high altitude. While on the way, you will cross Hunder, do not miss to take the ride on double humped camels. We stayed in camps in Nubra.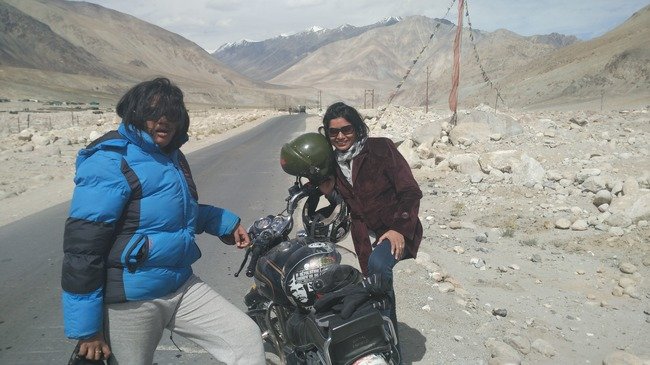 Day 3 – Plan was to drive back to Leh via the same route. However, we also stopped for Dikshit Monastery and the majestic Maitreyi Buddha.
Day 4 – Next morning, we drove from Leh to the most talked about Pangong Tso Lake is popularly known as 3 Idiots lake.On the way back, we did stop for the quick look at Hemis Monastery. Stayed overnight in Pangong in a homestay. Evenings are really cold, so make sure you are wearing sufficient layers.
Day 5 –  By this time, we were little exhausted, and drove back to Leh. Our stop over was Thicksey Monastery. We reached on time at Leh and were so acclimatized that Leh felt like home to us.
Day 6- This was supposed to be our last day at Leh, so we utilized time for local sight-seeing like Shanti Stupas, Market.
Day 7- And finally we bid goodbye to Leh with a promise to come back again and drove back to Manali. Btw, one can rent a bike in Leh and drop them at Manali.
Do's and Don'ts for your self-drive
Don't be overconfident
You might have been a veteran biker, but don't underestimate the terrains here. Even the smoothest and simplest of roads can hurt your vehicle badly and force you to be in the midst of nowhere. Hence, avoid taking unnecessary risks
Don't Rush and Be Patient
While driving, the lot of endurance and patience is required. Don't rush. Instead whenever in doubt, take a step back and analyze the terrain, to plan your ride further. CEAT Tyres really proved to be the boon for us during our drive and thankfully we did not land up in any tricky situations.
Knowledge of your vehicle
It is very important to be well acquainted of your vehicle, as you shall be the one fixing it on the way.
No Drinking and Driving
Drink and Drive is a clear No, while on the high altitudes as alcohol may not be completely digested and may lead to AMS or you being collapsed while driving.
Be Helpful
Always extend a helping hand to the people in need while on the way. You may find army men, fellow bikers who are stuck. Be kind to them
Must Have's
Do not miss to carry following things while on self drive.
Basic Toolkit including Jack and Spanner
Air Compressor and Foot pump
Hydraulic Jack
Puncture Repair Kit
Screwdriver Set
Torchlight
Jump Start Cables
Tow Away Rope approx. 3-6 ton Capacity
1-2 Jerry Cans / Coke Bottles to carry spare fuel
Funnel
Spare Coolant and Engine Oil
A Long Stick/Rod
A Shovel and a Hammer
Elfy
Drinking Water and Snacks/Dry Fruits
I hope this checklist helps you in your upcoming trip to Leh. Last but not least, do not miss the chance to follow the amazing signs that Border Roads Organisation has put up for our safety. Enjoy the safe trip to this one life time place.