Getting through the Lord Curzon trail alias Kuari Pass
Posted on January 4, 2017 by ghoomophirosisters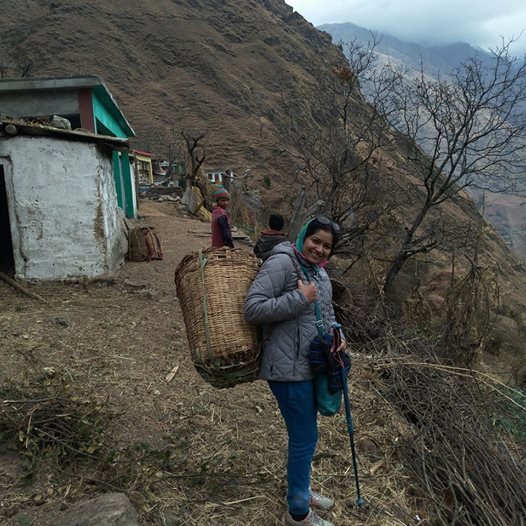 Also known as Lord Curzon trail, Kuari Pass is one of the most renowned winter treks in Garhwal region. The place is ideal for beginners and opens the gateways for the unexplored to be explored. Thanks to Toroots India and Renok Adventures, for the opportunity to explore this beautiful trek.
Little about the place
Location: Garhwal
Base: Rishikesh
Duration: 5Days
DifficultyLevel: Easy to Moderate
ApproxTrek: 30kms
AverageElevation: 13,000Fee
TypeofTrek: Winter Trek
Best Time: November to March
Highlights: Nanda Devi Peak, Trishul Peak, Gorson Bugyal, Tali LakeWhere is the Kuari Pass?
Kuari Pass is located in the midst of Nanda Devi Biosphere Reserve, at an altitude of approx. 13,000 feet above the sea level. The Pass is at the center of the most incredible regions of Garhwal and is known for its unique wild grandeur. The place gives enthralling experience for first-time trekkers, as the entire trail comprises of walking through the frozen rivers, rock climbing, walk through forests. You get to traverse all kinds of terrain during these 3 days.
How to Get Here:
Rishikesh is the base for Kuari Pass. It can be reached via Haridwar. There are many buses that ply daily from Delhi.
How to Reach Kuari Pass?
By Air: Jolly Grant airport in Dehradun is the nearest airport, which is 208Km from Nandprayag and 268Km from Joshimath.
By Rail: Rishikesh Railway Station is the nearest rail-head, which is 191Km from Nandprayag and 251Km from Joshimath.
By Road: Nandprayag and Joshimath is well connected with other parts of Uttarakhand.
Trekking Routes:
Rishikesh – Joshimath – Dhak Village – Karchi Village – Tugasi Village – Palogeta Village – Gulling – Chonter Gatta – Bor Tal – Tali Campsite-Chitrakantha – Khulara Meadows-Kuari View Point 1- Chitrakantha Top – Lord Curzon Trail – Puli Dhar Col – Auli via Tali and Gorson Bugyal – Haridwar.
Accommodation Destinations: Gulling, & Khullara
Detailed Itinerary
Day 1: Joshimath.
The journey started from Haridwar, from where we went to Joshimath and it took almost 10 Hrs to reach the place. Had our night stay there itself.
Day 2: Joshimath to Gulling
Base camp is at Dhak village. From Joshimath, went with Innova to reach the base camp from where trek started. We trek through a hemlock, oak and rhododendron forest for 3km before a short descent to the meadow and campsite at Gulling. The impressive snow-capped ridge, including Chaukhamba 1 (7138m), can be seen beyond Joshimath. Guide Mr. Lama was very cooperative and efficient. On the way, you may want to capture the village life as you pass through Tugasi and other small villages.
Day 3 : Camping at  Khullara
From Gulling, again the trek started early morning, from where we reached to Khullara top and did our camping. It is much colder than Gulling and temp usually goes down to -6 degrees.
Day 4 : Way to Kuari Pass.
Last day, it all started trekking to Kuari pass, where on the way view was unmatchable and one tends to cross snow-laden trails. The view as you reach the height of 13,000 feet indeed gives you the adrenaline rush. The same day we returned from Kuari pass to Khullara campsite.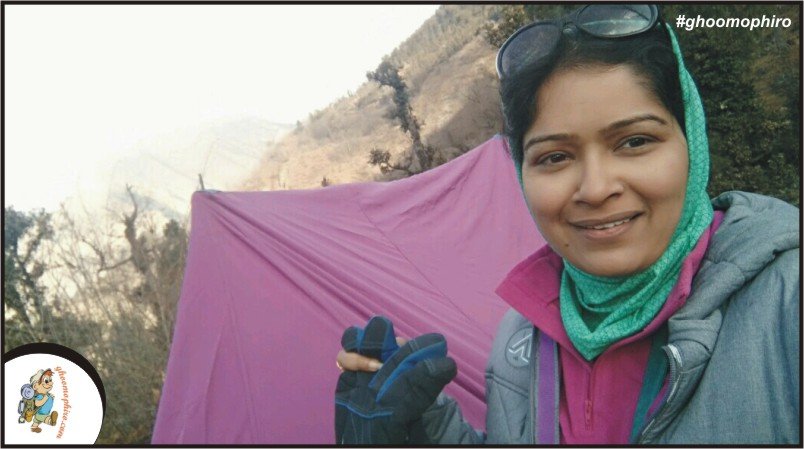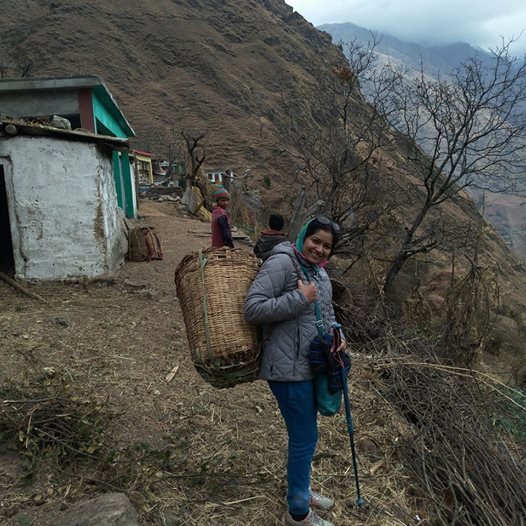 Day 5: Joshimath to Haridwar.
Last day was way back from Khullara to Dhak and then from Joshimath to Haridwar, from where we had our bus back to Delhi In case you are lucky to reach on time, watching Ganga Aarti is also a great idea.
By the way, Major network like idea/Vodafone works at these heights, so feel free to call your special someone from this height and make them jealous.