Desi deliciousness – A review of Dhaba by Claridges
Posted on March 12, 2017 by ghoomophirosisters
Interior Rating: 4/5 stars
Food: 5/5 stars
Staff: 4/5 stars
Overall: 4.5/5 stars.
How many times have you eaten on a local roadside Dhaba while with friends? The delicious food, the homely feeling, the whole experience is indescribable. But while you are stuck in the city, all you get on the name of eating outside is take outs and boring restaurant food. Dhaba by Claridges give you authentic Dhaba food with the same homely feeling.
Review:
As soon as I entered the place with a couple of my friends, I was astonished to see the whole set up. The interior is like a Dhaba set up near a 'theka' and there are Nimbu-Mirchi lights and an actual truck. It might seem hilarious but it was actually a good thing. There were Bollywood posters on the walls and good music that would make you want to start dancing. In fact, the staff did an actual dance with their song of the month. The whole ambiance of the place put me at total ease. The staff was very polite and cooperative. The seating arrangement is good with nice lighting.
Now for the most important part, the food! The menu is divided into tawa, tandoor and patila. Me, I love non-veg and one of my friends is a total vegetarian so while I munched on Chicken Biryani, galouti kebabs, Butter chicken and tandoori Roti, he ordered Bhune aloo, Kadhi pakora, Dal Dhabha and Dhaba Roti.
The food was in sizable quantities and being a food lover, I have a good appetite.  Glad to say that my stomach was just as filled with my heart as I devoured the delicious food. The Butter chicken was juicy and Chicken Biryani equally yummy. According to my friend,  Bhune aloo was also wonderful and Dhaba Roti was a mixture between Roti and Naan. I will be giving that a try the next time I go there. There was masala onions, salad, and chutney which also tasted fine.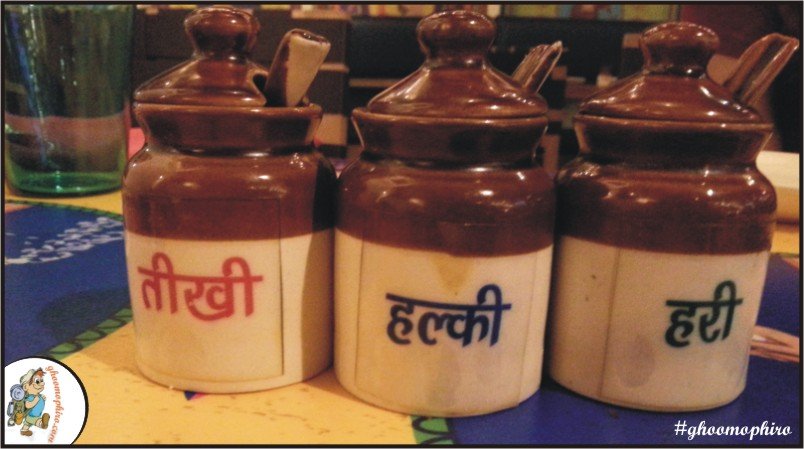 For drinks, we got Kala Khatta which was also incredibly nice and Aam Panna which was just okay. The menu is very wide and it took us a lot of time to decide what we wanted to try. Since we were there for the first time, we did not know what would taste good and what would not. That is probably the only thing that stopped me from ordering Tiffen chicken and I saw that one person there ordered it and it actually came in a Tiffen! The place also offers a wide variety of drinks with their own twist on them like toofan, gulabo, santari and lal pari. In the end, we also ordered the alcoholic Kulfi to finish the meal and it was absolutely worth it.
Now for the cons, since the Dhaba is in the pulsating hub of the city, it is crowded and there's a huge line of people waiting to get inside. By the time you finish waiting and actually get inside, you are famished and would dig into anything you can get your hands on. Also, for normal class people, it is sort of expensive.
But once you have tasted the food and start sliding into the whole aura of the place, you will have no complaints and only praise for everything about the Dhaba. I will recommend it to everyone to just go and have a meal there (especially my friends whom I'll be dragging there). I myself will be going there again. Hopefully, I will find a day when it is less crowded.