Easy steps to rent a bike for your Leh-Ladakh Trip
Posted on March 12, 2017 by ghoomophirosisters
Exploring the beautiful landscapes of Leh on a bike tops the list of every traveler in the world. The feeling of fragrant breeze trying to embrace you in its arms is phenomenal. However, lack of information on bike rentals in Leh can spoil your trip completely. This is why we have got you a list of few essential tips on renting a bike in Leh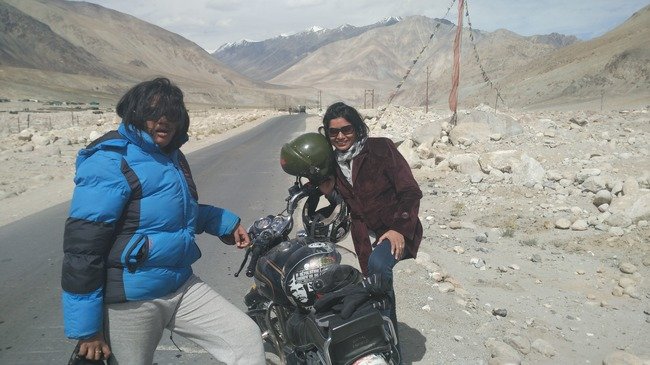 .
Here we go:
Find a Bike Rental Shop
 Considering the fact that there are hundreds of bike rental shops in and around Leh, you won't face a problem in renting the one that suits you. However, it is important to ensure that you rent it from a good reputed shop so as to not face any problem with the bike during the trip.You can take help of locals to suggest you some really good bike rental shops.
Zero in On the Right Price
 Bike rental charges in Leh vary from Rs 800 to Rs 2,000. The price actually depends on the condition of the bike, model, and make. So choose the bike that fits your requirements like duration of the road, destination, and other key factors etc.
 Book a Bike in Advance
 Leh is a heaven for bikers. Almost every traveler in Leh dreams of going for an unforgettable road trip of his or her lifetime. Hence, it is advisable to book a bike for a road trip in advance—may be a day before the trip. This is a great way to ensure that you get the bike that meets your expectations. Otherwise, you will have to bear with just any machine.
Do Not Rent a Bike From Places other than Leh
 Bikes rented from outside Leh are not permitted for sightseeing in the entire Ladakh. Hence, you are advised to rent a bike only in Leh. It is a beautiful city and your trip without exploring it on your bike is incomplete.
However, you can ride your own bike for sightseeing purposes in Ladakh. You must have all the necessary documents to prove that the bike is your property. If the bike is on somebody else's name, then also you must have a non-objection letter from the owner.
Plan for Big Budget if Planning to Visit Manali or Srinagar
If you want to go outside Ladakh, then you will have to pay a security deposit. This is around 15 k per bike. The deposit will be returned to you once return the bike to the shop. Hence, it is recommended that you plan your road trip according to your budget, days, and convenience. Do not indulge in anything for the heck of it. The real fun is in logical adventures.
Have a Partner on Trip
 While taking a road trip down the lanes of Leh, you will ride through several no man's land stretches. If your bike breaks down in these stretches then you may get trapped into a big problem.
Hence, it is advisable to always travel in groups or have a partner on your pillion. A partner can help you in such odd times.
We hope that above set of tips will help you prepare much better for renting a bike on your next Ladakh trip.