Journey to the highest motorable Pass in the world is a feat in itself!
Posted on March 12, 2017 by ghoomophirosisters
One of the most exotic places in India, Khardung La Pass is also regarded as the world's highest point for motor vehicles. Wrapped in snow disguised as white gold, this picturesque destination is a gateway to scenic Shyok and Nubra valleys in the heart of Ladakh. Karakoram Range is around 40 km away from Leh.
Khardung La Pass offers you the majestic views of the valley and serpentine roads that tie up the mountain secretly. The snow-capped mountains, open lands, fragrant air, and lemony pastures with a tinge of green all make for a spectacular view. Khardung La is one of the most loved destinations especially those who love adventure sports and biking.
There is a reason behind why the Khardung La Pass was built. In order to solve the supply problem of the Turtok sector by the Shyok river which housed nearly 200 families and also to construct a road connecting Chalunka and Thoise, a motorable road through Khardung La was built. In 1973 the road was completed and opened for traffic.
Major Tourist Destination
Khardung La Pass is a hot favorite destination among tourists who love to explore nature on their bikes. The frenzy to travel across the region on a bike sometimes turns into a long nightmarish traffic jams on the pass. Hence, it is important to plan your travel in advance especially if you are travelling during peak season. Hence to facilitate traffic movement on the pass, vehicles from Leh to Khardung are allowed between 9 am and 1 pm while vehicles from Khardung to Leh are allowed between 1 pm and 5 pm. It is ideal to check the timings with the local agencies and taxi drivers.
The journey from Leh to Khardungla can be a challenging 3 hours drive up on a winding road, and you may find the road often jammed and interrupted by minor landslides and avalanches. Higher up, the mountains are densely covered with sheet of snow that melts slowly into slush of mud and there is very thin oxygen around. The roads are maintained by the army throughout the day.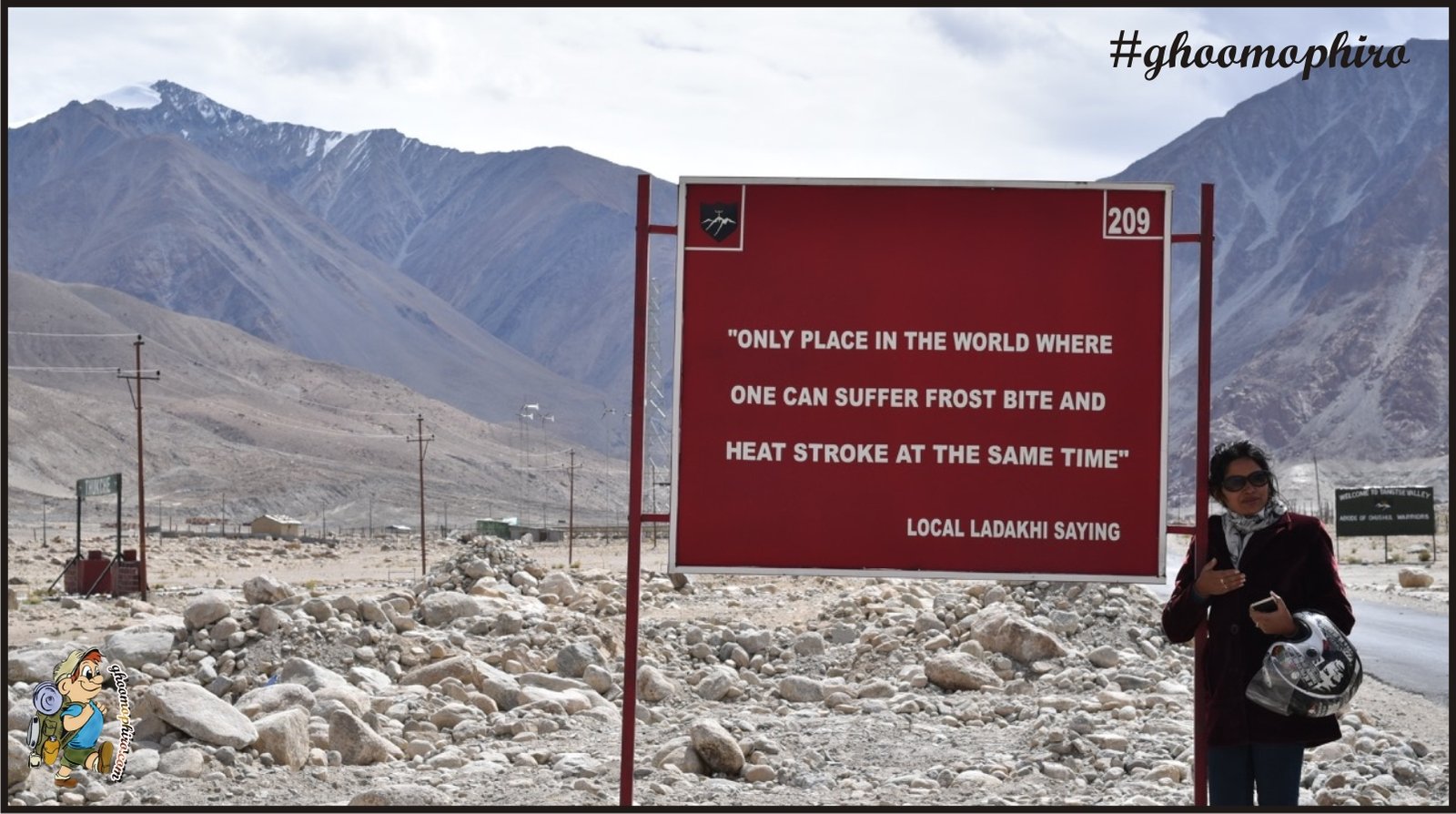 Things to Remember
Around 24 kms of road from Leh to Khardung La Pass is made up of asphalt till the South Pullu check post. From the South Pullu check post to the North Pullu check post, the track is made up of gravel and dirt. A tourist is required to obtain Inner Line Permit (ILP) to cross the pass from the office of the District Commissioner. It is recommended that you keep around 7 to 8 copies of the permit as you will have to submit the copy with every check post to pass through.
Travelling Tips
If you are travelling to Khardung La Pass you must come prepared for the worst weather. It can change from mild to extreme in no time and leave you stranded without basic facilities. During winters temperatures drop to -40 degrees Celsius and there is almost 10 feet of snowfall. One needs to be physically very strong to visit Khardung La Pass in winters. During the summer temperatures remain around 20 degrees Celsius but the freaky weather could turn worse anytime and you would be left shivering in the bitterly cold weather.
Remember, there is no way you can find any accommodation on the pass. The best you can do is travel to Leh, the nearest city, to stay in a hotel or you can carry your tents along. You can pitch your tents on the roadside at Khardung La Pass.
You can find good eatery and hotel options at Nubra valley as well. Do carry your food all through the journey. Some of the best places to stay near Nubra Valley are Hotel Karma Inn, Olgok Guest House, Jehlum Resort and Gupta Resorts.
Best time to visit
The best time to travel Khardung La Pass is between May and October. The pass is free and open during these seasons until weather plans something different. The road to Khardung La could be shut down due to a landslide and this could be a major blow to your plan. The weather up there is so unpredictable so come prepared.
The thrill of visiting the highest pass in the world will churn up your emotions. But it's better to be safe than sorry and hence do not expose yourself too much and for too long at such high altitudes.