Pench Tiger Reserve !! Experience in Mowgli Land
Posted on April 22, 2017 by ghoomophirosisters
Madhya Pradesh is one state, which is endowed by inexplicable beautiful forests and thankfully government is working towards preserving this beautiful flora and fauna by maintaining National Parks. Pench Tiger Reserve is one such initiative that extends the borders of Maharastra.  Pench Tiger Reserve is spread over Seoni and Chhindwara districts of Madhya Pradesh and Nagpur district of Maharashtra. Not to miss, this is the original Mowgli Land, as Rudyard Kipling Jungle Book found its inspiration from the place.
Pench Tiger Reserve, Madhya Pradesh comprises of core area of 411.33 sq. km. with buffer zone of 768.30 sq. km. Total protected area is 1179.63 sq. km. Core area also includes Mowgli Pench Wildlife Sanctuary. (118.30 sq. km.)
How to reach Pench
Rail: Board the train till Chhindwara or Jabalpur. From there you can hire a cab till Pench, which is an approximate distance of 190km from Chhindwara and Jabalpur. Another option is to board the train till Nagpur and hire a taxi ahead.
Air: Nagpur is the nearest airport connected to all metros by regular flights. It's approximately 145 km from Pench that can be covered in a three/four-hour drive.
Road: Pench Tiger Reserve is located on the Nagpur-Jabalpur Highway. You can go by road from Jabalpur or Nagpur and reach Pench in three to four hours. Another option is to go via Bhopal which is approximately 500 km from Pench or Kanha. Nearest bus stand to Pench is Khawasa or Seoni and hourly buses are available from Nagpur.
Best Season to Visit Pench
Park remained opened for visitors from October till June, but post monsoon i.e around August to October, you may witness the myriads colors of nature, as the park is plush green and looks phenomenally beautiful. However, for tiger sightings, May-June is better, as this wild cats usually come out of their dens to the water holes to drink water.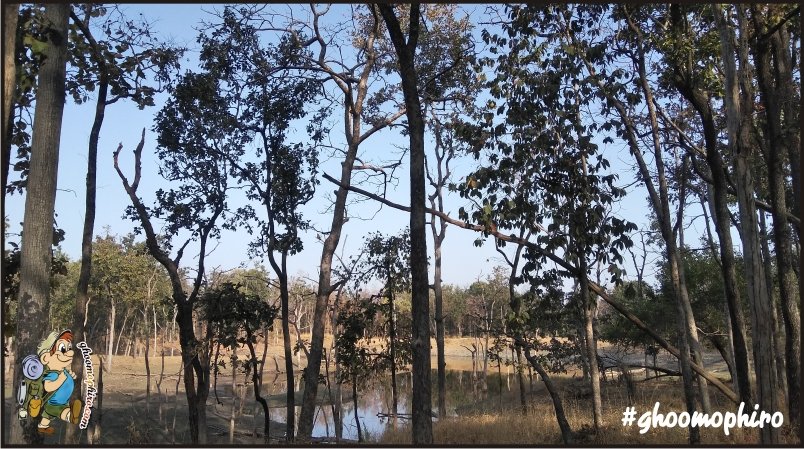 Where to stay
Though you will find several budgets to luxurious hotels near Turia gate, but our recommendation would be to stay at Pench Tree Lodge, operated by Pugdundee Safaris. Starting from staff to the logistics, place is just perfect!!
Wildlife Safari
You may book your safaris from mponline.gov.in or can ask your hotel people to get this done for. Most of the resorts can help you in booking. There are usually two jungle safaris. The morning safari starts at 6 AM till 11 AM while evening starts at 2:30 PM. There are three gates. We went through Karmajhiri gate.
Like all the other parks of M.P., Pench too allows a total number of eight people in a jeep, out of which six are tourists and the other two are the guide and the driver. But you can also book solo jeep for yourself by paying extra.
Flora and Fauna
With a learned naturalist, you can actually explore the national park from depth as they are aware of who's who of the parks. Pench National Park is endowed with rich flora and fauna. Myriads of birds such as Grey-headed Fishing Eagle, White-eyed Buzzard, Malabar Pied Hornbill, Osprey, Black-Hooded Oriole, Sirkeer Malkoha, Grey Nightjar, Indian Scimitar Babbler, Scaly-Breasted Munia, Jungle Owlet, Common Hawk Cuckoo, Brown Fish Owl, Short Toed Snake Eagle, Yellow Footed Green Pigeon, Racket Tailed Drongo, Crested Treeswift, Jungle Babbler, varieties of Parakeet.. In addition to these, you can spot migratory birds are Indian Pitta, Red Throated Fly Catcher, Orange Headed Ground Thrush, Jacobin Cuckoo, Grey Headed Canary Fly Catcher.
Animals such as the Tiger, Leopards, Common Giant Flying Squirrel, Dhole, Gaur, Barking Deer, Monitor Lizard, Indian Rock Python, Rusty-spotted Cat, Jungle Cat, Small Indian Civet, Asian Palm Civet, Ruddy Mongoose, Porcupine, Bengal Fox, Indian Jackal, Sambhar Deer, Striped Hyena, Sloth Bear can be spotted.
Travel Tips
Jungle Safaris bookings should be done in advance, as seats are limited.
It is mandatory to carry ID cards for safaris. The ID needs to be the same as the one with which you booked your safari.
Carry binoculars to spot the birds and animals in the park.
Wear comfortable clothing. Do not miss to put sunscreen, as it gets really hot during Safari time.
Carry proper woolens in winters and an effective sunscreen in summers.
Only Idea and BSNL works at Pench, so pl communicate accordingly to your near and dear ones.
Try to be silent and not to over react as you spot anything, as it disturb their peace and they run away
Last but not least, do not get disheartened if you could not spot a wildcat, as these parks are much beyond wild cat chase. Instead, these jungle safaris are more about getting closer to nature, learning about wildlife habitat.