Pench Tree Lodge – Home in the midst of jungle
Posted on April 7, 2017 by ghoomophirosisters
Away from the hustle bustle of city life, we #ghoomophirosisters usually plan our weekends to the jungles of central India, and this time it was Pench Tiger Reserve for us. While we were shortlisting the place to stay, we could not stop ourselves exploring Pench Tree Lodge supported by Pugdundee Safaris.
After a long 3.5 Hr drive from Nagpur, we reached to the Pench Tree Lodge and to our surprise the place has maintained nature in its best form. No destruction of the existing ecosystem has been made. As we reached, manager Amit Mukherjee with his staff gave us a warm welcome and briefed about the property. Few interesting facts include, do not leave the room or balcony slider open, reptiles might get in!! This itself suggested how close the place is to nature.
It is primarily an eco-conscious retreat spread over 36 acres and to your surprise has only 6 treehouse cottages. In rest of the place, one can see snakes, civets, foxes, jackals, wild boars, doves roosting in the trees, parakeets, and several other birds. The place also has kitchen garden wherein almost all seasonal vegetables you can find and it does sustain the kitchen of the property.
Rooms
They were simple elusive rooms with all modern facilities that you can ask for. A small welcome note from Pugdundee caught our eyes and was indeed heart warming. Our cottage was supported by big Mahua tree. Interiors of rooms were beautiful. Small hand made paintings of birds added the charm to the room. Must congratulate the masterminds behind the architecture of these tree-houses to come up with such marvelous tree-houses.
Iron rod bed stuffed with cushions of all sizes, what more one would want as part of the luxury stay.Lighting in the rooms was dim and sufficient enough to charge up your mood.
Small video as we explored room is here, that will definitely inspire you to pack the bags and rush for wilderness.
Smallest care was taken not to play around with nature and hence two steel water bottles were kept instead of plastic bottles. Alongside, kettle tea bags, milk powder were stacked for the convenience. A beautiful balcony with coffee table and an unimaginable view wait for you in the evening, where either you can sip a coffee or read a good book or simply gaze the nature and enjoy the parakeets, civets or other wild animals. We never found ourselves as close to nature as stay in this property made us to.
Dining Experience
We must thank chef Pankaj and his team for some delicious fusion vegetarian meals. It was just perfect. With every meal served to us, our benchmarks increased and they never disappointed us. We liked all our meals from breakfast to dinner to high-tea. Not to miss was dumplings, corn kebabs, Onion soup, beetroot pudding and the list is endless. To top it all, the presentation was icing on the cake. Needless to say, our dining experience were redefined at Pench Tree Lodge.  Overall staff was courteous and was available for our help anytime.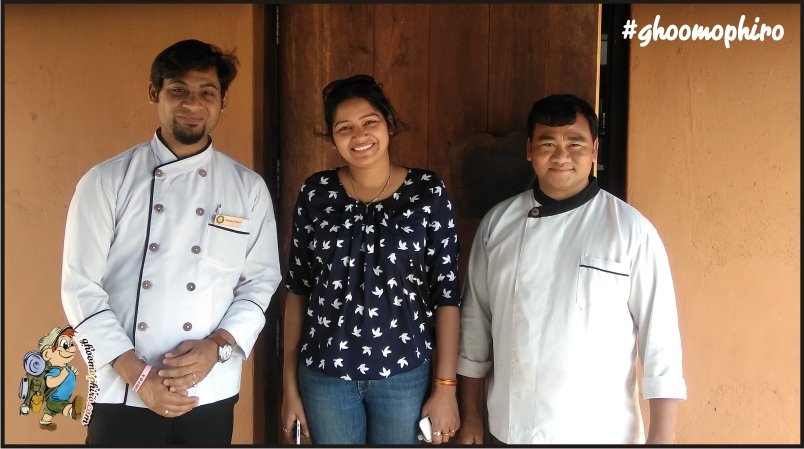 It would be the injustice to the team if we do not mention the breakfast in the jungle and moonlight dinner. Both of them were well executed by everyone in the staff. In the former, we were served the buffet of breakfast in the midst of jungle whereas in the later, there was small kerosene lit lamps were hanging to the trees and dinner was served under the stars. Believe us, it could not more romantic as it was.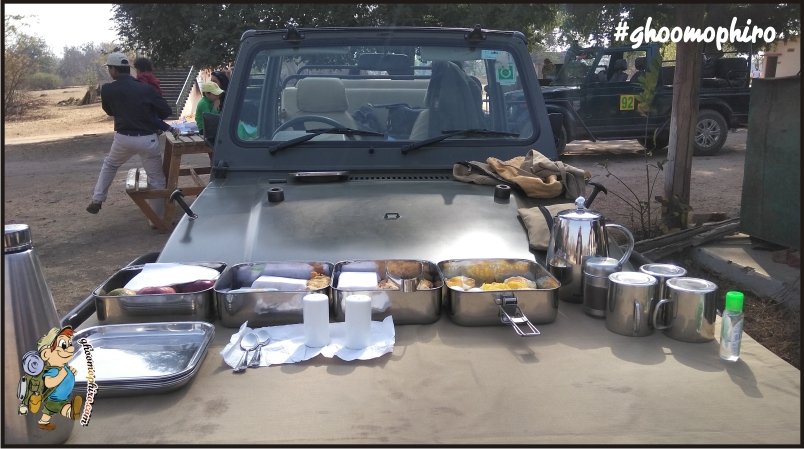 What to do
You may customize your itinerary during your stay with the manager as they have activities lined up for you. This list includes jungle safari to Pench Tiger Reserve, Walk to the nearby Village, cycling sessions, Birding, Night Safari or simply relax in the pool.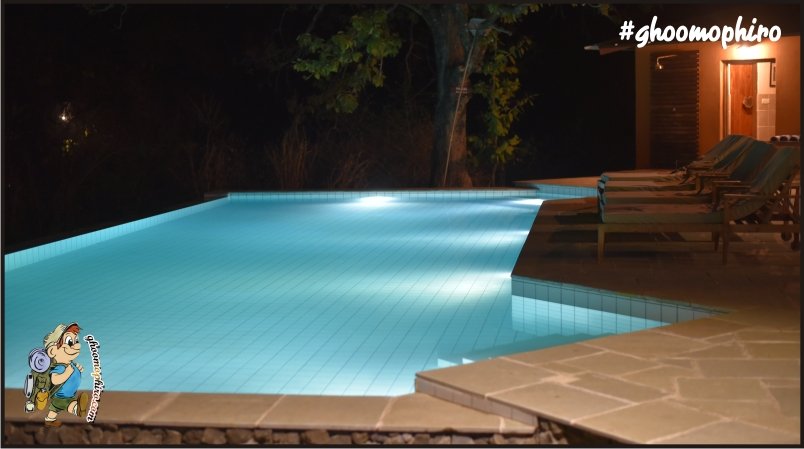 We must say, the Pench tree lodge gives you endless opportunities to interact with yourself, stay close to nature and definitely, you are going to treasure the experience for long. The retreat is the best example of how man and nature co-exist in harmony. Needless to say, it is indeed a plush and romantic escape.. Get your bookings now!!