Sultanpur Sanctuary- Bird watcher paradise
Posted on May 18, 2017 by ghoomophirosisters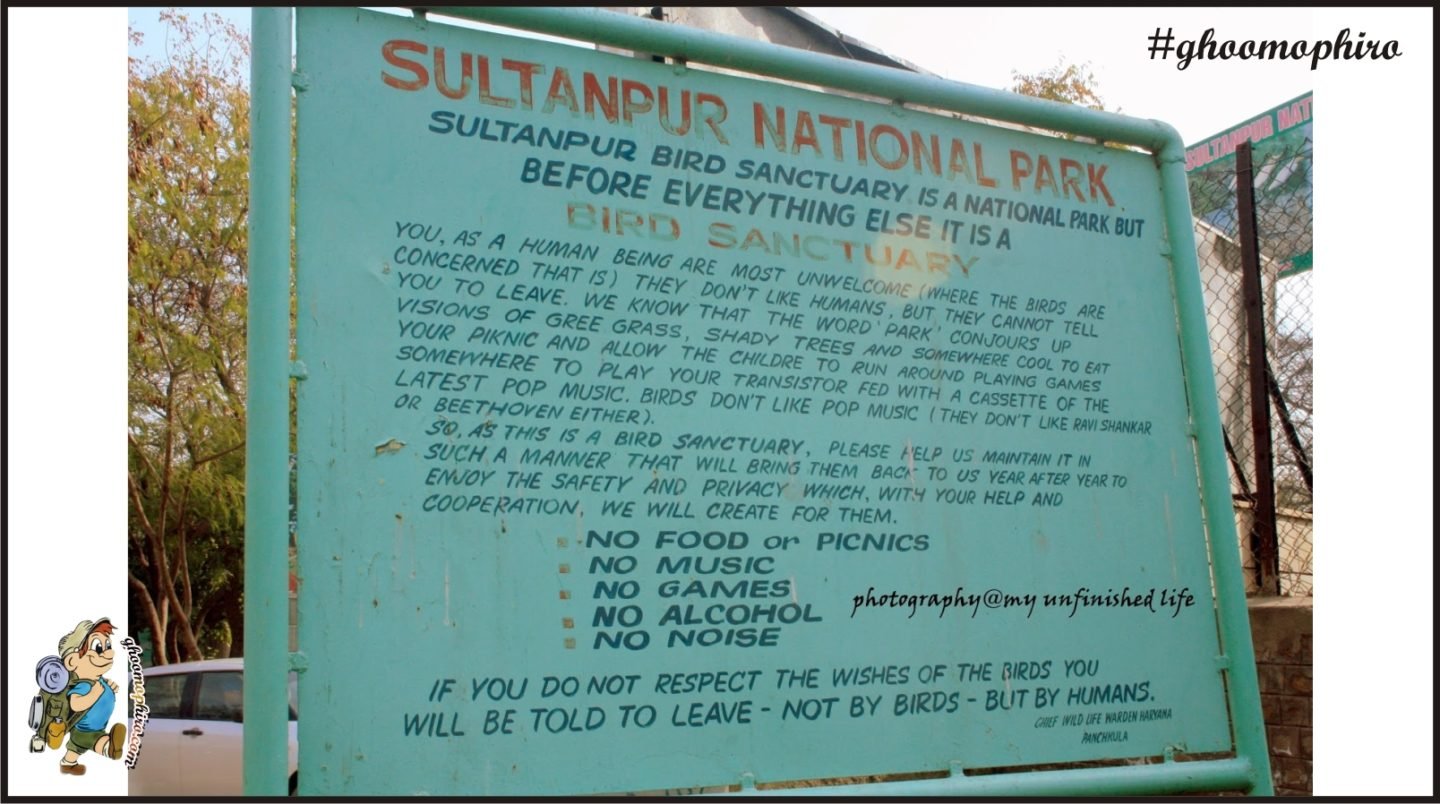 This National park that is at a distance of 15 km from Gurgaon is not only a sanctuary of birds where birds migrate from all over the world but also a famous picnic spot. We went to Sultanpur Bird Sanctuary during winter months and stayed at the guest house there only. The tourist complex is splendid with a restaurant and bar. The bar is well stocked and the restaurant serves quality food.  We arrived there by road from Delhi (which is 50 km away) on Wednesday which is good because the place is closed every Tuesday and moreover, a permit is required to enter the place before 7 am.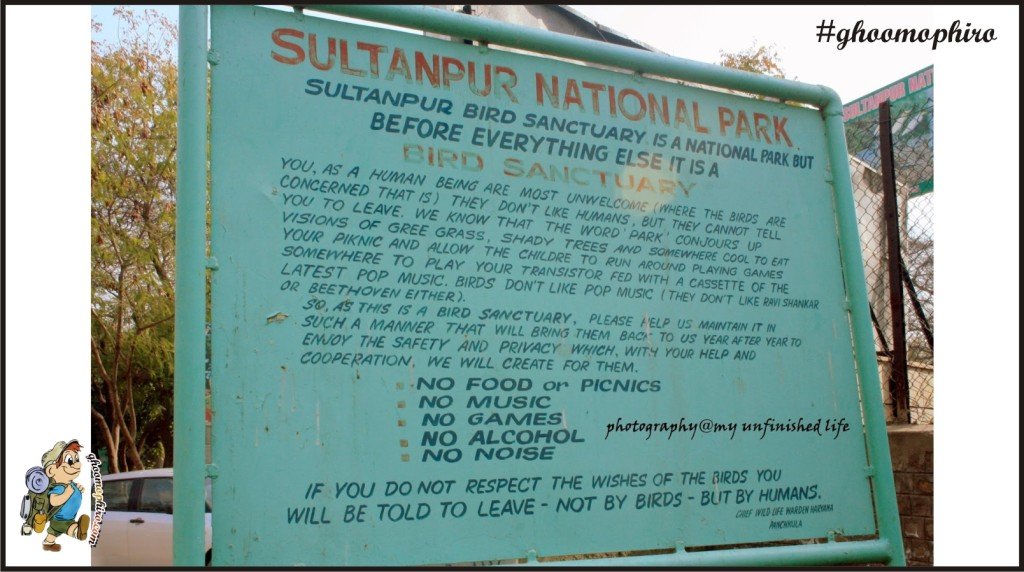 Anyway, the officials told us that it was a good time to visit as the birds migrate to the sanctuary during winter months and thus we got to see a diversity of bird species. I gave in to my passion for bird photography and we did lots of bird watching with our binoculars in hand and our head-turning everywhere, not knowing where to see because it was all so beautiful. With a tiny fee of Rs 5, it is such an astonishing place to visit. Be sure to carry your identity card with you when you visit because you will be denied entry otherwise. There were adequate parking facilities, drinking-water facilities and bathroom facilities making it a place with ease.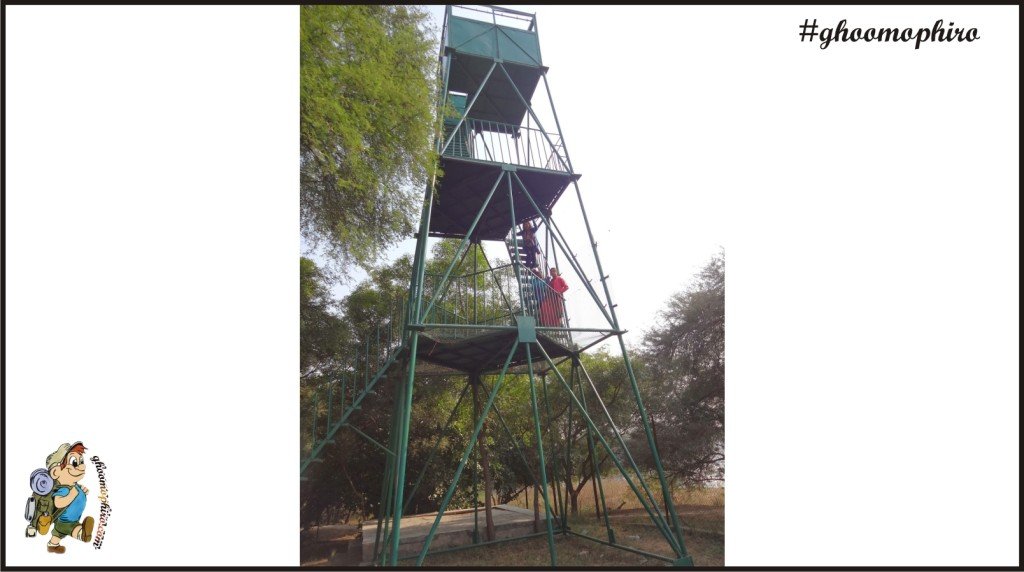 There are more than 250 bird species that have been identified there and if you keep a bird book with you, you will be able to identify some of the birds. We were lucky enough to see a spot-billed duck, painted stork, white ibis,  common hoopoe, paddy field pipit, purple, grey francolin, black francolin, Indian roller, white-throated kingfisher, black-headed ibis, little egret, great egret, cattle egret, India crested lark sunbird, little cormorant and Eurasian thick-knee. Within the vicinity of tall and green trees, bougainvilleas and shrubs were these beautiful creatures. We were glad for those binoculars as they helped in letting us enjoy the scene without disturbing the peace of the place. It is also a place for a good trek. Beginners can practice with the easy terrain while also experiencing the scenic panoramic views.
It is a picturesque view as the birds settle around the sanctuary with all their flamboyant, visually pleasing colors and gorgeous wings and sounds. This is what bird-watcher paradise looks like. We had a small picnic there among those birds. We went up to the watch tower to see the sanctuary in its full glory. To be honest, the view from there was breathtaking. The whole place is spectacular. There was also a library, films and an education center for benefit of tourists. It indeed turned out to be very informative and we walked out with more knowledge than we had before.
We saw some children playing within the reserve as there is a special park for them. Also, we saw old write-ups, personal belongings, and photographs by Dr Salim Ali as there is a whole room dedicated to him in the reserve.
The park timings are 7:00 am to 4:30 pm but I do not think that even that is enough time to fully absorb and appreciate the beauty of this magnificent National Park. By the time we left, there were unforgettable memories imprinted in our minds. We felt like explorers in a jungle reveling in the sheer natural charm of this National park. You can visit the park with your family, friends or even alone as it is one place that will leave you flabbergasted.