10 Days Itinerary for Vietnam
Posted on June 15, 2017 by ghoomophirosisters
Vietnam is a beautiful country with varied terrains and you need sufficient time and information to ensure you make most of your Vietnam experience. During one of our #ghoomophiro trip, we curate this itinerary for us. Hope you enjoy this Vietnam trip too. In our 10 days' trip, we tried to experience all facets of Vietnam starting from Halong Bay to Mekong Delta. The country is an abode of nature and will quickly make you feel if you are in heaven.
Days 1-3: Saigon and the Mekong Delta
Saigon is popularly known as Ho Chi Minh City. A walk in the city will tell you the story of rich colonial past. You can roam around the museum, tunnel network. This will let you understand the life of Vietnamese closely.
Only two tunnels are opened. Post this, heading to Mekong Delta is a great idea, where you can experience world's best floating markets. The best part is the items being sold in these markets are freshly grown in nearby places. The Mekong is also known as rice bowl of Vietnam. The place lets you view the greenery. While you are cruising the delta, you can witness the rich biodiversity and also enchant yourself with the Vietnamese culture, as everything around you from water sound to countryside view echoes Vietnam.
Days 4-6: Hue and Hoi An
Next day, take a flight to Hue, which was once upon a time an imperial city and now one of the UNESCO sites. Located on the bank of Song Huong- Perfume River; Hue is around 700 km from southern Hanoi. It is a must-see place for history buffs. Hue Citadel, Emperors Tombs (There are several tombs of ancient emperors around the Perfume River. Few of them includes Minh Mang, Khai Dinh, Tu Duc, Dong Khanh)
Pagodas (Thien Mu Pagoda is the most popular pagoda. With the symbol of the octagonal 21-meter-high tower, the pagoda is the perfect combination of artificial architectural work and picturesque nature. Other pagodas are Tu Dam, Tu Hieu, Huyen Khong).You can also
You can also sunbathe in the beautiful beaches of Thuan An and Lang Co beach. One can also enjoy the hot springs hot springs namely Thanh Tan in Phong An, Phong Dien, which can rejuvenate you after a tiring day.
If you are into shopping, then Spiral Foundation is the place, an organization that sells eco-friendly crafts produced by deaf and mute artisans. Hue still maintains its conservative tranquility and this adds to the beauty of the place.
Hoi An Town is an exceptionally well-preserved example of a Southeast Asian trading port. It is a city cut by the canals.  Its streets, countryside reflects the influences from history and give a picturesque view. You should not miss hitting the beach, trying the street barbecue and spending time at a homestay. This will definitely enhance your experience. Do not miss to explore the place on the bicycle tour.
Days 7-10: Halong Bay and Hanoi
Flying from Danang to Haiphong, you can drive through pleasant farmland to reach the Halong Bay. The place is famous for its 1600 islands that form a spectacular seascape of limestone pillars. Experimenting an overnight cruise to view these beautiful islands is indeed a great plan. The place is also another UNESCO Heritage Site.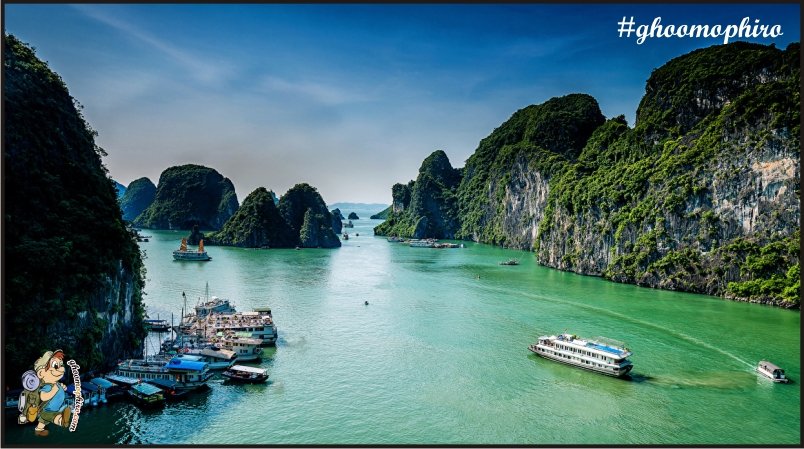 Now is the time to wrap up the trip with the visit to capital city Hanoi. Highlights of the city include Imperial Citadel of Thang Long, Water Puppet Theatre, Hoan Kiem Lake and Ngoc Son, Dong Xuan Market, Ba Vi National Park, and Hanoi old quarter and opera house.
Needless to say, Vietnam is an exceptionally idyllic vacation spot and brings you close to nature. While you are packing for your upcoming vacation to Vietnam, do not miss to apply for Vietnam Visa to avoid last minute rush.