Elma's Bakery in Hauz Khas Village is a quaint place with a real English feel to it.
Posted on July 29, 2017 by ghoomophirosisters
Tailor-made to kick your taste buds with its exotic delicacies, Elma's Bakery is an exotic destination to savor the real flavors of India in the heart of Delhi. The restaurant exudes warmth and mesmerizes with you with its soothing ambiance.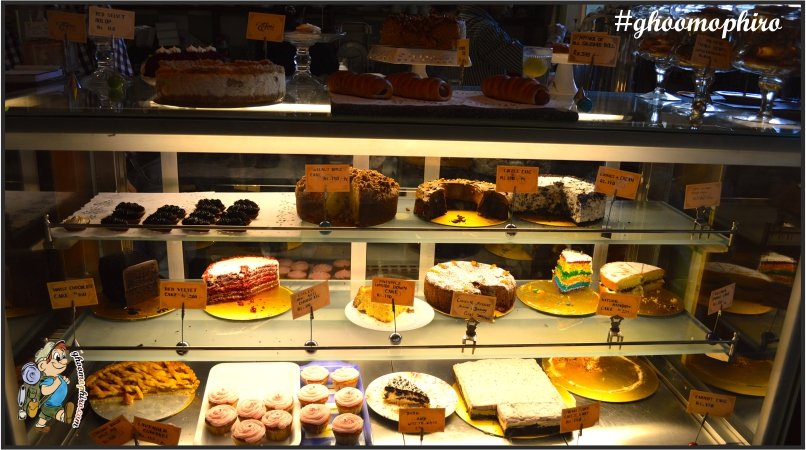 Radiant with its sparklingly fresh leafy setting, Elma's Bakery serves you in style. It gets you an authentic retro feel in it delightfully delectable menu comprising pastries, cakes, and light meals. Overall, it is an ideal place to unwind and explore a chunk of life through Indian culinary journeys.
Location
Elma's Bakery is situated right in the heart of South Delhi's Hauz Khas Village, which is one of the most popular eclectic eating hubs in the neighborhood right now. The village reflects the charm of the bygone era with a host of historical monuments. The complex has an organized parking facility for vehicles to ensure no congestion. Besides Hauz Khas Village, Elma's Bakery is also present at other locations including Lodhi Colony, Select Citywalk Saket, and Sushant Shopping Arcade, Gurgaon.
Don't Forget To Try
Some of the most popular dishes that you must try at Elma's Bakery include thin crust pizzas, pasta, hummus, falafel, and scrambled eggs among others. The place serves excellent drinks and cocktails as well. Try cranberry drinks and cold coffee. They are done so English that you will be blown away.
It is a paradise for cheesecake lovers. Their red velvet cake is the signature dish. Don't miss out on the deliciously served moist chocolate cake. The Classic Genovese Pesto and fresh vegetables (Exotic Vegetables) thin crust pizza is the real attraction for the fans of Elma's Bakery. With all the fancy teas such as black, green, jasmine and other floral infusions and great cakes, Elma's Bakery is a pure delight.
What is Special?
Savor the New York style bagels and all sorts of bread ranging from baguettes to chocolate bread to bacon loaves. Relish the exotic American styled pies such as Butternut Maple and Pecan Pudding Pie.
Ambience
Eating at Elma's Bakery in Hauz Khas Village is like taking a trip down the lanes of an old teahouse in somewhere England or in some patisserie in France. It sends you a soothing vibe with its flowery curtains, ivory handled silverware and crochet patterns. The interiors are antique victorian and the grand green piano leaves you spellbound.
Price
You can enjoy a meal for two at Rs 2,000 here at Elma's Bakery, which is worth a single penny.
Quick Tip
In order to enjoy a quiet view of the Deer Park, you must visit here in the afternoon and relish a cup of afternoon tea and wholesome juices with delicious sandwiches.
The Verdict
With a host of American style Bagels, English styled scones, and French pressed coffee, Elma's Bakery blends the exotic flavors from the foreign lands. It serves divine food for the Gods at the most affordable price.