Village Walk to Rancha
Posted on August 26, 2017 by ghoomophirosisters
During our stay at the King's Lodge by Pugdundee Safaris in Bandhavgarh, a village walk was arranged. Barely a kilometer away from the lodge, we reached a uniquely traditional and secluded village Rancha. Firstly, we were surprised to see how desolate the place was not a soul in sight. Then, we were taken to a villagers' home. There we saw intricate artwork done above the doors. We were in awe of the beautiful designs and what trumped even that was, getting to know that the males in that household did the work. That made us look at the colours and designs in a new different light. The stuccoed work looked incredible. This small video will surely let you believe how interesting was our walk to village Rancha.
That talk with the family was a delightful and refreshing experience. It taught us how open and friendly village people can be when you show genuine interest. All you must do is respect their traditions and be polite.
After a little while of walking around and meeting other villagers, we discovered that the place was not as desolate as we had imagined but it was the heat that kept people from wandering outdoors. We met other people as well, like a lady who ran a shop there. The shop had an adjoining room where she lived with her family. Some kids showed up from the nearby school to buy sweets with their pocket money and it was an adorable sight.
The kids were incredibly talkative once we sat down to talk to them and a charming smile was all it took to make even the shy kids become extroverts. We visit some other homes and the people welcomed us with warm smiles. Though some of them were camera shy, others did not hesitate in posing for a photo.
We saw some dome shaped temples upon entering the village and creative decor all over the homes of the villagers. Blue seemed to be one of the more popular colours. The smiling faces of all the people and the earthly atmosphere all around instilled us with humility and even the water that we drank tasted better. There were various government run health programs too.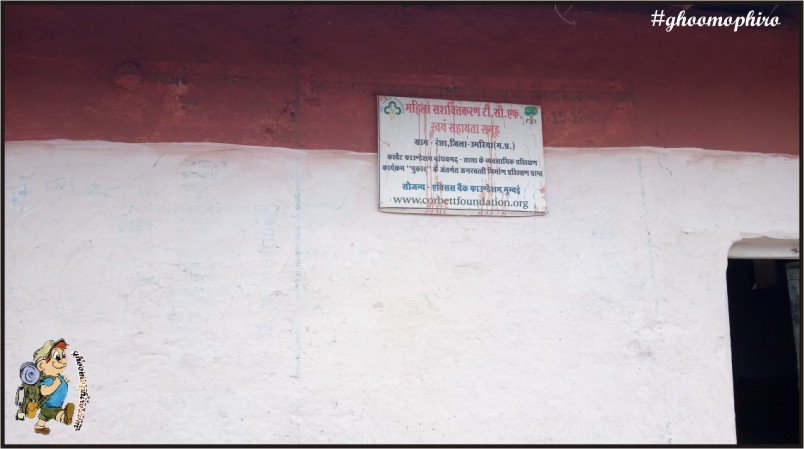 The only thing on should know before visiting Village Rancha is that you should act respectfully and responsible tourism is needed while visiting homes of the people. Take your shoes off before entering the homes and don't be rude. If you are just visiting to take pictures, then this is not the place for you.
Thank You Pugdundee Safaris for an awesome experience