Exploring The Desert City of Palm Springs, California
Posted on November 11, 2017 by ghoomophirosisters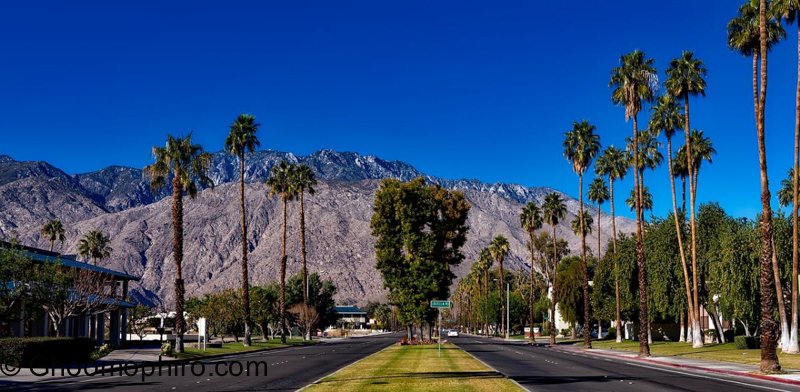 A short two-hour drive away from LA is this desert oasis known for the popular names associated with it. Be it Frank Sinatra, Marilyn Monroe or Elvis Presley, none could resist the retro charm of Palm Springs, California. The place is already popular among tourists especially girl looking for a nice relaxing vacation. It is an Instagrammer's dream place with the legendary pink door and so many chic spots. But anyone can visit Palm Springs to just kick back on the poolside and enjoy cocktails.
Here's a travel guide for those visiting Palm Springs for the first time, with a to-do list that you should pin to your travel guide right now. It includes when to visit, where to eat and where to stay – there are a quirky selection of hotels and, if you prefer, many cool villas in Palm Springs.
Things To Do In Palm Springs – and More
Let's begin with the most important question of when to visit:
January to April: These months experience the winter climate and are the peak season for tourists who get to enjoy all the tourist attractions. One must not forget that it is the desert area and what's the fun of vacation if you have to complain about the heat the whole time?
May to September: The best part about visiting during this time is that there will be no crowds and you will easily find hotels at a great price. Though, you will have to tolerate the heat during the daytime. But if you consider yourself a night owl, the evening time would be perfect to wander.
October to December: Fall is a great season to visit Palm Springs for an average traveler. Not too much worrying about the weather and there won't be a huge tourist crowd either.
The place is filled with hipster hotels and artsy places to stay that you would not even want to leave your hotel room. And on top of the list of best places to stay in Palm Springs is:
The Ace
The hotel has such a good vibe and is the most hipster hotel in the whole area. You can pick the room with fireplace and a patio to get the better living experience. But there won't be any shortage of photo opportunities here so keep your camera handy.
The Saguaro
If the Ace is a hip place, then this hotel is a piece of art with cute shades at every corner. It's more of a party hotel and you can enjoy your weekends to the fullest while staying here. Staying at Saguaro is like being surrounded by rainbows. The place even has two great restaurants.
The Hyatt Palm Springs
The main highlight of the place is the pool. The good music playing around and a pool bar on weekends made the whole experience ten times better. You can also get on a retro bike (available there) and wander the roads. Their restaurant, the guard dog in the lobby, the comfortable room makes it a perfect place to spend your vacation in.
Where To Eat
This is going to be the hardest list since Palm Springs is filled with places you would want to eat at. We suggest not filling up on one meal and just trying out different things at different places so you can get the whole experience.
Koffi makes the best latte around the place but you can also try their other refreshing drinks. For brunch, we visited Cheeky's and their menu keeps changing but you can always find something that appeals to you. Then there was Birba which was the perfect pizza place. That taste you will find nowhere else.
Things To Do:
There are as many things to do on the way to Palm Springs as to do when you are there.
Go see the world's biggest dinosaur and click a selfie with it. Enjoy the view of Palm Springs windmills and stop by at the Morongo casino to try your hand. Maybe Lady Luck would smile on you.
And once you are finally in Palm Springs, here's what to do:
Bike riding: Many hotels give rental retro bikes that you can just take off on with your girlfriends and see Palm Springs in its natural beauty.
Shopping: There are many thrift stores and places where you can buy cute or antique things. One of the stores we'd suggest would be Just Fabulous. You would wish to get your hands on everything.
Instapics: There are a million photo opportunities in this retro fun town and you just have to find a cute spot and pose. Your Instagram account would look like a rainbow once you start clicking pictures in Palm Springs. From Vintage cars to the 60s look, and colors spread everywhere, you won't have to look hard to find a perfect place.
Art Museum: There are two locations of Palm Springs Art Museums and if you have time, you can check them both out. Fr an art lover, what better thing to do.
Follow The stars: There is a Walk of Stars in Palm Springs areas and what's special about it is that it honors famous celebrities who once resided in the area. You can find famous artist names and even the former Presidents of United States.
Palm Canyon Drive: You cannot go here. It is the tourist spot where you can just grab a bite to eat, look at amazing views of the palms and even spend some money on shopping, entertainment or gambling.
Palm Springs Air Museum: The place has a collection of planes from World War II which have been restored wonderfully to give you an idea of how planes must have looked during that time.
Joshua Tree National Park: If you are in Palm Springs for longer than a weekend, you might want to go here and be part of nature. The National Park has great views of mountains and even a waterfall. But you might not want to visit during the summer season because the heat would be crazy intense at the time.
A Walk In The Desert: A 20-minute walk through the desert would take you to Tahquitz Canyon and through the terrain is difficult to endure in the heat, the walk to the falls is worth it. Just don't forget to carry water and sunscreen.
In the end, the best thing to do while leaving Palm Springs is getting your hands on a date shake at Hadley's. The experience is not complete until you have tried that.