In Conversation with Padmaja Rathore
Posted on February 12, 2018 by ghoomophirosisters
There are rare times when you come across some rare people who are not only an inspiration to you, but you always feel that their story needs to be told to everyone. And exactly this is what I felt when I met miss Padamaja Rathore from Jodhpur. She has been kind enough to share her story with us in the most candid way and here is the glimpse from the conversation.
Brief us about your background?
Rajkumari (Princess) Padmaja of Jodhpur who is filled compassion and courage has left the comforts of her Palace and has taken it as her duty to protect, educate and guide the people and wildlife of her states eastern frontier, the wild of Jawai and Bera.
Born in the Royal House of Jodhpur Marwar, Maharaj R.K Rajendra Singh is a conservation aficionado who for 45 years done various deeds in Rajasthan, Himachal Pradesh and Uttrakhand. He is a trained forest firefighter, has been a part of several volunteer activities with the Indian Air force and has done surveys the Indian Government- the Great Indian Bustard conservation, Blackbuck protection, CITIES, WWF, flood-affected areas, afforestation, water conservation and the list continues.
Rani Durgeshnandini Singh is from Himachal Pradesh, she has in silence helped several women in Himachal Pradesh and Rajasthan with domestic violence and social abuse, hygiene and sanitation, birth control and volunteer education.
Baiji Lal Rajkumari Padmaja and Rudhrani are following the footsteps of their great-grandfather and parents, both are involved in the conservation of Flora, Fauna, culture, and education in Godwar, Rajasthan.
Princess Padmaja is a Taj product after completing her B.Sc honors in Business and Hotel Administration she has devoted her several years in the wilderness of Godwar Belt of the Aravalli Ranger with the Tribal folk, her compassionate nature has made her leave the luxury of Rai-Ka Bagh Palace Jodhpur and live the life of a common farmer.
Princess Padmaja is doing a private research on indigenous flora and conservation of wetlands for  fauna
Baiji Lal Rajkumari Rudhrani Singh Rathore is a young budding Lawyer, a keen traveler and is showing interest in social upliftment and conservation, she has a small Homestay in Manali and works with local people in that part of Himachal Pradesh.
Tell us about the support from family?
Family support is a blessing, they are strict and liberal at the same time with both of us ( my sister and),, they have demands and expectations, with deadlines we must meet. Their love and guidance are always with us. They have worked on making us emotionally and financially independent. We also work in the budget and have to give accounts back to the time. We owe every bit of knowledge and success to our family.
How did it all start?
Conservation started at a very young age, motivated by our family. They pushed us to be sensitive and responsible towards our planet. Giving us knowledge of plants and environment. We were made to pick up plastic and plant trees, we were taught how to respect all big and small creatures and human beings. We were made to address all our staff as Ji with respect. We very made to dig small catchment for water conservation, we were taught how to do farming and the rest is now reflecting in our Arid Recovery Wildlife and wetland project at Bagheera's Camp.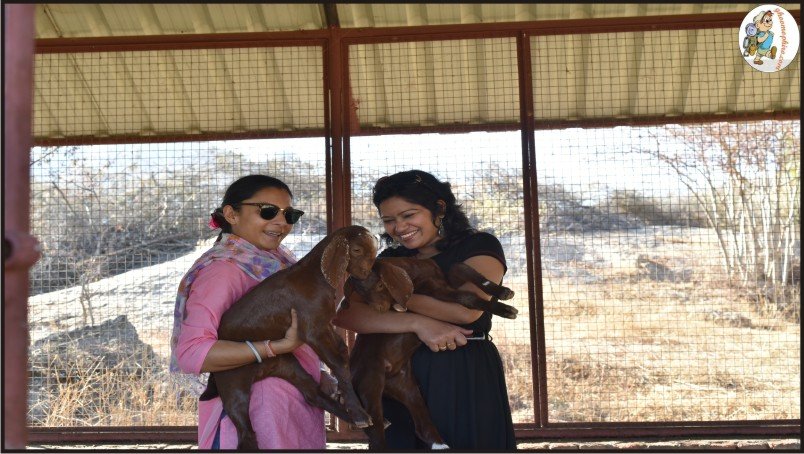 Being into this for a while, how do you feel?
I  feel motivated and strong, working with tribals is very challenging and a slow process requires a long-term commitment towards them for they have trust issues. The positive part is that we all want our lands to become rich in indigenous flora and fauna so that the present and future generations can benefit. – we are all at Bagheera's Camp working on
WETLAND CONSERVATION
ARID AND SEMI-ARID DECIMATED…
AYURVEDA
PROTECTION AND REVITALIZATION OF INDIGENOUS MEDICINAL PLANTS AND TREES
NATIVE SPECIES
LIVESTOCK GRAZING AND THE ASSOCIATED DIFFICULTIES
Your message to our readers?
My message and pursuit are simple – to bring an understanding and awareness to the importance of protecting our fragile and disappearing wild areas. Nature conservation and preservation is a key to our own survival as well as giving us natural areas that can be enjoyed and experienced.
 let us all take action – every bit of what we do can help. Do not be a part of the group of people who wish to ignore these vital issues to our own health and the welfare and health of our families – GET INVOLVED – start a group amongst your friends and/or family to change the landscapes of your own garden and then to see where you can help your city and region become more eco friendly and aware.
YOU CAN ALSO START BY JUST NOT THROWING TRASH OR PLASTIC ANYMORE IN YOUR OWN NEIGHBORHOOD AND CITY – SAY NO TO PLASTIC BAGS – its an easy start.
If you have similar inspirational stories, send us at ghoomophirosisters@gmail.com