Valley of flowers, Bhyundra village, Ghangaria, Uttarakhand.
Posted on March 15, 2018 by ghoomophirosisters
A long drive from Rishikesh to Govind Ghat marked the beginning of our journey towards Valley of flowers. Like its name suggests, this is supposed to be a heavenly trek with marvelous views and since the flowers bloom during monsoon, that is the best time to visit.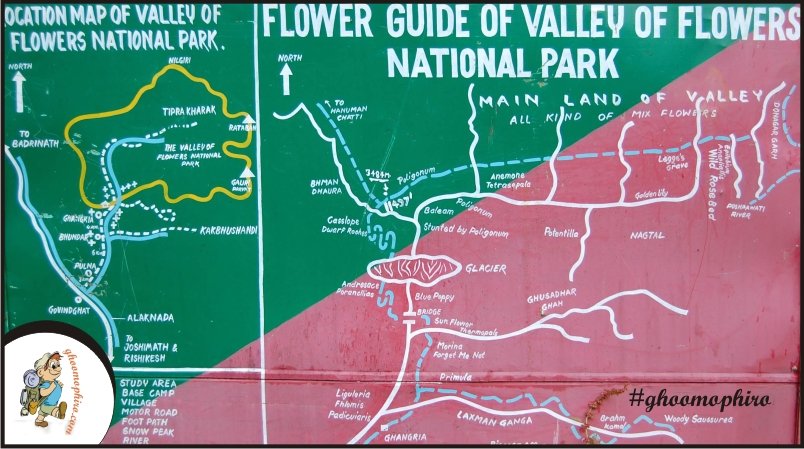 After reaching Govind Ghat, we started feeling good about our journey here. Unlike the rest of Rishikesh, Govindghat is scarcely populated and most of the people here are travelers. The weather was perfect and we had the view of the mountains as the real trek began. The trek is done in two parts and as we walked to Ghangaria, 13 long kilometres till we reached, we saw the nearby views and it gave us the strength to keep walking. The trek itself is moderate and not too difficult even for beginners. There are facilities for food and accommodation and a great view waited for us as we walked a little outside the business area. A couple hundred meters away from the market was an open lush green area. That showed a clear path that bifurcated to Hemkund Sahib and Valley of Flowers. The path to Hemkund Sahib (for those who wish to cover both treks) would take another extra day to cover since it was 6 kilometers away.
We stayed the night before moving on to the Valley of flowers the next day. That trek was about 5 km long. Since there is only one road and no chances of getting lost, we avoided getting a guide.  Our trek to Valley of flowers started early in the morning so we reached there by 3:30 pm while also looking at the flowers on the way and clicking pictures. The ascending trek was a bit tiresome and we huffed and puffed till we finally reached the place. We went to a spot that was opposite the Valley of flowers and it had many flowers and a beautiful fall. Surrounded by such natural beauty, it felt incredible. The valley of flowers itself has many rare floral species and it is blessed by nature with such beauty and richness. We saw orchids, poppies, daisies and some other exotic flowers. Those views were better captured in a camera than described using words but one has to experience it first hand to understand the feeling.
The trek to valley of flowers was brimming with rare sights and the simple pleasure of greenery around and fresh air is what every trekker desires. The valley is enchanting and once you are there, you do not want to leave but we had to go back by six since no one is allowed in the valley past that time. The trek back was easy as we descended.
What you need to know before going on a trek to Valley of flowers is to be prepared. Since the valley is located at a high altitude, take medicine with you. This trek isn't too hard and many families and even kids easily are up to the challenge. Mules are available to reach Ghangaria but we preferred walking. It is a point about preference. But if you are visiting the valley of flowers, be a responsible traveller. Do NOT throw away garbage around and pollute such a beautiful place that is still untouched by the hands of men.

Though Valley of flowers is a UNESCO heritage site and a national reserve, there aren't many wild species that we came across, just a few bees on the flowers and a rodent here and there. What was special though, was the views and the colorful flowers.
Here's an itinerary for our day to day trek
Day 1  Drive from Rishikesh to Govind Ghat. Night stay at Govind Ghat
Day 2 Govindghat to Ghangaria, walk those 13km or ride a mule. Stay at Ghangaria for the night and rest before moving on the next day.
Day 3 Ghangaria to Valley of flowers. 5 km long trek. And return before 6pm.
Day 4 Back to Govind Ghat. Unless you wish to go to Hemkund Saheb (we didn't) in which case, it is a 6 km trek. And you can come back on the same day.
Day 5 Way back home.
Reach out to us at ghoomophirosisters@gmail.com for any trek related queries