Review : White Rann Resort, Kutch
Posted on May 25, 2018 by ghoomophirosisters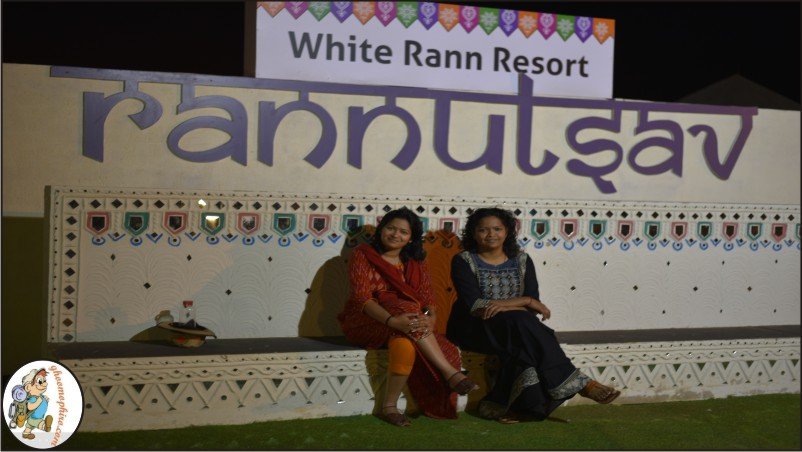 Address: Dhordo Kutch, Kutch 370510, India
Getting There By Air : Bhuj (80 kms), Rajkot (310 kms), Jamnagar (335 kms)
By Rail : Bhuj (80 kms), Gandhidham (140 kms), Wankaner (272 kms)Introduction:
Amidst the vast spread of sandy deserts of Kutch is this beautiful resort. White Rann resort is not only the best place to stay at but also the organizer of Rann Utsav, a festival every tourist would want to be a part of for its colors and festivities. Surrounded by amazing landscapes and beneath the moonlight, the place is vibrant with dynamism, vigour, and hospitality. The aura around White Rann as soon as the sun begins to set turns serene and peaceful. The whole ambiance is so calm and nice, making you want to do nothing but walk around or sit outside your tent absorbing in the experience. The location of the resort is quite good as well since it falls right at the edge of Rann making the trip accessible. The place is comfortable to stay in and very well-equipped for the luxury of the guests.
Rooms:
The main attraction of White Rann is its luxurious tent life. Living here at White Rann resort, Dhordo gave us plenty of opportunities to explore Kutch and enjoy its beautiful culture and breathtaking beauty. The tents have everything to ensure a comfortable and luxurious stay. Along with a twin bed, it has a coffee table with chairs. Hot water is readily available, not that we needed it. The tent was air-conditioned and also had a mirror table. The basic toiletries were given to us along with a complimentary bottle of water every day. There was also a goodie basket that we were provided with upon arrival. The tent itself was quite cozy and spacious enough to walk around. It was kept clean and in hygienic conditions which can often be the real problem with living in tents. The tents are traditionally-designed but with all the modern amenities. It had an attached bathroom along with a private sit-out space. The resort itself was as pristine as the sand of Rann and just rejuvenated us during our stay here.
Dining Experience:
The food here, with its traditional flavors and good quality, was a delight to our taste buds. The food was catered by Courtyard by Marriot and was delicious. More than that, the serving staff was also very nice and hospitable. The staff handled everyone courteously. The food cost was included in the package and we had 3 buffet meals (breakfast, lunch and dinner) along with tea. The food also included many local dishes, which we were excited to try out. And glad we did because they tasted amazing. Such lip-smacking Gujarati and Kutchi food stayed on our palate long after we had left.
Things to Do
The Resort offers many excursions such as a trip to the White Desert & Kalo Dungar. A bus takes us there and we clicked some amazing photographs. Another thing included was a Rann Safari in an open-decker bus. We stopped around a lot, to do bird-watching. The resort also has some indoor sports which one can indulge in such as Table tennis, pool, Board games etc. There is also an adventure zone where one can opt for Parasailing, ATV rides etc. We went to something of a Craft Village which was a shopper's delight with all these handcrafted pieces of art. The last day also involved a trip to Bhuj where we visited Swami Narayan temple, Bhujodi and Aiyna Mahal which turned out to be quite fun. And of course, if you decide to stay here during the Rann Utsav, it would be the most exciting and vibrant time of your life because you will get to see the festivities with such close proximity.
Highlights:
Apart from being right at the entry point of the white desert, making the resort accessible, it also had a recreation room, conference hall and dining hall. They gave cycles for moving inside the resort which was kinda fun. There was also a traditional dance and music show organized in the evening which made the stay even more memorable. We swerved to the melody and were enchanted by the dance moves.
Though there are many options for stay in Rann of Kutch, we recommend White Rann because of the ease and comfort with which we spent our time here. Along with great hospitality, there are many sightseeing opportunities and believe us, it is worth staying. The staff was very helpful and cooperative but the best part had to be the view of the sunset and the night walks beneath the moonlight. All in all, it is the perfect place to stay on your trip to Rann of Kutch.