Evolve Back Resorts, Hampi- Modern day recreation of Vijaynagar empire.
Posted on June 26, 2018 by ghoomophirosisters
With Evolve Back resort, relive the 14th-century Vijaynagar Empire. Just 4 km away from the UNESCO World Heritage site Hampi, it takes its inspiration from the ruins of Vijayanagar and it is evident in their arched hallways and Jal Mahal rooms inspired by Queen's Palace. The resort is at a short distance from Vijayanagar ruins and Tungabhadra dam in the state of Karnataka. A six-hour drive from Bangalore will land you straight at the resort.
The entrance:  As soon as you enter those grand archways, you are received with their traditional way of greeting 'Namaskara' with towels, flowers and vermilion powder along with refreshment of Coconut Milk with jaggery. Their white corridors with floral arches and eardrop shaped balustrades give you the feeling of a royal palace.
Rooms: The rooms itself are huge and comfortable with an ensuite tub, twin Jacuzzi, and shower stand. The granite and wood floor add to the decor of the room. We had a private balcony as well as basic necessities like Flat screen TV, coffee etc in the room. But who would want to watch TV with such a great ambiance outside? The room itself has a big comfortable bed with a canopy and drapes hanging on the wall add to the royal vibe. We relaxed in the Jacuzzi before our night sleep. The Nivasa room that we stayed in is perfect for couples with a separate living, sleeping and dining area. It is very spacious as well as comfy.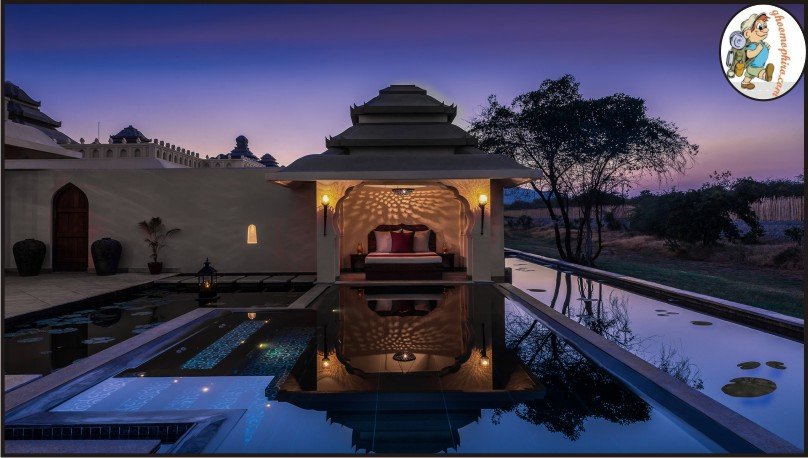 Sites around: The resort is at a short distance from the UNESCO World Heritage site as well as Tungabhadra dam so a short drive will take you to all the site-seeing areas.
Other amenities: The Ayurvedic spa is absolutely delightful and relaxing. With the four-hand massage, all your tense muscles are loosened and as they chant Sanskrit chants in harmony, your soul feels lighter as well.
Food: For food, they have two options Tuluva Restaurant and Bahmani Speciality restaurant. Even the names of these restaurants are taken from the Vijayanagara dynasty. Tuluva restaurant offers a good view of the infinity pool while you enjoy a variety of food from their menu. The Bahmani restaurant looks like a mixture of Persian and Hyderabadi architecture and it has the same vibe of royalty. The food was included in our booking. We got the breakfast buffet which was usual eggs, bread, and the general breakfast.  For lunch, you can try the candlelight dinner at Bahmani. Try their variety of paneer cheese, dal, naans and Yakhni Lamb. Among Tuluva and Bahmani, we found Bahmani to be better with food. The flavor of the food was delicious and then we tried some Indian desserts which turned out to be good as well.
Final verdict: Evolve Back was a good resort and we were treated well by the staff who were good in their hospitality. The resort is beautiful to look at as well as at a short distance from the sights which saves a lot of time.
Cost: Three-day stay package at the place is more cost-effective and would end up costing 27000 INR per night. But for that comfort, you would easily pay that price.
P.S-> Recently they have changed their name from Orange County to Evolve Back Resorts.