#ghoomophirosisters Sojourn with Everest Base Camp
Posted on June 3, 2018 by ghoomophirosisters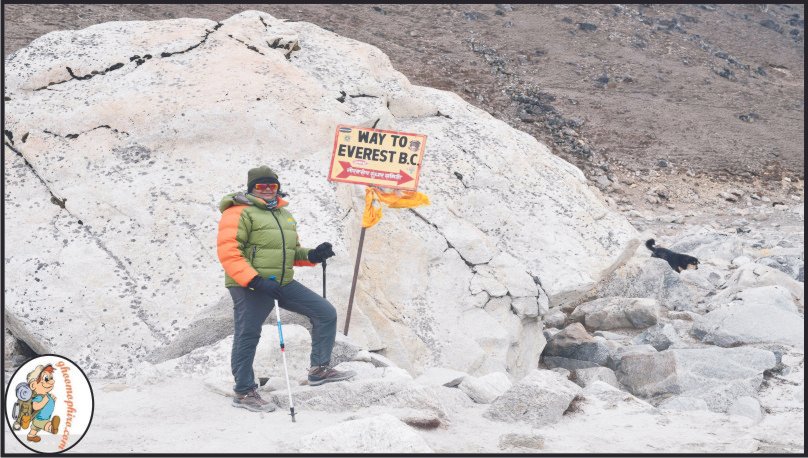 It's easy to find the itineraries and guides to the base camp easily, each explaining how the journey is not too tough. Well, as long as it isn't climbing Everest, right?
Well, like the great saying, "It is not about the destination but about the journey," we actually felt it is true on this trip. The trek to Everest Base Camp is not the actual climb to Everest but a hike to where the actual climbers begin from. That doesn't make it any less special. The walks are equally beautiful though ours was a little less challenging.
Mount Everest towers 8848m above sea level over the Himalayas and is every adventurer's dream. Our dreams only took us as far as the Everest base camp which is still 5364m above sea level and not child's play. It was common sense to think that the trek would be hard but we underestimated the level of effort it would require getting to the feet of the world's highest mountain peak. While it was all about reaching the destination when we embarked on this journey, looking back from the destination, we realized it was more about the trip, because the base camp itself was nothing more than a pile of rocks, though, with a great view.
This blog entry is all about our day-to-day experience while on the Trek. The idea was to capture each moment before it slipped away from memory and instead it became a caution tale too about how hard it was to hike each day. This is just daily documentation of our experience and you can judge for yourself if it is the right trek for you.
Let's start from the beginning. Before starting about the day-to-day activities on the trip, we'll talk about our arrival into Kathmandu, the capital of Nepal and the chaos that it ensured. The arrival at the airport was met by a mess of people and a struggle to get our baggage. We spent a couple days exploring Kathmandu since there were places we wanted to visit there. And after a few days of wandering in the city streets, we finally went to bed knowing that the experience that began the day after would remain with us for the rest of our lives.
Day 1 Fly from Kathmandu(1400m) to Lukla (2860m), then hike to Phakding- 7.8 km (2 hrs 20 mins)
We woke up with an early alarm excited for the beginning of our journey. While en route to Tribhuvan International Airport, we kept thinking about the trip and beautiful sights we would get to see on the way. We took an 8 am flight and sat on the window seat while flying to the world's most dangerous airport- Tenzing-Hillary Airport in Lukla and we must say either it was the beautiful sight or the thrill itself, it just added to our excitement.
While Lukla is just a small town at the foothills of Himalayas, its airport is built atop a hill and has been prone to many air crashes. The flights also get canceled a lot because of bad weather. We were grateful that nothing like that happened with us, though the flight was delayed by ninety minutes. The short scenic view during out flight towards the hills is imprinted on our minds. As soon as we got off the plane, we were greeted by lots of guides and porters, much like the Taxi and Rickshaw drivers in usual airports. Some things just never change. But it is good for people making last-minute bookings who haven't planned the things beforehand. It was after this that we finally started walking. It took about two and half hours to reach the small settlement of Phakding. The walk through the Himalayas jungle and swing bridges seemed easy enough and the first day was the easiest of them all. Phakding has developed a lot over the years and we saw shops on either side of the rocky pathway with even a Reggae bar and free wi-fi. We got a hotel room and it was clean and comfortable.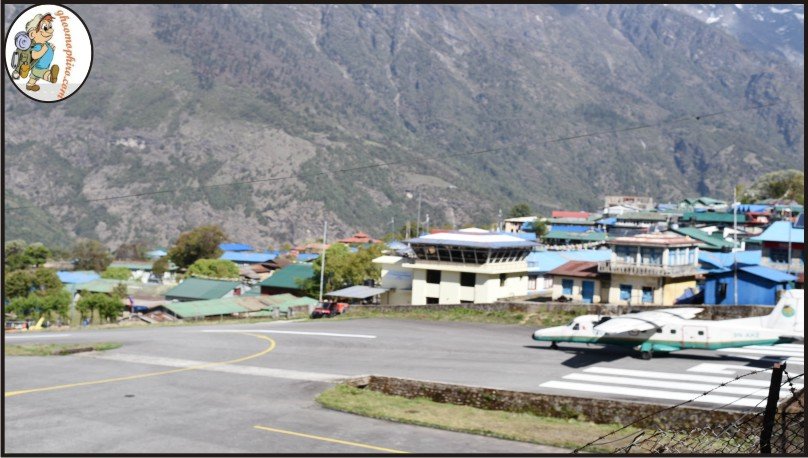 Day 2 Hike from Phakding (2600m) to Namche Bazar (3440m) – 12 km (In 6 hours, 15 mins)
Though yesterday's walk was easy, we knew it wouldn't be the same today. Our introduction to the Himalayas had prepared us or something more challenging today. We had a climb over 800 meters so we began by having a hearty breakfast. It was going to be a big day hiking after all. The steep ascension and moving across suspension bridges was exhilarating, especially with the wild wind blowing. The mountainside was filled with many prayer wheels, shrines and stupas. Along with the beauty of our surroundings, we were also able to take in the spiritual feel of the place. But the feeling of stepping on the suspension bridges, 80m above the river really made us feel pray. The thrill had an edge of fear to get off the bridge as soon as possible. But the view from the bridge, the huge waterfalls and massive gashes in mountainside is a sight to behold if you are able to concentrate anywhere besides your own feet that is.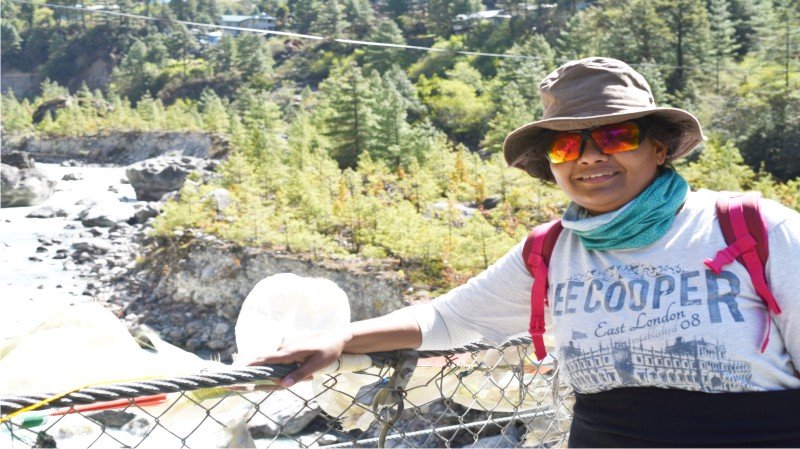 The path was a busy one though not crowded with our fellow humans but with Yaks and donkeys who carried people's belongings through the path along with goods for locals and tourists that would be sold in the main Market area, which was also our destination for the day Namche Bazaar.
The walk started pretty mildly and we enjoyed it but once we passed Monjo village, it got steep with no signs of the earth flattening anytime soon.  We kept climbing up and up and up. It was when we crossed about 3000 meters that we started to slow down since we knew the altitude also starts affecting at the time. That was a tough walk and our body started feeling the one and half hour long hoke on the steep slope. Afterward, we reached a checkpoint and felt like we were finally getting close. Reaching Namche bazaar was exciting since this whole settlement seemed to have popped out of nowhere, just around the corner. Located on the edge of a cliff, the place was full of color and felt like fun from the moment we stepped in. This is one of the main trading posts in the Himalayas and is used as a spot for acclimatization because of its wide availability of shops and bars and relaxed surroundings.  And we abided by the same principle, taking in delicious food and resting after the difficult hike we had just endured.
Day 3 Acclimatization Day in Namche Bazar
The thing about rest days in a trek is that they aren't really resting days at all. So we had to throw the idea about sitting back in our hotel room, lying around or wandering Namche Bazar out the window. It works like this, this day is a chance for your body to adjust to the high altitude, so to do that, you have to hike up to a higher elevation and then steep lower to sleep. Our day constituted of climbing a 'small' mountain behind Namche Bazar to the highest five-star hotel in the world, the Everest View Hotel. The hike did put a lot of strain on us as we started to feel the effects of high altitude. Along with puffiness of breath and getting tired easily, there was a nagging headache. But the little rest time in the Hotel with a cup of tea and a view of the Everest made things wonderful again. That afternoon we also went to a museum on the outskirts of Namche that displayed artifacts of the first-ever ascent to Mount Everest.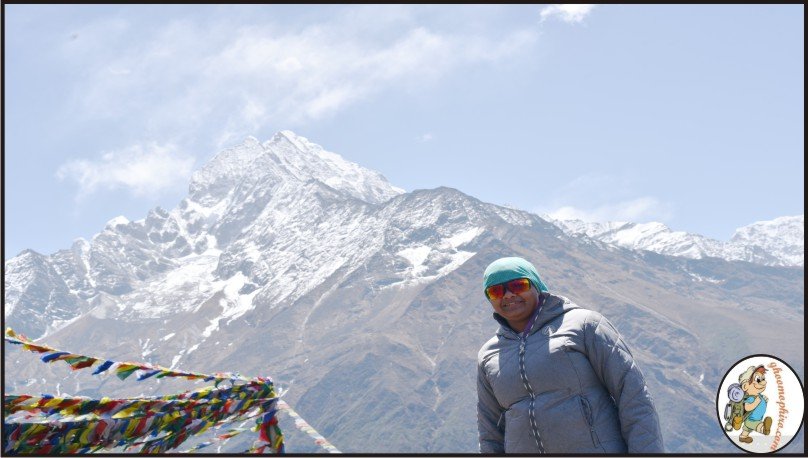 The best advice is to slow your pace on the rest days and save energy for the days that matter. It is a 12-day long trek, so it becomes essential to pace accordingly. We relaxed for the rest of the afternoon to save some energy for the upcoming days. The altitude had started affecting us at this point and we felt shortness of breath even while doing everyday tasks. At this point, it is essential that while hiking you walk slow. It was already starting to feel like a difficult hike but we still had a long way to go.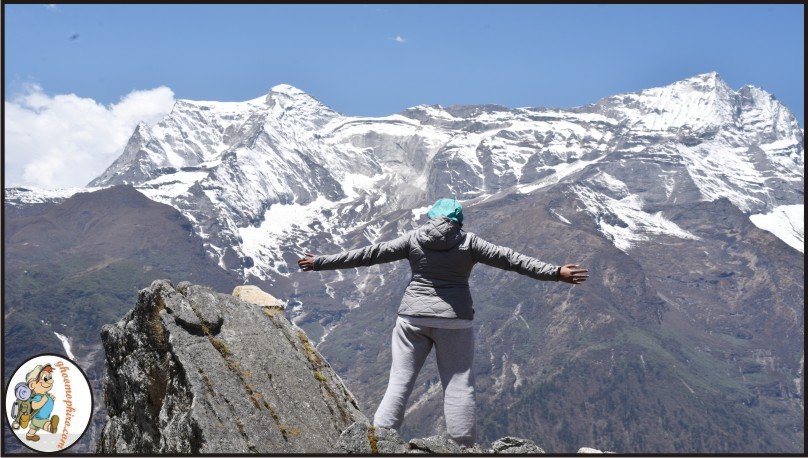 Day 4 From Namche (3440m) to Tengboche(3860m) (4 hrs)
As the walk began, we were amazed by the glimpses of Everest as we walked on a fairly easy path around the sides of mountains. We saw an amazing view of the majestic Ama Dablam Mountain. Frankly, this was one of the most scenic days of the hike and as the trail took us down, we reached close to a river where we stopped to have lunch before indulging in a steep climb again. And by steep, we mean scaling over 500m of the steep slope for 90 minutes. By the time that ended, we were all sweaty and yet it was an accomplishment knowing we had made it.
Tengboche has a beautiful old Monastery, one of the oldest in the Himalayas and it welcomes guests and tourists every day around 3 pm when the local monks come to pray. That act itself is something mesmerizing to witness. The whole ceremony takes place in less than half an hour and yet it leaves such a spiritual impact. Tengboche also has a bakery with a delicious range of cakes and we tried some. At this point, we were already pretty tired and it was funny how our body shut off right at 8 pm, straight after dinner. We needed the rest after all and by this time we were already at a high altitude, so it seemed reasonable.
Day 5 From Tengboche (3860m) to Dingboche (4410m)—11.6 km (4 hours)
It was at Tengboche that we discovered how hard it had gotten to breathe. Even the landscape was now shifting from trees to a desert feel. Though we didn't mind the shift in the terrain, the shortness of breath, while we had to climb such a long way, was quite difficult. It was good that this day didn't include any steep sloped, but some steady and slow inclination up to the mountain till we reached Dingboche. 
We hit the track and were still amazed by the scenic beauty of the place. The swing bridges came back again and so did small settlements. A headache begin too at this point as we kept moving to high altitudes and by the time we finally got to our destination, we both felt fatigued as well. Dingboche turned out to be a big settlement with a couple of shops and a Café. What struck us interesting about the café was that it was filled with tourists eating popcorns and enjoying coffee, watching the movie 'Everest'. Turns out they show the movie every day.
After having our dinner, we both went back to bed and ate Diamox (altitude sickness medicine) because the headache still refused to leave us.
Day 6 Dingboche Acclimatization day 6 km – 4 hours
Another rest day that wasn't really a rest day at all, but today's goal was easy. Well, who am I kidding? It was again a strenuous exercise. We all headed towards the Nangkartshang peak. It started off mildly but close to the top when only last couple hundred meters was left, we finally started feeling the pressure. But once we did reach the top, the views were completely astonishing as it had snowed there the night before. We got to see a snow-covered view of the mountains and the entire valley which was glorious. The rest of the day was for just that, rest. And we have to say it does get boring since there is nothing much to do during that time.
Day 7 From Dingboche (4410m) to Lobuche (4925m) in 3 hours and 50 mins (9.8km)
It was a fairly easy hike in theory but the altitude made it difficult anyway, yet it was the great views that kept us going even while our bodies protested. The glorious walk along open pastures and old abandoned houses is how it began that day until we reached a small settlement named Thulka where we stopped for a cup of tea. After the break, it was still a 45-minute walk straight uphill, at a steep slope. We had to take quite a few breaks on this hike because of the pressure making our heart hammer fast but in the end, we made it to the plateau safe and sound and almost healthy.
While walking uphill, we were greeted by many stone memorials of the climbers who had lost their lives right there on the mountain that we were so determined to climb. It was quite moving actually, instead of being demotivated, we became even more determined to climb the mountain. Many people paused to absorb the serenity of the place and the emotions it arose. We came across one special memorial- Rob Hall and Scott Fisher's whose fate we had seen in the movie just a day before. That really was the highlight of all the things we saw on the way. It just had a special significance that couldn't be forgotten.   The rest of the walk was quite tough as we had started to feel the fogginess in our heads along with the loss of concentration. That didn't bode well for the kind of path that we were on and all the stumbles and near falls made us more careful.  After reaching our guesthouse at Lobuche, we finally decided to rest and do nothing else for the entire day.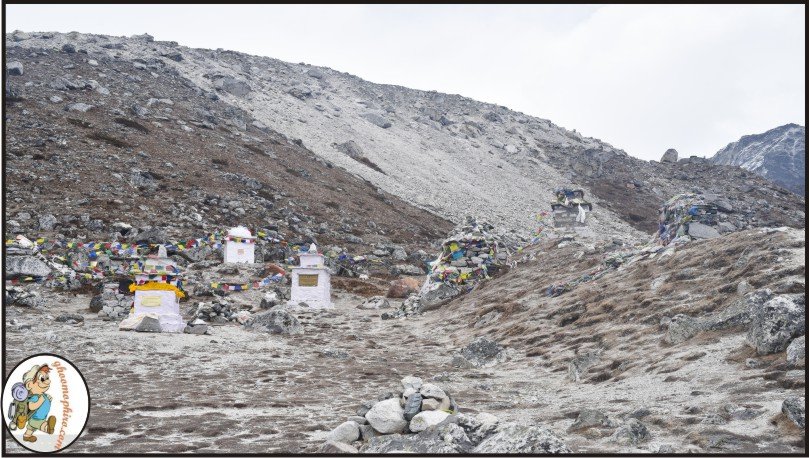 The guide had told us that it was necessary to save our energy for the upcoming day. We were also told to take a short walk to a higher level but we were just too tired to muster up energy, so instead, we decided to sleep and give our bodies some rest from the exhaustion.
By this time, we had already begun to look forward to getting off the mountain but that hope was a little less than our excitement for the final destination- Everest Base Camp.
Day 8 From Lobuche (4925m) to Gorak Shep (5140m) and finally Everest Base Camp (5364m)- 13.2 km (In 7 hours including breaks)
Knowing that this was the day we had been waiting for and had made so much effort made for a great motivator to battle the altitudes. With each step, the excitement level rose with the anticipation of the destination. After all, today was the day it was all about, right? It was quite a struggle to reach the place but as we kept walking, slowly yellow specks appeared and that kept us walking faster. There were amazing views all around us throughout the whole walk and we also passed by a dried river where Khumbu glacier used to be before it receded up the mountain by a few kilometres.
We had an early lunch after we reached Gorak Shep to muster up more energy for reaching the Base Camp. Though, we have to say it was a bit underwhelming,  Everest base camp turned out to be nothing more than a pile of rocks with a couple of flags. The case is probably different for the actual Everest climbers but to us, the journey so far had drained everything. But it wasn't all about the destination and the underwhelming pile of rocks but the journey we had undertaken and the rocky transformation we had gone through to reach the place. The rocky landscape was more a symbol of our achievement and when we looked at the place with that thought in our heads, it actually looked like the place of dreams.
We had finally reached the place we had been climbing so hard for, yet, no one broke out the champagne to celebrate.  Probably because you should NEVER drink at high altitudes, yet, we were dizzy enough from the altitude itself. We spent around half an hour at the place, capturing pictures to keep a memory of that moment and taking in the surroundings.  One of the most awesome things about Everest base Camp was that we could hear the ice shelves around the place creaking and breaking under the changing atmosphere. Then we had to trek back to Gorak Shep which was 200m descending since our resting place was there.
Day 9 Gorak Shep (5140m) to Kallar Pathar (55mom) to Pheriche (4371m)
We were finally relieved to have been getting down the mountain, yet there was another hill to climb before that. This was the day we had decided we would climb the Kallar pathar, a place known for its beautiful sunrise and panoramic views. Though we were reluctant to climb any more, yet it seemed a shame to miss out on the place when it was right there and what is a few more hours anyway. The hike was the toughest till yet and the altitude had started taking effect as we were on the brink of vomiting, yet we made it to at least 5400m which gave us a magnificent view of the tallest mountain in the world along with a vantage point for seeing the sunrise. After this, we began descending, knowing that there would be no steep slopes from here, just going down. We were exhausted yet relieved from the pressure which kept us going for while longer.
We trekked down the valleys while passing the glaciers and memorials on the way till finally reaching the treeline that was 4000m above sea level. We stayed at Pheriche village. It was the same village we had passed by on our way up yet entirely different, for this time we felt comforted, knowing that there were no more hard walks ahead of us, just retreat. Yet, we turned out to be so wrong. What the walk back lacked in hard terrain and pressure of high altitude, it matched up with covering long distances in a day's time. Even the walk back made us so exhausted and strained our bodies. This place has rudimentary hospital under Himalayan Rescue Association.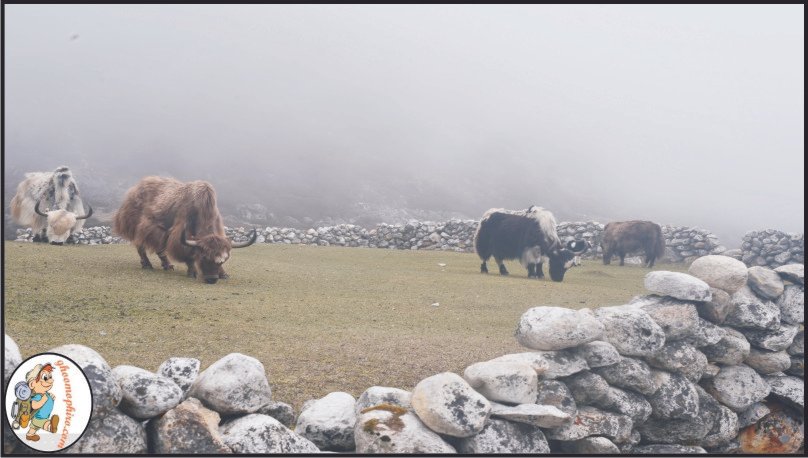 Day 10 Pheriche (4371m) to Namche Bazar (3440m) (In 8 hours and 45 mins)
We had finally started feeling better at this point and the lower altitude was doing its job well, keeping us comforted. Yet, these last two days of backtracking the same path we had come upon were quite strenuous and so long the day didn't seem to end. Even the scenery wasn't much of a motivator anymore since we had already been in awe of it before and now the only thought in our heads was going back to Lukla. As we passed through Namche Bazaar again, we stopped by to get a brownie at a café, taking in the place for the last time. When we had come to the place we had been going up with such determination in our eyes and anticipation for the glorious views, overcoming hard obstacles and making it through the day. Yet this time around, we came with tired eyes and had finally become resigned as it was time now to head back. Then it was time to head back to the village Namche Bazar. We finally took a bath and it was unbelievable, the level of satisfaction one gets after finally taking a bath after so many days. It is all about the small luxuries at places like these.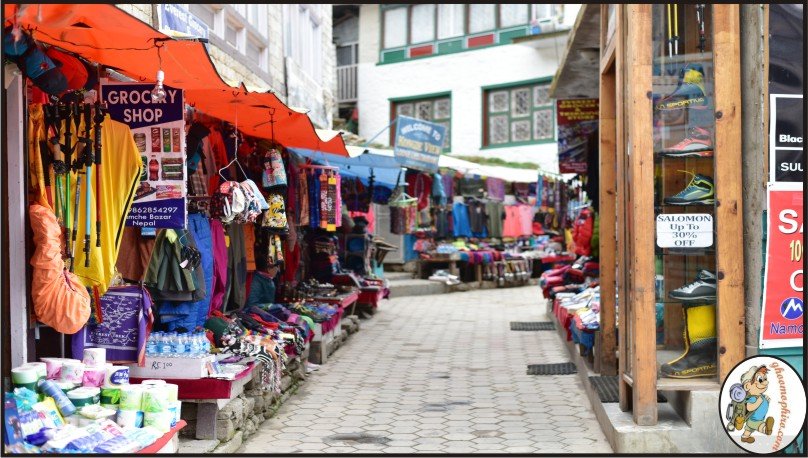 Day 11 Namche (3440m) to Lukla (2860m)
It was here, the last day of the trek and we looked forward to it with the same anticipation as we had looked towards reaching the Everest base camp. The whole trek was so glorious and it gave us plenty of time to think about the whole journey and recall every aspect of the ten days that had gone by, in what seemed like a blink of a moment now. The track had gotten busy by the time we were heading back and there were a lot of climbers excited to go on the same path we had just retreated from. 
We looked at the faces of energetic climbers and hope for the best for them, knowing the distressing journey they were about to undertake. They had no idea about how physically, emotionally and mentally challenging these few days were going to be. But a person comes out better at the end of it, knowing that if you could make it out of such hard course, you could do anything.
We kept walking, knowing that the end was coming soon, yet when there were only two kilometres left for the trek, we felt exhausted and it was at that time that the walk also turned tough. The track turned into an ascending one towards Lukla and it took a lot of effort out of our energy tanks to take each step upwards. One good thing though, that by now we had been used to such strain and so after much effort and putting one step in front of the other, we finally reached Lukla.  This was the end of the journey and we had done it! It was such an accomplishment. We were filled with joy at the moment.
Day 12 Departure from Lukla and the flight back to Kathmandu
It was another spectacular ride from the most dangerous airport in the world, which we enjoyed the exhilarating views. It was a comfortable ride and in a 16-seater turbo-prop no less. It just took the full runway before lifting off as the plane leaps off the cliff. Yes, exhilarating is the right word for such a feeling. We saw glorious sights again from out of the window and this time we didn't have to walk or exhaust ourselves to see it. Our legs were aching and the body was screaming from pain and exhaustion by this time. Yet, all we felt was happy and perhaps, a little melancholic about having to head back and leave the Everest behind us. The city of Kathmandu greeted us with same hustle and bustle and it made the thought hit hard. The trek had finally ended. All that was left now was to go back home with a lot more memories than we had before, and a lot of pictures as well. 
The trip ended on such a wonderful note that now when we look back at it, we see the good moments, the awesome views, the amazing memories we made on the way more than we think about how hard it was or the exhaustion or the pressure. Things like that are momentary and forgotten as soon as one takes a long bath and rests, but the memories and the sense of accomplishment remain for a long time. The trek to Everest Base Camp seems easy because it is nothing compared to climbing Everest.  Yet it requires a lot of effort and determination. We were lucky enough to not fall sick, yet, we did see a woman being taken down on a stretcher who would have to be deported on a helicopter to get medical help because of altitude sickness.  These are real issues that have to be tackled on the trek. Yet, somehow, it is worth it. It is worth all the stress, strain and risk. It is worth going days without taking a bath. The feeling that one gets while one of the suspension bridges or seeing the sun creep up from behind the snow-covered mountains, the people you meet on the way and the way even little things taste delicious after a long exhausting day is what makes it all worth it. We experienced it all. Now it is your turn!
For any queries related to Everest base camp, drop us a note at ghoomophirosisters@gmail.com