#ghoomophirosisters recommended itinerary for 8 days in Uttarakhand
Posted on August 5, 2018 by ghoomophirosisters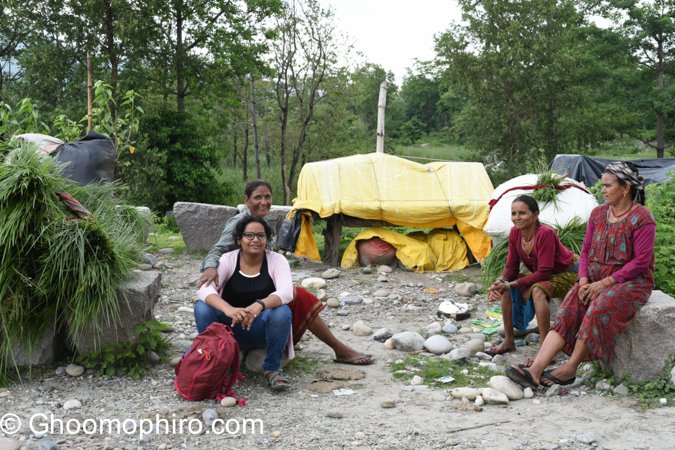 Ours was an 8-day long trip exploring the region in Uttarakhand. We saw incredible views of the snow-capped Himalayas and mostly clear blue skies. Since there is a lot to be explored, we followed this itinerary instead of fumbling on our own through the days. Our journey began from Delhi via tempo traveler along with other fellow members and through the course of the next eight days, we were blown away by the beauty that Kumayon had to offer.
Day 1
We were so excited to be at our destination that we all reached our starting point on time.  During the journey, we took tuck buying, tea, photo break to keep ourselves entertained. Our guide  Mr. Ramesh, who decided to make KMVN's Kathgodam as our lunch our pitstop. The lunch was delicious. We had Bhat ki dal, which is a traditional preparation of Kumaon. There is nothing much to do at Kathgodam, it is the last railway station on the railway line. Beyond this, you need to hire a car to discover Kumaon.
We stopped at Bhimtal. The main attraction there had to be the vast lake which was quite beautiful. Since it is monsoon season the tourist were almost nil and that have given we a chance to just sit by the lake and relax.
Then our last stop was Nakuchiatal, the nine-cornered lake. We stayed at KMVN Parichay which was right near the lake and our room gave the perfect view of the lake and the mountains in a scenic landscape. A stroll near the lake during sunset had us finally realizing that this trip was going to be incredible.
Day 2
The next day took us firstly to Kainchidham which is located on the Nainital- Almora road. The temple had its own ethos and it was quite a peaceful place to be at. It is popular as the religious retreat for people of all faiths and we felt quite at ease around there. The next place we went to was Kakadighat where Swami Vivekananda got his inspiration. There is a Peepal tree under which he sat & meditate, before leaving for the Himalayas.
Then, we had our lunch at Khairna in a place called 'Standard fast food and restaurant' which had decent food. We stuck to our North-Indian routine since there was a lot of driving to look forward to, so we didn't want to try something new and spoil our appetites. We drove through hilly areas to reach Ranikhet Golf course, stopped and wandered around for a while and then headed to Sitlakhet which is approximately 24 km away from Ranikhet via Kathpuria. We were welcomed at KMVN's TRH at Sitlakhet. Today it was Harela festival, a local sowing festival. On this occasion we planted trees. The view from the terrace was amazing we could see the Almora city.
Day 3
We got up early in the morning to capture the sunrise and see the snow peaks. But our luck was bad as it was too cloudy to see anything. We decided to hike around Sitlakhet and were lucky to see peaks like Nanda Devi, Trishul, Panchachuli etc. After breakfast, we headed towards Katarmal sun temple which was built by the Katyuri King Katarmalla. It is the second most popular sun temple in India after Konark and one look at the place tells you exactly why.
While we were heading towards Someshwar, we saw a lot of farmers doing paddy plantations as it was sowing season. Mr. Ramesh told us that like every one of us gets bored with their job & routine work they too get bored and too keep themselves entertained, the group sing local folk songs which sowing the paddy. It was such an amazing feeling to see women working hard in the fields
Throughout the rides, we looked out the window for sights of the region which never failed to amaze us. It was incredible how similar the cities looked in every place, but the remote areas always had their unique identity. The trip from Someshwar to Kausani was another 10 kilometers. The best part about traveling in Uttarakhand was the delicious local food which was a treat for our taste buds.
Day 4
This day was dedicated to doing sightseeing & discovering places near Kausani. Kausani is also known as Switzerland of India. We first headed to the Anasakti Ashram which is a religious site and Gandhiji stayed here in 1929. It had a small prayer room, a museum, and a beautiful setting.
Then, we also visited the Sumitra Nandan Pant Museum. The famous Hindi poet was born here. His house is converted into the museum which has manuscripts of his poems, & the glimpse of his lifestyle. There is a large collection of Hindi & English book as well. To comrade his birth anniversary, poetry sessions are organized there. If you have an artistic taste and want to revisit your school days, then it is a must visit the place.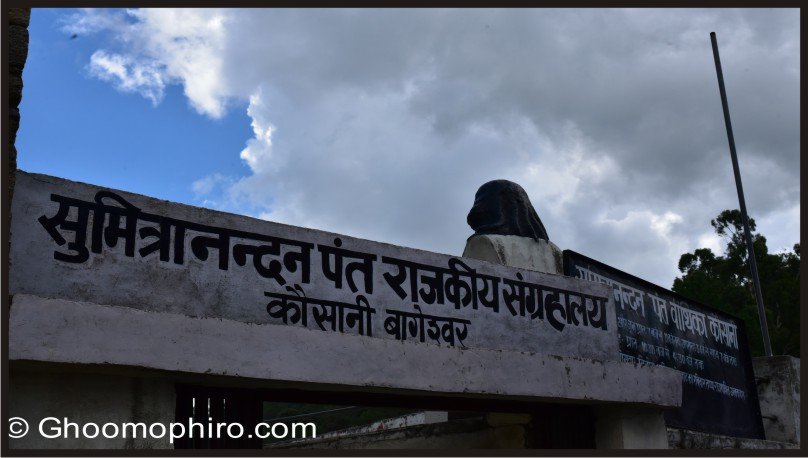 The bus was now heading towards the Baijnath Temple which was 37km west of Kausani. It was a nice Lord Shiva Temple on the banks of Gomti River. The temples were built in 1150 AD by local kings. It is one of the four places in Shiva Heritage Circuit' in Kumaon.
Before heading to our day's final destination it was time to refuel ourselves, we had our lunch at Bageshwar at the KMVN TRH. Then we headed over to Chaukori and visited the picturesque Tea Plantation sites. Chaukori is another hill station and we stayed at KMVN Chaukori which gave the perfect view of the Himalayas right from our window. It is a quiet little relaxing place with great weather.
Day 5
Though we got up early to capture the sunrise, we another unlucky day the whole town was engulfed in clouds & fogs. But this view was quite mesmerizing. The flower plants in the TRH were in full bloom. Since the rest-house itself is in a secluded area, there was not much to do there except sit back and enjoy the scenery, so we headed over to Patal Bhuvneshwar which had the limestone caves that are popular among pilgrims. Legend has it that the cave enshrines Lord Shiva which accounted to their popularity. Patal Bhuvneshwar was not just one cave but a series of caves. We almost crawled down to 90 feet to reach sanctum. The guide followed us through the cave & explained the carvings which were quite interesting.
After that, we headed over to Gangolihat which is 14 km away from Patal Bhuvneshwar. Then we headed to Paanar Gaon to view the Saryu-Ramganga confluence which is popular mainly because of Lord Shiva and the holy rivers. Then we also went to Lohaghat which is perched on the banks of river Lohawati. For as far as our eyes could see, there was lush green scenery and oak forests. There were also many temples with a historical and mythological importance that we stopped to pray and get blessings.
Day 6
The next day consisted of us heading to Abbott Mount which was at a 7 km distance. The Abbott hill had an infamous bungalow on it called ABBEY which is believed to be a haunted place. Since no one goes there after dark, we visited the place in bright light of the day but the place still managed to give us the creeps, just by appearances and the ghost stories of mysterious instances associated with it. It was believed that the building that was donated to a hospital contained a Mukti Kothri where the patients died exactly as predicted by the Doctor. Though another theory is that the doctor himself killed the patients to prove his prediction and now the ghosts of those patients haunt the place. After the scary visit, we traveled to the Mayawati Ashram which is an Ashram dedicated to the study of Advaita Vedanta. Till date, no idols are worshipped here. Our next stop was the Vivekananda Ashram at Shyamlatal which is situated on the banks of the Shyamlatal lake. So, we also got to see the Shyamlatal Lake which is of dark color due to muddy substances present in the water, thus giving it the name of 'Shyam' synonymous with Lord Krishna of Hindu Mythology. Then we went to Tanakpur which is a buzzing town known mainly for its Devi Purnagiri temple. People usually breeze by this place while heading towards Kumaon hills or some other place, but we took our time exploring the region.
Day 7
The next day we crossed the borders. Just kidding, or perhaps not. Our 7th day morning took us to Brahmdev in the western Nepal area. The Brahmdev Temple is quite adored by tourists and one can easily guess why after being there. Then we visited the Nanaksagar reservoir which was a magnificent sight. The lake spread out in front of us in all its magnificence. For further spiritual satisfaction, we headed over to the Nanakmatta Gurudwara which was just nearby. We heard the sound of Gurbani and it relaxed us to the core and then we ate delicious langar (food) there. By this time, we were already feeling the end of the journey and felt nostalgic about all the days spent and the places we had seen.
Day 8
The next day was our return to Delhi and we spent the time scrolling through pictures on our phones, relishing all these memories we had created in just eight days. Uttarakhand is simply beautiful, and we were glad we took our time to see all the places.
There are many other itineraries for exploring Uttarakhand, but this is the most common one and that is for a reason. The reason is that it covers most of the places a tourist would come to Uttarakhand to see. So, make your plans and travel arrangements and go exploring this wonderful place. We did find the KMVN properties to be most comfortable for our stays, certainly had the best views, but you can pick according to your needs and travel packages.