Review : Parichay kmvn tourist rest-house Naukuchiatal,Uttarakhand
Posted on August 5, 2018 by ghoomophirosisters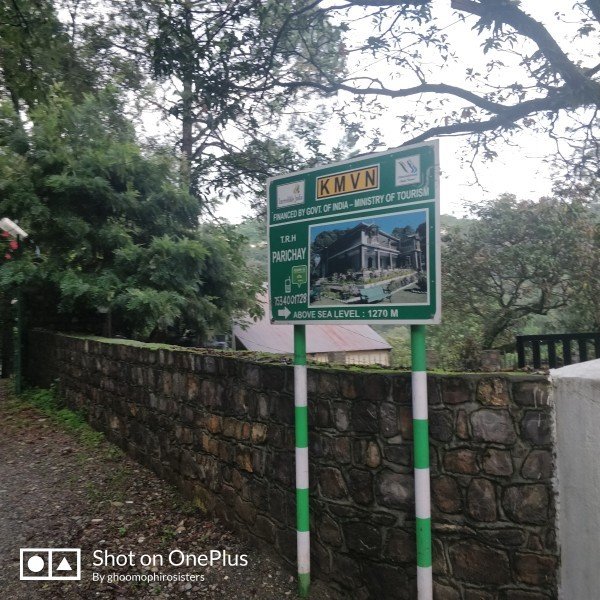 Nakuchiatal is a nine-cornered lake which is located 4 km from Bhimtal and around 26 km from Nainital. KMVM has two rest-houses in Nakuchiyatal and one of them is Parichay. The location is in such a quaint place that it offers a spectacular view of the surroundings. It is located at a high altitude of approximately 4500 ft above sea level. The most amazing thing about this rest-house is that it is a 135-year-old bungalow shaped into a rest-house for tourists and travelers. That is what KMVM does. They restore such places and make them habitable. Parichay is a 3-star rest-house and one of the best places to stay at in Nakuchiatal.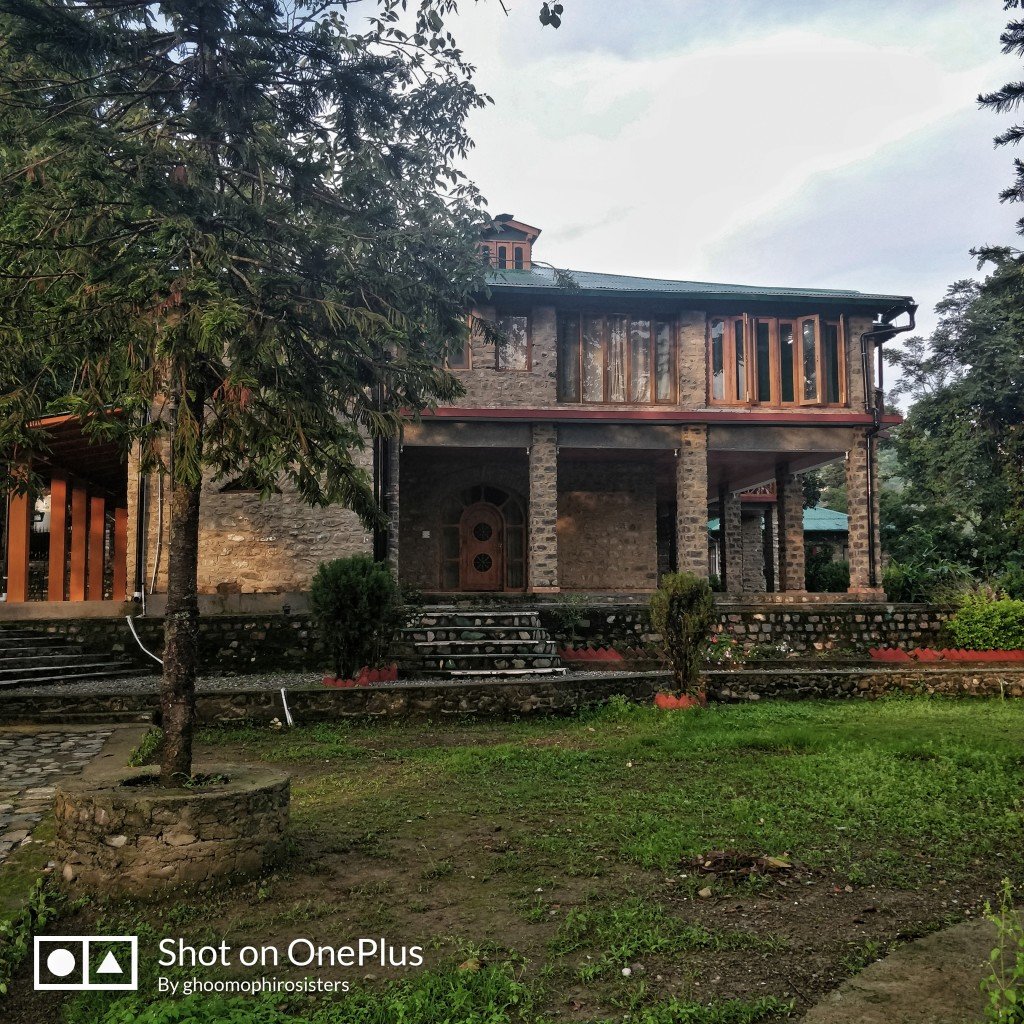 How to reach:
Exact address: Kumaon Mandal Vikas Nigam, Nainital 263136, India
It is easy to reach Parichay rest house by road, air or railways.
By Air: Pant Nagar Airport is the nearest to Nakuchiatal and is situated at 75 km.
By Rail: The closest railway station is 34 km away.
By Road: The place is heavily connected by roads with major cities. So, traveling by bus and cars is also an option readily available to travelers.
Bookings: The place can be booked online and the best time for it is in the months of October and November.
Rooms:
Parichay rest-house offers many options for super deluxe suites, deluxe rooms, family deluxe suites, standard rooms and even a 12-bed dormitory. We chose to stay in a Deluxe room and it was quite spacious with a nice attached bathroom. The room had a double bed which was comfy, and it also had a cable tv, not like we were there to watch TV anyway. The bathroom had availability of hot water and was clean and sanitized. Though remodeled from an old Bungalow, the rooms were quite modern with modern facilities available. The hotel staff took care of our every need.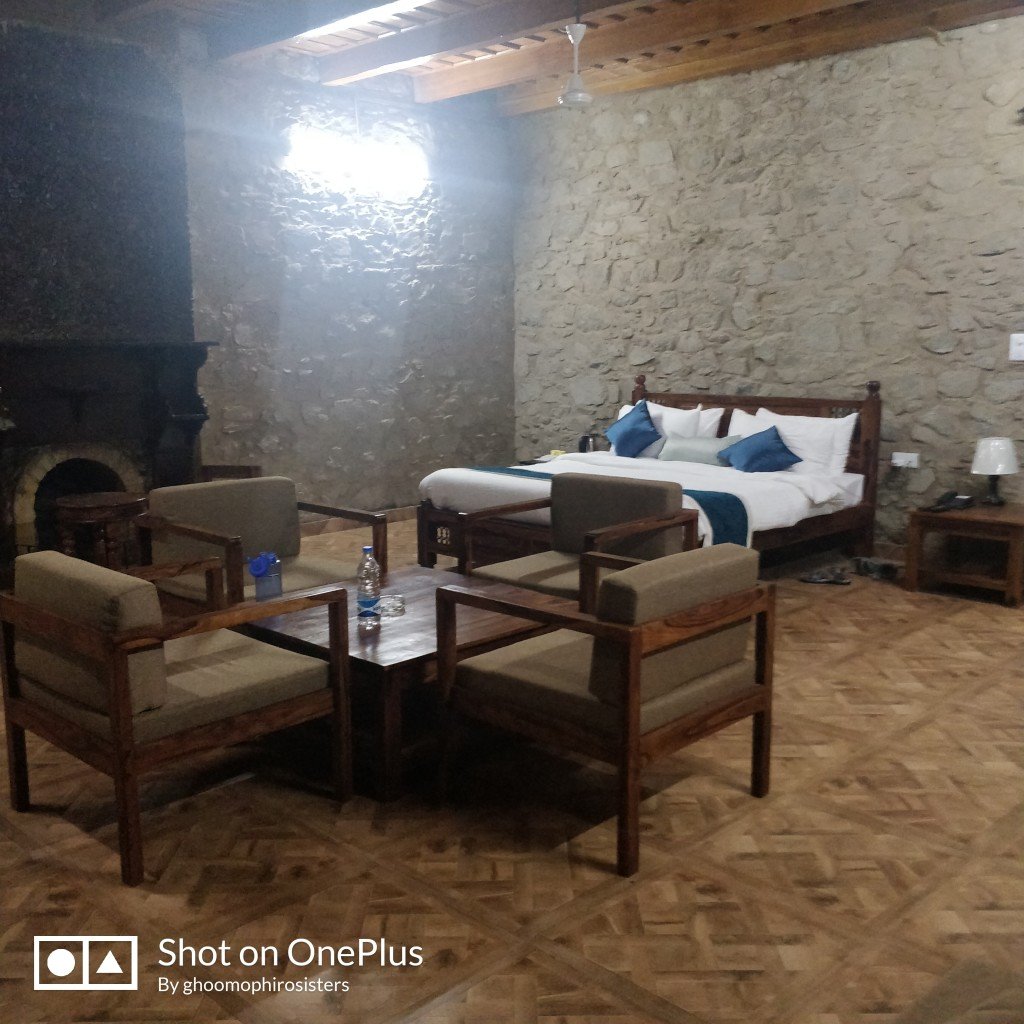 The best part was the view of the room which showed the entire lake in its splendor. Since our room was on the first floor, we also had a small balcony attached which was a great place to relax and enjoy the view.
There are plenty of other rooms one can choose from depending on their budget and style of accommodation they want. But we loved our room, especially the balcony which it turns out, is only available to the people with rooms on the first floor. So, while we just got lucky, you can always request a room on the first floor.
Usually while travelling, we don't spend too much of our time cooped up in the room, but this time was different because the bungalow turned rest-house itself was heritage of Nakuchiatal, moreover it gave such a great and unobstructed view of the lake that we could enjoy from our rooms without having to deal with noise or the crowds of other tourists. That doesn't mean that we didn't go to the lakeside, just that staying in this place increased our enjoyment twofold.
Food and Amenities: They had a buffet system for breakfast and dinner which is cost-effective but limits the food options. But the food was delicious and fresh so no complaints there as well. For lunch, they had both veg and non-veg options which weren't too expensive. There was also a beer bar on the location but we didn't check it out. We did try their Chinese food menu and were glad to have made that decision because it was delicious. We also ended up trying some of the local dishes on the menu and they were just yummy.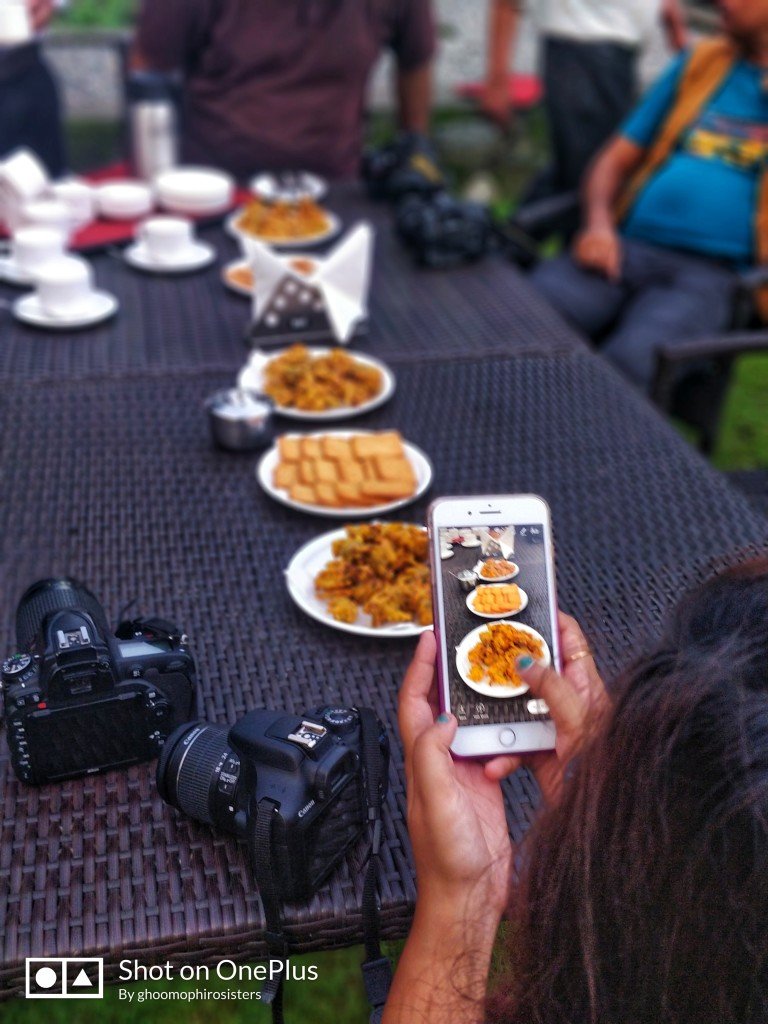 Room service was quick, and the staff was nice and cooperative. They made sure we got our meals on time and were very accommodating. They always had a kind smile on their face and kept the atmosphere friendly and nice.
Highlights: The thing that we liked the most about the rest-house was its built. The Bungalow feels made us feel grand instead of feeling like we were staying at a hotel of some sorts. Moreover, the incredible views, the huge garden with its flowers pleasured the aesthetic in us.
What to do nearby: The major attraction is, of course, the lake with nine corners and it is at a short distance from the rest-house. People also come there for bird-watching which is a pleasurable experience of its own. Water sports activities like Kayaking, zorbing and boat rides are also offered right near the hotel so one doesn't have to go looking too far. We talked to the hotel manager about places to see nearby and what other things there were to enjoy, and he was quite helpful and nice about it. There is also an option for trekking up the hills nearby or one can just go take a walk around the lake or sit there relaxing. There are several adventure activities available for the thrill-seekers, but for people like us who chose to relax in the serene location with a great weather making us feel even more awesome, it was good that even in crowded mornings, our peace was not disturbed.
Overall Verdict: For a government property, it was quite well-maintained. We had decided to stay there because of great reviews from people who had already enjoyed their stay in Parichay and we have to say we were not disappointed. Our actual experience was much similar, and we had a comfortable and enjoyable stay. The only small complaint would be mosquitoes and insects so remember to pack your mosquito repellent with you.
Tips:
1. If you pay the staff a little extra, they would arrange a bonfire for you and you can have your food around that.
Talk to them in advance about extra mattress if you are traveling with children or your family.
The usual booking cost does not include tax so keep that in mind.
You can have your evening tea or coffee on the lawn while relaxing and enjoying a complete view of the garden and the lake.
The lake is just a short path away, so if you wake up early, you can go for a morning walk and see the sunrise view.
It is a hidden paradise for bird-watchers so keep your camera and binoculars handy.
With an affordable price, Parichay rest-house offers the best facilities in a preferable location for the travelers. If you are visiting Nakuchiatal, staying at Parichay would be the best decision to make, whether you are traveling solo, with a partner or with family.