Travel Tip: Planning a Value for Money Vacation
Posted on August 7, 2018 by ghoomophirosisters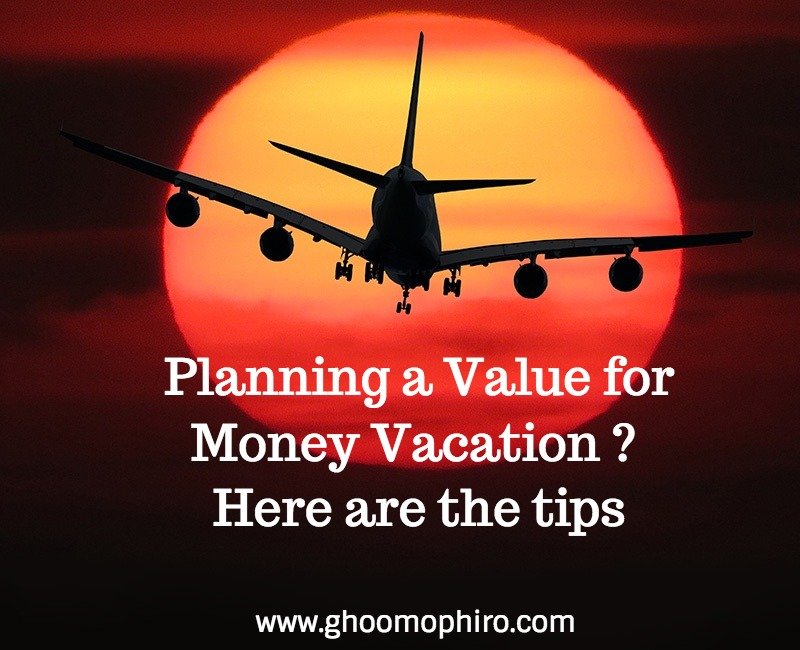 We had already shared a blog about how to save money with appropriate financial planning to achieve your Travelling goals, so this post would be different. Here, we'll tell you how to get good value out of the money you spend on your travel. It won't be about saving money and getting to travel more, but getting more value for the money you spend.
Choosing the right month to travel to a destination:
Suppose you end up travelling to Mumbai in the month of April. Mumbai is a terrible place to be in April since you would be sweating all over. It is incredibly hot and there would no festivals or special occasions for you to see. You would spend the same amount of money as you would in any other month but deprive yourself of all value and enjoyment. But visiting Mumbai during the Hindu Festivity season- Janmashtami or Ganpati Visarjan would show you a completely different side of the city. The weather would also be better. So, planning the Mumbai trip for the months of August and September would be preferable. You can also plan the trip for February and enjoy the Kala Ghoda Arts Festival. The main highlight is that you get to experience all these festivals free of cost and protect yourself from the April heat and humidity. The same goes for other cities as well, visiting Allahabad during Kumbh Mela and Munich at the time of Oktoberfest would make more sense and give you more value for money. The main trick is to keep yourself aware of these festivals and plan. We are already planning to travel during some of the festivals this year.
Do your Research. No matter what one says:
Though we consider ourselves to be somewhat impulsive travellers, landing in a place first and then letting the city reveal itself to us, we have started changing that approach for some obvious reasons. Going to a new place without having any idea about it might make you waste precious time and money while you also get to see lesser places, simply because you didn't know what places there are to see and where. So, while travelling to a new place now, we research the top attractions, some off-beat places and then decide what we want to see, which is often a mixture of both. It has happened that we have been unable to see a spot or simply walked by it, just because of lack of knowledge. Well, we learn from our mistakes and so if we are spending the same amount of money travelling to a place, we might as well see as much of it as possible and that is only possible if we do the research beforehand.
Making the best out of the travelling experience:
Who among us, has not at some point gotten stuck into an unavoidable trip? Whether it is for a wedding, visiting relatives, work trip, heading off to an interview in a different state or something else, one can always make the best out of an experience. When we were forced to attend a boring wedding in Udaipur, we made the best of it by slipping out at intervals and visiting the city. We went to see the Kumbhalgarh Fort which was just nearby. It had the world's second largest wall.
Similarly, occasionally we would plan a family vacation to nearby places when nothing big was happening work-wise, to fulfil our travelling desires and make incredible memories with our loved ones as well. Their chosen destinations always turned out to be some religious place, but we always found something that was of interest to us by doing some research beforehand. See, second tip helping with this one. The combined experience trip can be helpful to people working in the corporate sector. If work is taking you to a lot of places, might as well make the best of it. Since we live in Delhi, we took occasional short trips to Nainital, nearby hill stations and road trips to Mussorie, Kasauli, Shimla etc. They were the perfect getaways and there was always so much to see.
Compare. Compare. Compare!
The trick to cheap and quality travelling is to always compare. There are many websites that compare flight prices and similarly with hotels. So, if you can get a decent room at a lower price, then why pay more for it? This trick comes in handy when you decide on where to eat at the destination. A popular eating joint or fancy restaurant would often charge more for similar food. If it is a rare delicacy then, we didn't mind paying more. But for common food, often ambience ends up costing more than the food even if the taste is nothing to brag about. On our trip to Leh, we saw the difference in the price ranges of common dishes like Thukpa, Tingmo and even Masala Dosa at different places. Many restaurants served similar-tasting Tibetan food at different prices. We often just had our lunch by eating local cuisines at street joints. They often give you the best taste at the lowest price and save you a lot of time which would be lost in a sit-down meal at a proper restaurant. Sometimes we do spend lavishly on food if we wish to try out a restaurant that has been raved about, but mostly for dinner.
Insurance is quite important.
Imagine a scenario of having a health issue in a foreign country and having to pay huge medical bills in pounds and dollars. That is the worst-case scenario that you must protect yourself from by getting life insurance beforehand. We are often travelling to high altitude places or foreign countries which increase the risk of getting sick. I specifically have low immunity to diseases and often keep getting sick and as a freelancer and travel blogger who doesn't earn a lot, I understood the importance of life insurance and health insurance. The insurance should also be bought from a trustworthy brand after using online tools such as Human Life Value Calculator. That is basically just a tool to help one ascertain the Human Life Value to be able to get adequate Life Cover. You can use it free of cost online as it will help in choosing the right policy. Better to be cautious beforehand than to see yourself stuck in an unforeseen circumstance later.
About Aegon Life
Launched in July 2008 with pan-India operations, Aegon Life Insurance Company Limited has a vision to be the most recommended new age life insurance company. As a joint venture between Aegon – world's leading financial services and Bennett, Coleman & Company – India's leading media house, Aegon Life Insurance adopts the power of global expertise to facilitate a direct to customer approach, leveraging digital platforms to bring transparent solutions, and to prioritize customer's needs. Our product portfolio includes term life insurance plan, pension plans, unit-linked insurance plans (ULIPs), health insurance plans, child education plans, and more.