How to Plan Your Travel Calendar
Posted on September 10, 2018 by ghoomophirosisters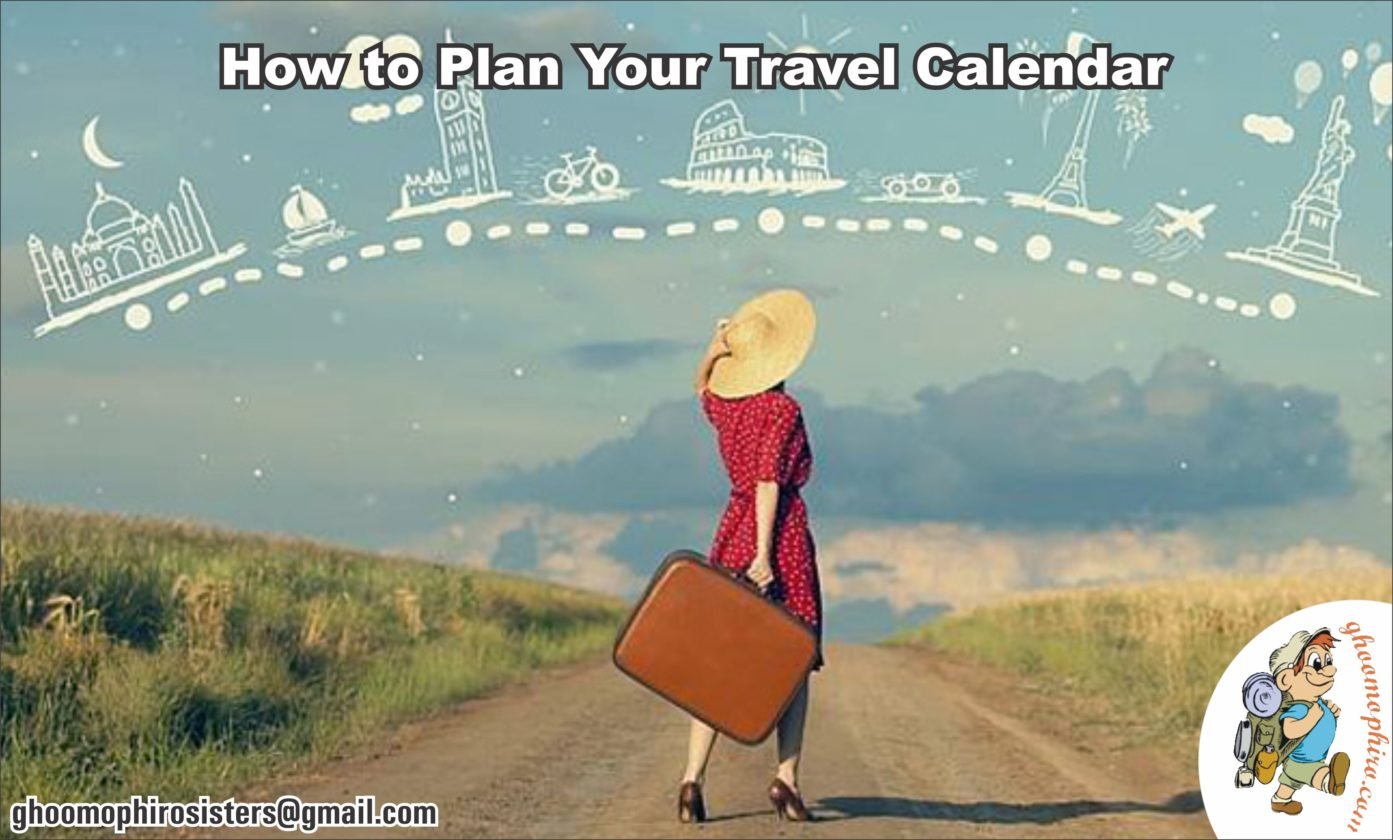 Being a travel blogger requires one to be organized and have a schedule ready for everything. Be it our social media content, blog posts, everything works according to a calendar. So amidst all these, there' an even more important calendar that has to be managed right and that is the travel calendar which basically means when will we be travelling where.  And the planning goes on not just for the next month or week but the whole year, including all the places we want to go. Planning this travel calendar is in fact, the most important thing a travel blogger has to, before we set off on the road, living like nomads and experiencing the world and its beauty. In this post, we will share some tips on how to plan your travel calendar.
What's your budget like?
Everyone knows that you can't start travelling without money (except for the freebie trips, but you don't want that to take up your entire schedule). So one has to look at the finances first and foremost. You might want to start checking off places from your wish list, but that is not always easy. Start with an overall travel budget that you have and then decide on domestic and international trips. We usually spend 50% of our total earnings on travelling because it is our passion and so the budgeting depends entirely upon your earnings and what part of it you wish to spend on travel. Travel blogging is a business so for us, investing this money into travel is the right thing to do.
Travel off-season and save huge bucks
Planning offseason travels has its own perks. Not only the flights and accommodation are cheaper, but you would get great service, less crowded places and would be able to enjoy the place in its entirety. It's hard to take in the beauty of a place with too many tourists cramming up. One doesn't even get a chance to click a good photograph. And almost all places have a peak season and an offseason. So travelling to places like Croatia or Sikkim during the off-season can be just as good as during peak season. So, start by making a list of the places that you can afford to travel to and then arrange them according to their offseasons on your calendar.
The Bucket list Travel
Everyone has a list of travel destinations that he/she wishes to visit. While planning for your travel calendar, include at least one of those bucket list places, whatever fits under your budget. Another option is if you get a FAM trip offer for a place already on your bucket list. That works out great. No matter how many destinations you cross off, of course, there'll always be more added to it.
Travel to attend festivals and events
There are some festivals and experiences that one needs to see with their own eyes to enjoy it. And in India, especially, there are a lot of festivals going on in a lot of places. Figure out which festivals you are keen to attend and plan travels accordingly beforehand. Like we loved the Rang Mahotsav in Kutch, it is a sight to behold. There are many such international events as well that one can plan for. These festivals not only give you a unique experience but also help in generating great content for blogging.
Travel for business
As a travel blogger, networking is very important. So often, we choose to plan some of our travels to enhance that. If there are some travel events going on around the world, we will try to see if we can make it there. It is more like an investment than expenditure like that to learn more about travel blogging. It's all about quality at that point. You have to decide whether that event will help you generate more business. So think carefully about investing in these trips and always keep an eye out if one is happening near you.
The FAM Trip travels
FAM trips are the ultimate dream of travel influencers. SO it is good to have as many sponsored trips as possible. FAM trips make it possible for you to constantly be on the road and be recognized for the work that you do. But still, one has to be picky about which trips to take and what kind of work you CAN do, because, in the basest sense, they are work trips. It's better to be travelling because of an assignment or a campaign than a FAM trip. But if you already have some offers, remember to add them accordingly In your travel calendar. And also leave some gaps in your usual travelling routine to adjust some of FAM trips if one suddenly arises. Because who doesn't like free trips?
Travel in your own city
Sometimes we are so hell-bent on going and exploring the world that we forget to look closer. Often when we are either running low on budget or just have no motivation for long distance travel but still want to explore, we travel in and around our own city and often come across spots and places we haven't seen yet. These journeys are quite ideal and necessary as well.
Travel to escape
In the end, when you're done planning all your travels, do keep a couple random days off as holidays for yourself. Just because we are travel bloggers, sometimes too much travel turns out to be mainly work-oriented so one needs some time off to just stop with the work and let loose. That's the time to skip social media, leave the camera at home, no more thinking about posing, sharing and interacting with people. It's a normal weekend getaway, or longer if need be to spend time in solace.
So, that's it, folks. Plan your travel calendar wisely. Make good decisions, plan months ahead, pack light and travel the world.