Into the Wilderness of Benog Wildlife Santuary
Posted on September 4, 2018 by ghoomophirosisters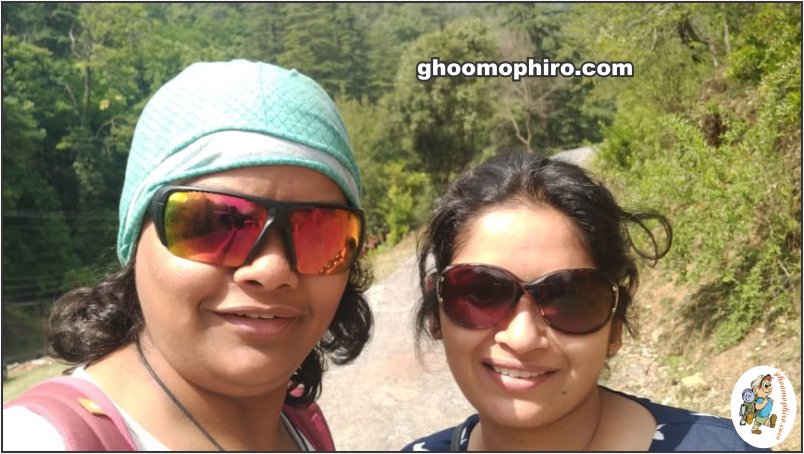 Located 11 km away from the Library point in Mussoorie is Benog Wildlife Sanctuary, surrounded by pine trees and views of snow-capped mountains. This sanctuary is a part of the Rajaji National Park in the 'Queen of Hills'. The place is popular among bird-watchers since it is a haven for rare bird species. Set among dense forests, it also gives the nature lover something to be enthused about and also the mesmerizing sights of the peaks of Chaukhamba and Bandar Punch.
What to do there?
Benog Wildlife Sanctuary is a beautiful place and there are plenty of attractions here, of course, everything is connected to nature because that is the biggest highlight of the place. Major ones being:
Flora
The whole sanctuary is surrounded by pine-covered slopes and there are plenty of medicinal herbs and plants in the area as well. Benedictory pines old cedar trees and Fir trees are seen all around the place and as we walked amidst that dense forest, we felt like we were lost in a fairy tale.
Fauna
This is one of the major attractions of the place—its wide range of rare and beautiful bird species. It is a hub for bird-watchers who can spot White Capped Water Redstart birds, mountain quails and Red Billed Blue Magpie among other wide variety of birds. There are also many wild animal species such as Himalayan bear, deep, leopard and panthers that can be spotted.
Trekking:
The sanctuary offers multiple trekking opportunities for the area within or surrounding areas. We took a trek from cloud's endpoint to Benog Sanctuary, watching amazing views on the way. Since the sanctuary is located amidst the solitary region of Mussoorie, it is perfect for people looking forward to spending some alone time in solace. It is away from the hassle of the crowded city.
Our experience:
The place gave us a complete 'Into the wild' feeling as we explored the wilderness on foot, with our camera in our hands. There were just so many places where we just wanted to sit and not move for hours at end. Benog Wildlife sanctuary is one place that is still unmarked by degradation through heavy tourism. Everything is still natural and raw there. There were so many beautiful birds, some of which we were able to capture in our camera. Trekking with such incredible views was a delight as well, and the snow-capped mountains just added a cherry to the top. It is the perfect place to escape from the city and take a day off. Mussoorie is one of the top tourist attractions, and this wildlife sanctuary showed us exactly why that is. Our visit to Benog Wildlife sanctuary turned out to be a perfect mix of leisure and adventure holiday.

Travel Tips:
The timings for the sanctuary are 7 am to 5 am so it is preferred to leave early since vehicles are not too easily available and one should have enough time to explore the place.
Best Time to visit would be April to November, though the sanctuary does remain open throughout the year.
Where to Stay?
There are plenty of accommodation options near the sanctuary itself ranging from luxury hotels, resorts to budget hotels.
How to Reach?
From Library point, public and private buses are easily available and it is 11km away by Road.
The nearest airport is Jolly Grant Airport which is 60 km away from Mussoorie.
The nearest railways station is Dehradun Railway Station which is 30 km from Mussoorie.
So hurry up and start planning your next getaway to Mussoorie! The natural beauty, scenic views, natural wilderness is all worth it.