Tips to stay safe on a Monsoon Trek
Posted on September 30, 2018 by ghoomophirosisters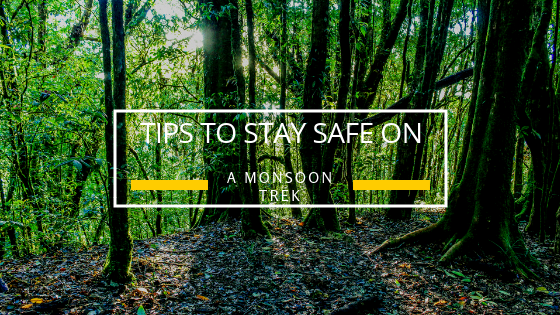 Stay safe on a Monsoon Trek. Here's how:
For a Trekker, Monsoons are no excuse and there is a different kind of joy in enjoying the beautiful sceneries and lush grass with water droplets accumulated on them. Rain just makes even the normal places look beautiful. But trekking in Monsoon requires a lot of care and thus I present a list of Tips that every trekker who wishes to go on a Monsoon Trek should know.
Proper footwear is a must
Invest in some good shoes that have a strong grip and are comfortable. It is a one-time investment in some branded shoes that prevents you from slipping or falling. Rain makes the ground slippery, so proper footwear is essential to a monsoon trek. You must wear shoes with lugged outsoles that provide good ventilation. The off-road mud terrain inspired shoes would help you walk even on slippery surfaces and the mud won't easily gather beneath it.
Rain coat and poncho
An umbrella on a trek is useless. It just ties up one of your hands and is harder to handle with the winds continuously tugging at it. Go for a raincoat and a poncho to protect yourself from the rain. Either go for a two piece rain coat or a poncho for ease.
Wear the right clothes
You would want to avoid wearing denim or cotton clothes as it tends to get heavy after getting wet. Wear a full sleeves shirt, to avoid sunburns, mosquito bites, thorns etc and quick drying trekking pants. Avoid wearing shorts because a slip in shorts would give you frayed skin and pants or trousers provide more protection.
Take care of your feet
It is essential for a trekker to take good care of his feet, especially during monsoon treks. Keep your feet dry and take off your shoes and socks at any rest stop where you will stay for more than 20 minutes. Change socks at least once every day. Apply Vaseline to your feet at night before sleeping.
Follow existing trails
Sometimes trekking trails become prominent over time. Walk only on existing trails and do not stray from the path. It is easier to get lost and these permanent trails are safe. You never know which path would be slippery or dangerous.
Pack outside
Opening your backpack again and again during the trek for things like water, snacks and other essentials can get the moisture to fall inside the bag and that you will have to carry with you. Instead, pack things in outside pockets so they are handy and your bag doesn't get wet.
Water
Humidity makes you thirstier, so it is better to carry extra water or a water supply source like a water filter that will turn a non-potent water source to a potent water source.
Some additional tips:
(a)    If you wear specs, wear a baseball cap to avoid water from falling on it.
(b)    Take extra care of your electronic items and it is better to carry phones and GPS with a keypad instead of touch screen. The touch screen doesn't work when it is wet. So either use keypad gadgets or carry micro fibre rags with you.
(c)    Even in rain, you have chances of getting a sunburn, so don't forget to carry sunblock with you.
(d)    Monsoon tends to attract mosquitoes. It is advisable to carry mosquito repellent or mosquito nets.
And that's all. Stay safe while trekking during the monsoon and enjoy the trails. Monsoon is the best time to trek, with great temperature and landscapes at their greenest and freshest point. Just take good care.