5 days Itinerary to Odisha
Posted on November 5, 2018 by ghoomophirosisters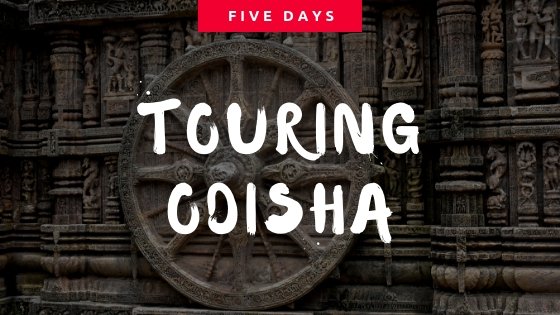 Driving its name from Odiya language, Odisha might be one of the younger states but land on which it stands has the history as old as times of Ashoka who fought a bloody battle to win this land (at that time known as 'Kaling kingdom). The state has a rich history, great biodiversity, and rich culture. Add to it, the vast coastline and you can imagine the variety of pleasure you stand to enjoy from a tour to Odisha. Its ability to attract tourists have rightly earned it the title of Goa of the East. Here we bring you a plan with which to get maximum from a five-day tour of the city.
Where to stay?
The best way to see whole of Odisha is to change hotels instead of wasting your time and energy commuting to different destinations and back. Arriving late in the evening, Bhubaneshwar is the best place for your first stop. If you feel rested enough, you can start early. The capital city is also ISBT offering bus services to all major tourist location as well as air and railway services. Afterward, we recommend changing your hotels to those in Puri and Konark. Almost all major tourist spots have good hotels and eating spots.
Place of our stay
We spent our first day in Mayfair Lagoon. The staff was most friendly and paid very high attention to cleanliness and hygiene. The luxurious hotel has air-conditioned spacious rooms offering beautiful views and most beautiful views, thanks to its location in a lagoon. It offers all 5-star benefits. The food is delicious, and breakfast buffet, swimming pool etc but the best thing about it is that it might be considered a tourist spot in itself – displaying amazing artifacts of the country besides the abundance of beautiful natural vegetation. There are options to go jogging, playing games like table tennis, basketball etc, even a yoga and fitness center.
Day 1
We recommend starting your day as we did by chilling out in Biju Patnaik Park. Walk around the lake, go boating, sea water of fountain dance to music here to refresh yourself to go traveling before returning to the hotel. If you still have time, go shopping in the urban part of the town for souvenirs.
Then visit Parashurameshvara Temple, the forty feet high wonder of ancient architecture dedicated to Lord Shiva.
Next, we saw the city's most popular landmark Lingaraj temple standing one hundred and eighty feet high, have your lunch around here before seeing the temple. Visit Rajarani and Mukteswara temple if you have time but make sure that you reserve your evening for Dhauli Hills, where the famous Kalinga war is supposed to have been fought. The stupas and pillars here are thought to have been built at the end of the war, thus one of them is rightly called Shanti Stupa. Being there, it was difficult at times for us to believe that it was Indian work, and at that, ancient Indian work. We ended our day by seeing Buddhist Peace Stupa in Dhauli Giri before returning to the hotel.

Day 2 
We started the day by visiting Nandankanan Zoological Park. The name 'Nandankanan' literally means  'The Garden of Heaven'. And this 400-hectare zoo might rightly be called so being home to over sixteen hundred species including White Tigers, Asian lions etc besides having a botanical garden, aquarium and a reptile house guarded by  …. Ross Galler should Wait for it! …. a Tyrannosaurus Rex.
Spend some time in the Tribal Research Institute Museum, also known as 'Museum of Man' and get a chance to observe and study tribal art and artifacts, displayed in its five different parts -You can find Personal Adornments in first Hall, Belongings, Arts, Paintings Photographs in second Hall, Hunting Fishing Implements & Weapons of Offence and Defense in the third hall, Household Objects and Agricultural Implements in fourth hall and Dance, Musical Instruments and Dhokra Items in the fifth hall.
Be sure to leave in time for Dayagiri and Khandagiri Caves. There is some climbing that has to be done and you must be on top in time to enjoy the sunset and beautiful carving on the walls of the cave that house an ancient monastery there. Remember to carry your water bottles and beware of monkeys.
Day 3
We checked out of our hotel in Bhubaneshwar as, though we did have to return to the city once more, it would still mean commuting extra distance. We took the bus to Konark, only sixty kilometers away from Bhubaneshwar.
We spent our day enjoying the architectural beauty of the Sun temple here. Declared a UNESCO World Heritage Site, this seven and a half century old temple has been labeled Black Pagoda by European travelers as early as in seventeenth century. The temple is actually a temple complex, each one of which is a celebration of Indian Sculpture art in itself. The open display of sexuality is some of the cravings of this temple might shock those holding narrow views of Indian culture.
A bus ride of another thirty kilometers from here will take you to Pune in time for lunch. Spend the afternoon marveling at the amazing architecture of the famous Jagannath Temple, labeled 'White Pagoda' by European travelers. Jagannath Puri is one of the four dhams of Hinduism.
We follow it up with a relaxing beach evening and were easily able to find a budget hotel in Puri. It was easy to find a reasonably comfortable budget hotel here to crash in the night.
Day 4
We took an early bus to reach Chilka Lake. It is the largest lagoon in the world and the second largest in the world. Besides being home to many species of migratory birds, it also shelters Irrawaddy Dolphins. Satpada, located next to Puri, is in fact known as dolphin Sanctuary. Dolphins were so pretty!
After having our fill of nature, we paid a visit to Mangalajodi village on this lake. Declared as International Bird Reserve Area, the wetlands offering scenic beauty are home to thousands of migratory birds.
We returned to Bhubaneshwar via bus and catch a train from there to Sambalpur. The train takes roughly six hours to reach Sambalpur. We managed to catch 15:05 train which meant that we had reached Sambalpur in time to find a budgeted hotel there.
Day 5
Tired of having traveled so much yesterday, we had a somewhat late breakfast before going to visit the Hirakund Dam and letting ourselves be awed by its grandeur.
Our last stop was Ushakothi Wildlife Sanctuary. A 22-kilometer bus journey from Sambalpur, this beautiful Sanctuary shrines several rare spices like tigers, elephants, sambar leopards,  bison etc.
Conclusion
The above plan will give you a chance to see the best of Odisha in five days. There are lots of other attractive spots but Odisha is a big state and these spots are too far apart. Moreover, there are not many airports, thus if you are willing to see it all, you may wanna consider an extended tour.