Are you a vegeterian traveler? These tips should be handy
Posted on March 15, 2019 by ghoomophirosisters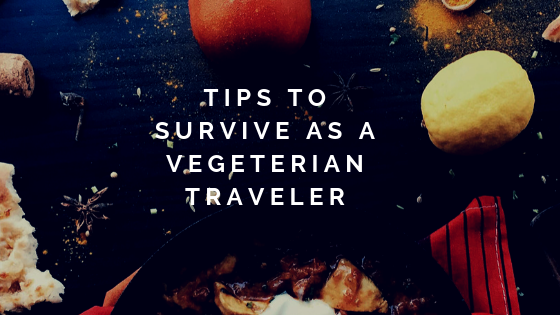 India has the largest vegetarian population in the world especially in North India thanks to the large Hindu population. However vegetarian food becomes harder to find in places where vegetarian is not the norm – in coastal areas of the country and outside India. One of the biggest obstacles thus for a vegetarian traveler is to find good, healthy vegetarian food with ease and good price on his or her travels.
Ghoomophiro says no fear. A vegetarian/vegan need not grow reluctant about traveling. There are some quite basic Tips to survive as a vegetarian traveler:
1. Carry some food from home
It is something travelers have always done since ancient times. Carry some cooked food from home. You can also carry pickles etc.
2. Choose from local cuisine
It is a myth common among the vegan majority community that non-veg people have nothing purely vegetarian in their cuisine. Even the non-vegetarian restaurant often have vegetarian food options. Same when you are getting invited by locals. And of course, our favorite, street food.
3. Cook it yourself
Cooking is a living skill that every traveler,  regardless of sex, should know. It is an economical and easy way to find food if you can have a kitchen handy. And with several accommodations offering personal kitchens, all you have to do is buy some vegetables from the nearest food store. If cooking is not your biggest strength, you can at least cook noodles.
4. Learn the phrases in the local language
Learn the local languages enough to be able to say "I am a vegetarian. I won't eat animal flesh or food." The restaurants are often accommodating to their customers' needs but you must know how to ask for it. You can use it Google translator for the purpose which is a handy tool for a traveler in several other ways as well.
5. Religious institutions
Hindu, Sikh, Jain and Buddhist temples among other religious institutions are a great source of vegan food and some of these can often be found at most popular tourist destinations all over the world.
6. Research about local cuisine
Local cuisine always has food items you never heard names of. And some of them are always vegetarian. It thus makes sense to research about local cuisine in advance – particularly street food which by its nature is very easily available. Happy Cow is a great option to find local cuisine in any place.
7. Plan your meals in advance
You can plan all your meals in advance. You can use google maps and assistant to locate the vegetarian food points near to your tourist attractions you intend to visit and you can plan your tour so that you can visit those points in time for meals.
8. Ask at hotels or locals
Hotel staff always has good advice for travelers on all sort of subjects. You can always ask them about the availability of vegetarian options. Similarly, you can ask locals, especially street food vendors about vegetarian alternatives.
Conclusion
It is only a myth that vegetarianism is a handicap in traveling especially in today's world where there is no lack of food options. It is more of a constraint which has to be worked around and we hope these tips will help you do it. Any other tips you can suggest for surviving as a vegetarian? Write to us in comments below. ☺