#ghoomophirosisters visit to Lumbini
Posted on March 25, 2019 by ghoomophirosisters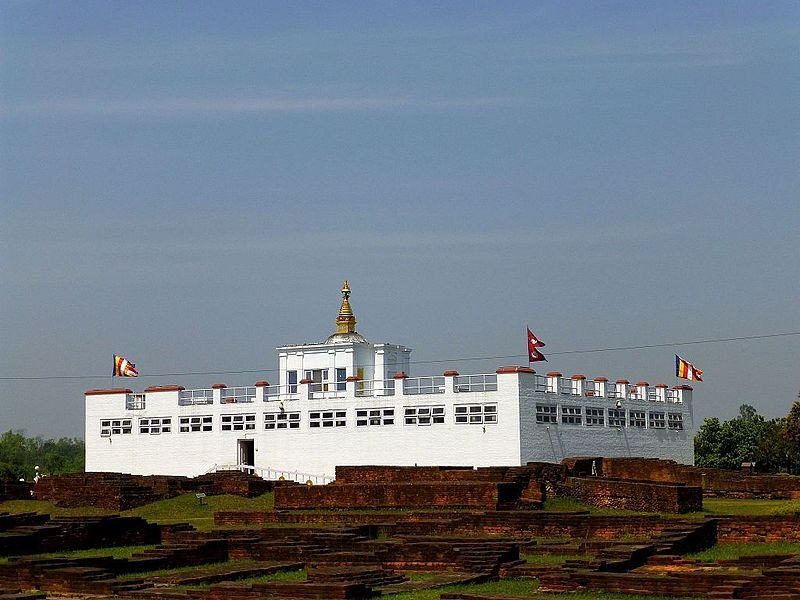 A trip to Nepal is incomplete without submerging oneself in the culture and beauty of the place called Lumbini. Known mainly for its deep connections with the story of Lord Buddha, the place is close to the bordering nation of India and is a UNESCO World Heritage site. Buddha was born here, in-between the homes of his parents, in a sacred garden, while her mother was travelling.
Maya Devi
The mother of Lord Buddha, Maya Devi is greatly celebrated in the region of Lumbini. Her importance is manifold in the Buddhist literature and it speaks of the birth of Lord Buddha. It is believed that she dreamt of a white elephant and foresaw that she would give birth to 'the great one'. Another important event she is associated with is the birth of Lord Buddha during travels when she was heading to her parents' home in Devdaha from the place of her husband who was king Sudhodhan from the Sakya Clan. Many efforts were made for the preparation of the delivery.
Legend of Buddha's Birth
The scene depicting Buddha's birth can be observed in many Buddhist sites. The dream scene of Maya Devi and Buddha's birth are two important visual incidents. In the scene of Buddha's Birth, Maya Devi is seen accompanied by Lord Buddha's foster mother- Prajapati Gautami.
The scene is shown as Maya Devi is at a pond in Lumbini, holding the branch of a tree above her as she gave birth in a standing position. It is believed that as soon as Buddha took birth, he walked seven steps and lotuses bloomed with each footstep, wherever his feet touched the ground. Along with that, people are of the faith that when he was born, Gods of three worlds: Brahma, Vishnu and Mahesh came to receive the child. This is considered to be the beginning of the many miracles of Buddha's life.
Maya Devi Temple – Lumbini
Maya Devi Temple is an ancient Buddhist temple and also a UNESCO World Heritage site. The temple is also known by the name of Maha Maya and the place where it is situated in Lumbini referred to as Pradimoksha Vana. While the temple laid deteriorating in the last few centuries, in recent years archaeologists have started excavation of the place and conserving all the findings.
There are also other important places to see as well such as Bodh Gaya, Sarnath, Kushinagar, Rajgriha and Vaishali
Things to see in & around Maya Devi Temple at Lumbini
Known mainly as the place where Buddha was born, there are many monuments to see inside the Maya Devi Temple.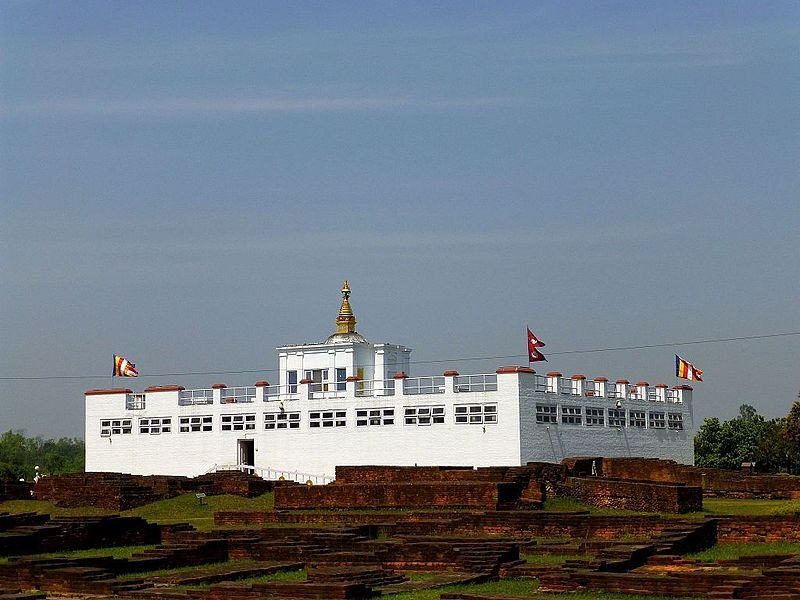 Maya Devi Temple enclosure
As we entered the Maya Devi temple, walking on the wooden walkway around ancient ruins, looking at the large bricks arrangements, we were awe-struck and yet bedazzled by what we say. We could not quite make out what the place was supposed to be like. It was unlike any hall, monastery or temple. We could not tell if the place had been found like that or reconstructed over years. The temple enclosure with its white walls and a Buddhist Stupa on top that has the ruins of the ancient Maya Devi temple in it gave us a sight to behold.
Most of these structural ruins belong to the Gupta period i.e. 5-6th CE.
Nativity Sculpture and Marker Stone
At the end of the hall, there is a stone sculpture which has been rubbed down to such extent that nothing is clearly visible. It is believed that the statue is rubbed flat by the touch of so many devotees. Yet, this nativity sculpture dominates the aura of the place.
The Marker stone is situated beneath the nativity sculpture. A few feet below on the ground level, there is this irregularly shaped stone that has the marks of a human foot on it. It is believed to be the footprint of Lord Buddha but that is entirely a matter of faith. The stone is enclosed in bulletproof glass and is allowed to be looked upon. It is surrounded by currency notes of all kinds.
The marker stone has a long queue standing for just one look. One has to wait a long while to finally glance upon it and that too for barely a couple minutes.
Ashoka Pillar at Lumbini
Ashoka Pillar is a sight to behold. Standing tall at the back of the Maya Devi Temple, it is said to have been erected by Ashoka himself when he visited Lumbini. The inscription on the stone says – 'Hida Budhe Jate Shakyamuniti' which means that Shakyamuni Buddha was born here. It is also mentioned that because Lumbini is the birthplace of Buddha, their taxes were reduced.
Pushkarni or the Sacred Pond
There is a beautiful and serene pond on the side of the Maya Devi temple. This is considered to be a sacred pond, the one in which Maya Devi took bath after giving birth to Lord Buddha. That gives a level of importance and holiness to the pond for the devotees. The pond that exists there on the date, is a recent reconstruction.
Near the pond, there exists a large Bodhi tree along with a shrine dedicated to Lord Buddha. There are plenty of other trees as well with round wooden benches surrounding them. People sat on these benches to relax or meditate. Walking near the pond, one sees the incredible sight of various colourful prayer flags tied to trees.
Standing beneath the barrage of colours, one sees a marvellous view of the pond and the Maya Devi temple. It creates a serene and joyful atmosphere all around.
Votive Stupas
There are many stupas, some Votive (built by the devotees after their wishes come true), some ancient (dating back to 1-3rd CE), some from different eras, surrounding the Maya Devi temple. The stupas vary in size and in their construction.
Some of the stupas have also deteriorated and close to ruination, though not as badly as the temple itself. It is not quite true that they would have been kept preserved. Probably, they haven't been touched by people too much and thus still are better preserved. The votive stupas stand like pieces on a chessboard, an interesting sight to behold. It was a total set of 16 stupas, some circular and some square in shape.
Worship at Maya Devi Temple
On one of the evenings that we were there, we saw the Temple come alive with people from different places visiting. There were Buddhist monks from different countries performing their rituals.
Among them, was a group of Sri Lankan Monks who sat silently as the head monk went on to narrate the life and teachings of Lord Buddha for everyone. There was also a Chinese group that wore black robes and worshipped the images of young Lord Buddha. They also lighted lamps around Pushkarni, making the place light up like the eve of Diwali. Another group began praying and chanting hymns.
While the square stupas were being decorated with marigold flowers, another group decorated the Ashoka Pillar using a bright silk cloth. The Monks kept coming in and chanting along with other devotes. It was at that time that we felt the temple came truly alive with all the spiritual energy and peace. There was such devotion and energy in the atmosphere that it often felt overwhelming as we quietly observed it. It was at that moment; seeing the look of devotion on people's faces that we felt that our trip to Lumbini was complete.
You need to walk a lot to see these temples
Though the temple and the places all around are open to visitors and travellers, they are not entirely tourist friendly as they are meant mainly for monks, Buddhist followers and people who live there. As an outsider, the most one can enjoy is the view and the architecture of the place, vaguely knowing the story of Buddha or the importance behind a particular structure. One can just admire the décor, statues as it represents the country and the religion.
But there won't be much information about the temple itself or the religion that one can come across easily.
The best method to make the most of your trip would be to pick the particular temples you want to see and then focus upon those. If you try to see everything, you will end up disoriented after a while. Unless one has deep knowledge about the religion, there is not much that one would be able to appreciate about the temples apart from the structure and architectural design.
The Nepalese temple has a huge Buddha statue which is beautiful to look at and the German temple has murals. The Chinese temple is of beautiful red and yellow colour.
Lumbini Development Trust Museum
Lumbini Museum is not really a popular spot among people and with good reason. Standing at the end of one canal, it is a nicely shaped building of a bright red color. Though at first glance, it may look like a Buddhist Vihar, one would find no similarity upon entering. The tickets are bought from another building and you would have to cross a pond for that.
The Museum building may be beautiful but the reason why it sees such lack of crowd is that there are no real artifacts that it houses. There are plenty of replicas from other Buddhist sites like ones in Andhra Pradesh but he replicas lack the wonder and awe of the real stones. There are also some pictures of various popular Buddhist sites but none are too impressive.
The place is good enough to pass some time but not something particularly intriguing.
Walk around Lumbini Park
Lumbini Park is meant for people like us who love walking around. You can visit the park during the mornings or evening and see lots of other walkers enjoying the place as well. There are some water bodies nearby which attract birds and butterflies and one may even spot a Saras Crane during the winter season when the Migratory birds visit Lumbini's wetlands.
There are some sections where one might need to take precautions since some of the roads are still under construction. Take proper care.
We had conversations with some monks and Bhikkunis. There were many young monks wearing their robes and looking half innocent half mischievous. We had some good time sitting and talking to the locals there, along with getting some good clicks as well.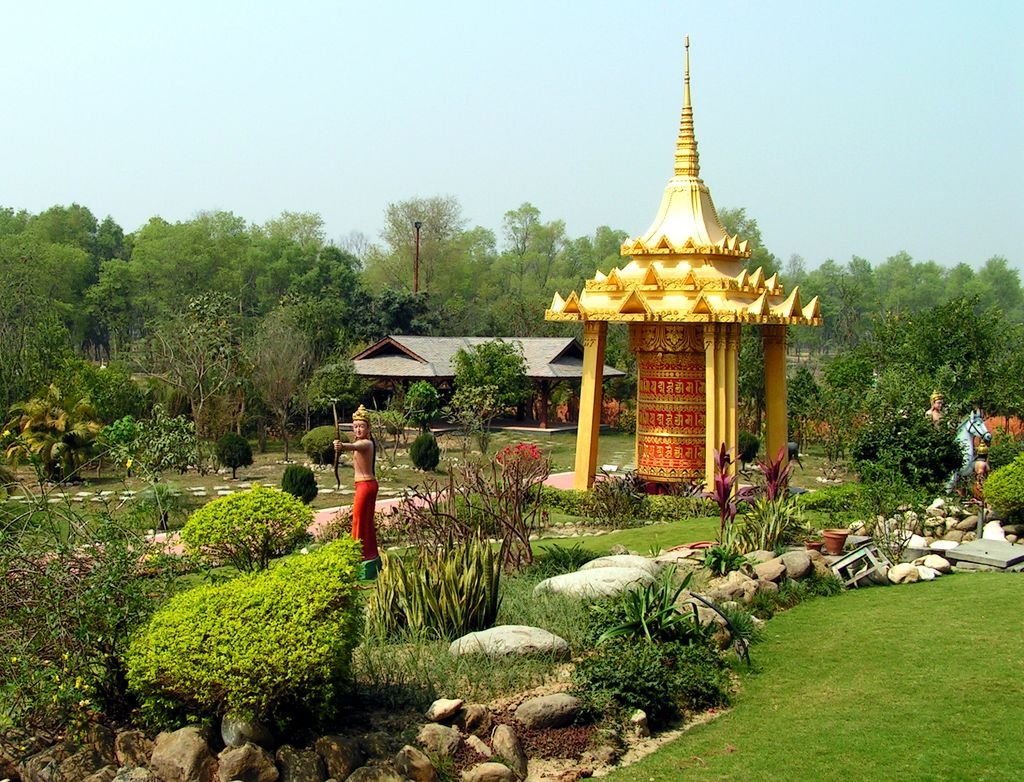 Travel Tips for Lumbini – Nepal
You will have to walk through parks and large patches of jungles. So, it is highly suggestible to wear shoes that are comfortable.
Don't expect restaurants or food to be available once you are inside Lumbini Park. There may be small ice cream and bhel vendors but it is preferable to eat before you're visiting. There are still water shops available on the eastern side but none on the western side of the park.
Carry enough water bottles with you, no matter where you are visiting. Stay hydrated.
There is no availability of transportation facility inside the park. So, either hire a rickshaw in advance and use that or just roam around while walking on foot.
Though there is an option for a boat ride to go from one end of the park to another, you will not get to see all the temples on the way.
Be thoughtful of how you dress since it is a religious place.
The only places where you will need a ticket are Maya Devi temple as well as Lumbini Museum and that too, a small amount of INR 20/- each for Indians (including camera ticket). The rest of the places are free.
Temples and museums are open from 9 – 5 with a break from 1-2.
Maya Devi temple needs at least two hours of undivided attention. If you can spare only half a day, spend time at this temple.
Though the park remains open, it is not advisable to walk after dark.