VITS Devbhumi Hotel : Review
Posted on June 10, 2020 by Ghoomophiro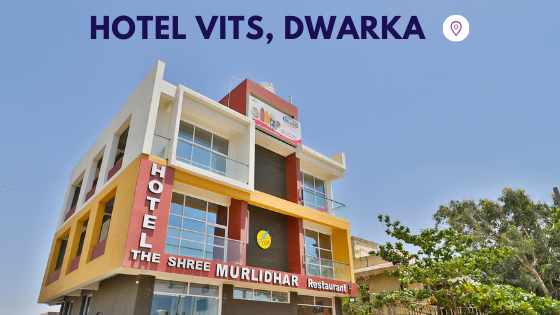 VITS Devbhumi Hotel is a beautiful property in the heart of Dwarka. During our road-trip to Dwarka, we stayed here. Sharing our experience in this travelogue.
Location 
VITS Devbhumi Hotel, Dwarka, is situated nearly 2 kilometers from the Dwarka railway station and nearly 127 kilometers from Jamnagar the nearest Airport. This stunning hotel is decently located at a distance of merely 850 meters from the must-visit Dwarkadhish Temple.
Popular tourist attractions close to VITS Devbhumi Hotel
There are plenty of tourist attractions that are at a walkable distance from the hotel. Some of these are the most eminent Dwarkadhish Temple (0.7 km), Sudama Setu (Sudama Bridge) (0.8 km), and Shri Swaminarayan Mandir, Dwarka (0.6 km) and a lot more.
Types of rooms at VITS Devbhumi Hotel
You can choose from among three categories of room at the hotel that vary in price and to some extent on the facilities and size of the room as well. The most basic ones are the Executive Rooms that are very well furnished comprising of all the modern amenities. Next, you have an option to go in for Deluxe Room. Deluxe rooms are comparatively bigger in size and consist of a large double bed with all the standard amenities included. The third option is choosing to book a Suite which is basically the largest room at the hotel offering all the modern amenities. All these rooms vary in price also.
Room amenities available at VITS Devbhumi Hotel
The room service is available at the hotel. You get access to free WiFi as soon as you check into the hotel room that you have booked. In every room of the hotel, there is a closet and a private bathroom that is well equipped with bathing facilities and things like shampoo, conditioner, body wash, and a hairdryer. For the entertainment of the guests, the authorities provide a flat-screen TV in all the rooms in addition to the air conditioning so that guests have to face no inconvenience. Depending on the type of room that you book, you may find a seating area in your room in addition to a desk as well as an electric teapot. Apart from this, depending on the booking type you may find a complimentary buffet breakfast daily.
Property amenities at VITS Devbhumi Hotel
VITS Devbhumi, Dwarka has a beautiful terrace that facilities a beautiful view of the entire city. The hotel offers a plethora of services to its visitors. Among plenty of facilities that the authorities offer at the hotel are a stunning restaurant, Kamats Original Family Restaurant which is a fine dining restaurant that offers multi-cuisine vegetarian food. It also fulfills the 24-hour front desk service needs of the guests. The property also caters to other needs of the guests like ticket service, tour desk as well as currency exchange. The hotel also has a banquet hall. There are 3 halls in total and you can choose from anyone depending on your needs.  Soon, the hotel authorities claim to offer to their guests the services of a fitness center, gaming club, and a spa.
With this fantastic review of the hotel, you might have now made your mind to book a room at the hotel for a comfortable stay. Let us inform you that you can avail of Early Bird Offer, Last Minute Offer and Long Stay Offer which can help you save a lot of money.